Homage to Milarepa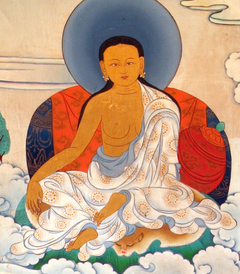 Further Information:
༈ རྗེ་བཙུན་མི་ལ་རས་པ་ལ་བསྟོད་པ།
Homage to Milarepa
by Nāropa
བྱང་ཕྱོགས་མུན་པའི་སྨག་རུམ་ན། །
jangchok münpé makrum na
In the darkness of the lands to the North
གངས་ལ་ཉི་མ་ཤར་འདྲ་བའི། །
gang la nyima shar drawé
Is one just like a snow-capped peak in the rising sun,
ཐོས་པ་དགའ་ཞེས་བྱ་བ་ཡི། །
töpa ga shyé jawa yi
He who is known as Töpa Ga, 'Joyous to Hear,'
སྐྱེས་བུ་དེ་ལ་ཕྱག་འཚལ་ལོ། །
kyebu dé la chaktsal lo
To that great being, I pay homage!
Nāropa spontaneously sang this praise to Milarepa.
| Translated by Adam Pearcey.