Long Life Prayer for Dzongsar Khyentse Rinpoche
English | Deutsch | Español | Français | Nederlands | བོད་ཡིག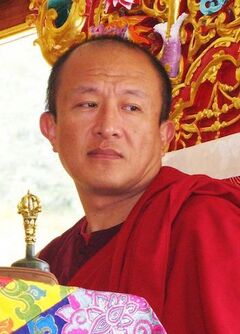 Further Information:
Prayer for the Long Life of Dzongsar Jamyang Khyentsé Rinpoche
by Kyabjé Dilgo Khyentsé Rinpoche
༈ ཨོཾ་སྭསྟི། ཐུབ་བསྟན་ཡོངས་རྫོགས་མངའ་བདག་མཁྱེན་བརྩེའི་གར། །
om svasti, tubten yongdzok ngadak khyentsé gar
Oṃ svasti!1 Dance of wisdom and love, sovereign of the entire Buddhist teaching—
ཟབ་རྒྱས་ལུང་རྟོགས་ཆོས་ཀྱི་རྒྱ་མཚོ་ཆེ། །
zabgyé lungtok chö kyi gyatso ché
The great Dharma-ocean of the transmission and realization of the profound and vast,
གསན་བསམ་སྒོམ་པས་དབང་བསྒྱུར་མཆོག་སྤྲུལ་གྱི། །
sen sam gompé wanggyur choktrul gyi
You have mastered through hearing, reflecting and meditating.
ཐུགས་བསྐྱེད་སྐུ་ཚེ་ཕྲིན་ལས་མཐར་ཕྱིན་ཤོག །
tukkyé kutsé trinlé tarchin shok
Supreme incarnation, may your aspirations be fulfilled, and may your life and activity be infinite.
ཅེས་པའང་ལྷོ་འབྲུག་བུམ་ཐང་སྐུ་རྗེས་རྡོ་རྗེ་བརྩེགས་པའི་ཀེའུ་ཚང་དུ་སྔ་འགྱུར་བཀའ་མའི་མཆོད་སྤྲིན་འབུལ་བའི་ཚེ་གུས་སློབ་མངྒ་ལ་ཤྲཱི་བྷཱུ་ཏིས་གསོལ་བ་བཏབ་པའོ། །
The humble disciple Mangala Śrī Bhūti (Dilgo Khyentsé Rinpoche) made this prayer in the vajra cave of Kurjé, which bears the imprint of Guru Rinpoche's body, in Bumthang in Bhutan, when presenting an offering cloud of teachings from the Kama transmission of the Ancient Translation tradition.
↑ Svasti is the Sanskrit word for peace, happiness and well-being.