Sogyal Rinpoche Biography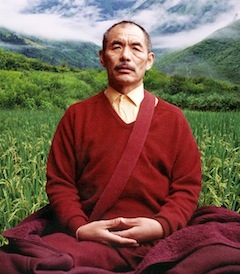 Further Information:
A Brief Biography of Sogyal Rinpoche
by Nyoshul Khen Rinpoche
The supreme tulku Sogyal Rinpoche was born in Trehor into the Lakar family, which for more than 500 years has unfailingly served as a patron to all four schools of Tibetan Buddhism; to the three great monasteries of Sera, Drepung, and Ganden; and to such masters as Dzogchen Thupten Chökyi Dorje, Patrul Rinpoche and Mipham Rinpoche. Sogyal Rinpoche's mother, Tselu, was praised by Khenchen Ngawang Palzang as an emanation of Ushnishavijaya, while his father was related to Dilgo Khyentse Rinpoche.
Khyentse Chökyi Lodrö recognized Sogyal Rinpoche and took him under his care, treating him with enormous kindness. He instructed him personally, beginning with the most basic skills, including reading and writing. He also conferred countless empowerments, oral transmissions, and teachings on Sogyal Rinpoche, who has thus received the majority of empowerments and teachings found in the Nyingma and Sarma schools. Before he died, Jamyang Khyentse Chökyi Lodrö left specific instructions, saying, "As my son is still young, I have not been able to complete his education; it will be up to Khenpo Appey and others to take up this task in the future."
When they had visited the practice cave of Lhodrak Kharchu, Khyentse Rinpoche had said, "The boy should come in here alone." And he had conferred on Sogyal Rinpoche the extraordinary Dzogchen empowerment into the dynamic energy of awareness. On this and other occasions he entrusted him with the blessings of the lineage and he made prophetic statements, such as, "In the future, this son of mine will benefit my teachings."
In India, after his master had passed away, Sogyal Rinpoche continued to study in India with Kyabje Dudjom Rinpoche, Kyabje Dilgo Khyentse Rinpoche, and other masters. He currently lives abroad in the United States and other countries throughout the world, turning the wheel of the Dharma.
From Nyoshul Khen Rinpoche's 'History of the Dzogchen Lineage'.
| Translated by Richard Barron. Edited by Adam Pearcey, Rigpa Translations, 2007.