Vajrakīla Tsok Prayer
English | Deutsch | Español | Français | བོད་ཡིག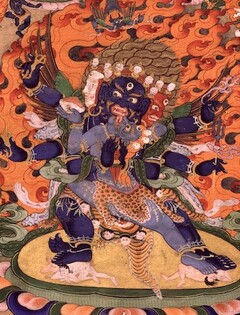 ༄༅། །གསང་ཐིག་སྐོར་གསུམ། རྡོ་རྗེ་གཞོན་ནུ་ཕྱག་རྒྱ་གཅིག་པའི་ཚོགས་མཆོད་ཕྲིན་ལས་བཅུད་ཐིག་ལས།
Vajrakīla Tsok Prayer
from 'The Essential Drop of Enlightened Activity: A Tsok Offering for the Single-Mudrā Form of Vajrakumāra'1
revealed by Chokgyur Dechen Lingpa and Jamgön Kongtrul
ཨོཾ་ཨཱཿཧཱུྂ༔
om ah hung
oṃ āḥ hūṃ
ཨོཾ་བཛྲ་ཀཱི་ལི་ཀཱི་ལ་ཡ་ས་པ་རི་ཝ་ར་མ་ཧཱ་ག་ཎ་ཙཀྲ་པཱུ་ཛ་ཁ་ཁ་ཁཱ་ཧི་ཁཱ་ཧི༔
om benza kili kilaya sapariwara maha gana tsatra pudza khakha khahi khahi
oṃ vajrakīli kīlaya saparivāra-mahāgaṇacakra-pūjā kha kha khāhi khāhi
ཧཱུྂ༔ དཔལ་ཆེན་འཁོར་དང་བཅས་རྣམས་ཀྱིས༔
hung, palchen khor dangché nam kyi
Hūṃ! Great glorious Vajrakīla, along with all your retinue,
མཆོད་པ་རྒྱ་མཚོ་འདི་བཞེས་ཤིག༔
chöpa gyatso di zhé shik
Accept this ocean of offerings!
ཉམས་ཆག་རྒྱ་མཚོ་མ་ལུས་བཤགས༔
nyamchak gyatso malü shak
We confess an ocean of impairments and breakages of samaya, without any omissions!
ཐུགས་དམ་རྒྱ་མཚོ་མ་ལུས་བསྐང༌༔
tukdam gyatso malü kang
May the ocean of your wishes be completely fulfilled!
དངོས་གྲུབ་རྒྱ་མཚོ་སྩལ་དུ་གསོལ༔
ngödrub gyatso tsal du sol
Grant us the ocean of siddhis!
ཕྲིན་ལས་རྒྱ་མཚོ་མ་ལུས་སྒྲུབས༔
trinlé gyatso malü drub
Carry out every one of your ocean of activities!
| Rigpa Translations
Version: 1.3-20211019
↑ 'The Essential Drop of Enlightened Activity: A Tsok Offering for the Single-Mudrā Form of Vajrakumāra', from the Sangtik Korsum cycle, discovered by Chokgyur Dechen Lingpa and Jamgön Kongtrul at Tsadra Rinchen Drak.