Prayer to Vajrakīlāya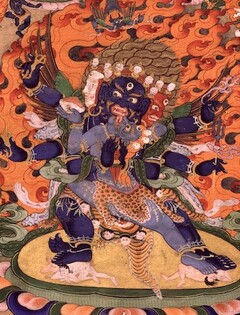 Further information:
༄༅། །གསོལ་འདེབས་བར་ཆད་དབྱིངས་སྒྲོལ་བཞུགས།
Prayer for Liberating Obstacles into Space
by Do Dasel Wangmo
ཨེ་མ་ཧོ།
emaho
Emaho!
དཔལ་ཆེན་ཁྲག་འཐུང་བཛྲ་ཀཱི་ལ་ཡ། །
palchen traktung benza kilaya
Awesome heruka Vajrakīlāya, drinker of blood,
ཁྲོ་རྒྱལ་ཡོངས་ཀྱི་ཕྲིན་ལས་གཅིག་ཏུ་བསྡུས། །
trogyal yong kyi trinlé chik tu dü
Sole embodiment of all the wrathful kings' activity,
རབ་འཇིགས་དུས་མཐའི་མེ་ལྟར་གཟི་བྱིན་འབར། །
rab jik dü té mé tar zijin bar
As terrifyingly majestic as the fires at the end of time—
གསོལ་བ་འདེབས་སོ་བར་ཆད་འཚེ་བ་སོལ། །
solwa deb so barché tsewa sol
To you I pray: dispel all obstacles and causes of harm!
ཟླ་མིང་པས་སོ།།
By the one named Da.
| Translated by Adam Pearcey, 2023.
Source: mdo zla gsal dbang mo. "gsol 'debs bar chad dbyings sgrol" In rje btsun ma mdo zla gsal dbang mo'i gsung rtsom phyogs bsgrigs, Beijing: mi rigs dpe skrun khang, 2007. p. 184
Version: 1.0-20230308