Benedictory Verses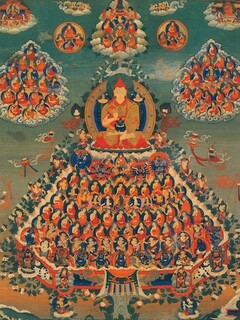 Benedictory Verses[1]
by Jamyang Khyentse Chökyi Lodrö
Oṃ svasti.
This razor that severs the tongues of those whose discourse is unsound,
Who are as if infected by jungpo demons, and whose meagre intellects
Cannot comprehend the peerless tradition of the Jonangpas,
Which skilfully reveals the ultimate,[2] natural state of the Middle Way,
This excellent explanation by Dodrup Tenpai Nyima,
Has now been printed as a gift of Dharma
Under the auspices of Gerab Nyerchen Sokmo.
Through this, may all set out upon the genuine path.
Sarva maṅgalam.
| Translated by Adam Pearcey with the generous support of the Khyentse Foundation and Tertön Sogyal Trust, 2022.
Bibliography
Tibetan Edition
'Jam dbyangs chos kyi blo gros. 'Jam dbyangs chos kyi blo gros kyi gsung 'bum. 12 vols. Bir, H.P.: Khyentse Labrang, 2012. (BDRC W1KG12986). Vol. 10: 573
Version: 1.0-20220608