Translations of Tibetan Buddhist Texts
English | Deutsch | Español | Français | Italiano | Nederlands | Português | 中文 | བོད་ཡིག
Lotsawa* House is a library of over 1000 texts by more than 100 authors
From 40 translators and teams, working with lamas, khenpos, geshes, editors, designers and many more.
---
NEW: Fundraising Appeal
Do you find our site useful? If so, please consider supporting us with a regular donation of as little as $2 per month on Patreon. We rely entirely on the generosity of our donors to continue our work of translating important, interesting and inspiring texts from the Tibetan Buddhist tradition and making them freely available "on the House."
---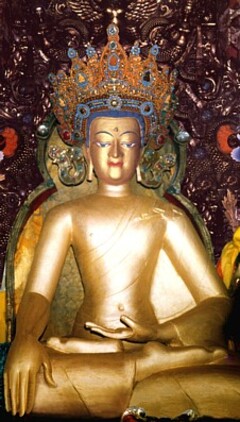 Latest translation
Added 14 November 2017
A Prayer to Jowo Rinpoche combined with Aspirations and a Means to Receive the Four Empowerments
| Prayers
Jigme Lingpa (1729/30–1798) wrote this prayer for a student who was accumulating prayers before the famous Jowo Rinpoche statue in the Jokhang temple in Lhasa. It is not only a prayer to Śākyamuni Buddha, but also a means to receive the four empowerments: vase, secret, wisdom-knowledge, and the supreme empowerment of great rays of light.
---
More recent additions
November 2017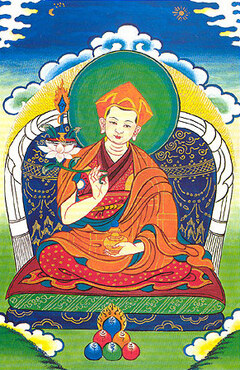 Prayer to the Garland of Rebirths of the Dzogchenpas of Eastern Tibet | Prayers
Jigme Lingpa wrote this prayer to the Dzogchen Rinpoches and their previous incarnations at the request of his disciple Jigme Ngotsar (b. 1763). Read text >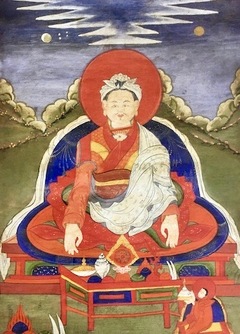 The Final Testament of Yukhok Chatralwa as Transmitted to Lama Rigdzin Nyima | Testament
This final testament, which succinctly expresses the view, meditation, action and fruition of the Great Perfection, was transmitted to Lama Rigdzin Nyima (b. 1931). Read text >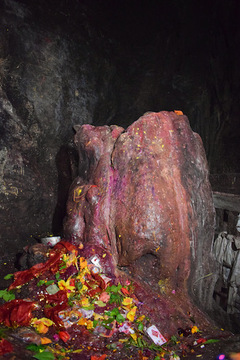 Melodious Tambura of Delight: A Guide to Māratika Cave, Supreme Site of Immortality | Pilgrimage
Kyabje Chatral Rinpoche (1913–2015) wrote this brief guide to the sacred Māratika cave at the request of his daughter, Sarasvatī. In a series of verses, he describes the significance of this powerful place of longevity — the "destroyer of death" is the literal meaning of its name — where Guru Padmasambhava and the Lady Mandāravā attained immortality. Read text >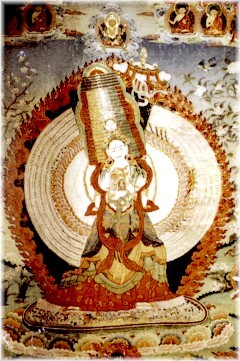 The Swift Steed of Garuḍa, King of Birds: An Instruction for Travelling to Sukhāvatī, Based on the Visualization and Recitation of Uṣnīṣa-Sitātapatrā | Sitātapatrā
To practise this short sādhana of the deity Sitātapatrā (gdugs dkar, "White Parasol") by Karma Chakme (1613–1678) is, in the words of the text itself, "to hold aloft an indestructible vajra sword that can avert disease, obstacles, black magic, evil spells and all oppressing forces." The sādhana is also said to be a swift means of travelling to Sukhāvatī, akin to flying on the back of a garuḍa. Read text >
---
Highlight from the archive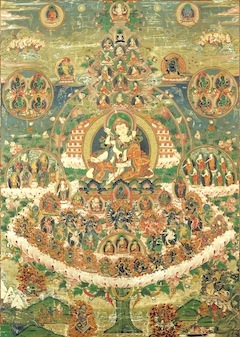 A Profound Concentration of Nectar: Essentialized Stages of Visualization for the Preliminary Practices of the Heart Essence of the Vast Expanse (Longchen Nyingtik) | Ngöndro
This guide to the stages of visualization for the Longchen Nyingtik preliminary practices (sngon 'gro) is, as Jamyang Khyentse Wangpo himself puts it, "brief, clear and essential." Some of its instructions differ slightly from those given by Patrul Rinpoche, so that it represents a distinct commentarial tradition. Read text >
---
Read texts for free online
Explore our archives, searching by topic or author:
Or simply click on the links in the main menu
Download them for your e-reader
Every text on this site is freely downloadable in EPUB for iPad, iPhone, Android, etc., MOBI for Amazon Kindle, or PDF format


Look for the icons at the end of any text. You can also download an entire collection of texts on a given topic or by a given author.
---
* Lotsāwa ལོ་ཙཱ་བ་; lo tsā ba n. Title used for the native Tibetan translators who worked together with Indian scholars (or paṇḍitas) to translate the major buddhist texts into Tibetan from Sanskrit and other Asian languages. It is generally believed that it originated from a corruption of the Sanskrit lokacakṣu, literally meaning "eyes of the world". See also paṇḍita.