Translations of Tibetan Buddhist Texts
English | Deutsch | Español | Français | Italiano | Nederlands | Português | 中文 | བོད་ཡིག
Lotsawa* House is a library of over 1500 Tibetan Buddhist texts by more than 150 authors.
From more than 50 translators and teams working with lamas, khenpos, geshes, editors, designers and many more.
---
Fundraising appeal
Do you find our site useful? If so, please consider supporting us with a regular donation of as little as $2 per month on Patreon. We rely entirely on the generosity of our donors to continue our work of translating important, interesting and inspiring texts from the Tibetan Buddhist tradition and making them freely available "on the House."
---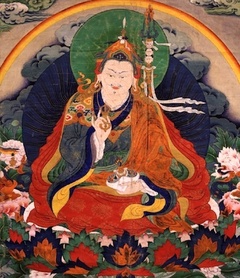 Latest translation
Added 17 December 2018
A Garland of Vajra Gems: The Life and Liberation of the Guru
This epic of Guru Padmasambhava, as recorded by Khandro Yeshe Tsogyal, was revealed by Jamgön Kongtrul Lodrö Thaye (1813–1899) as a "siddhi". The text consists of ten short chapters, each related to a different aspect of the master's life and activities.
---
More recent additions
November 2018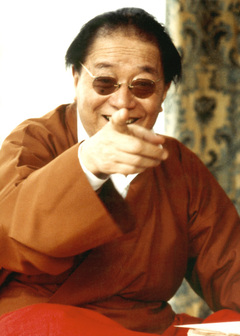 A Prayer to Recognize My Own Faults and Keep in Mind the Objects of Refuge | Confession
As Dudjom Rinpoche (1904–1987) himself explains, this is simultaneously a supplication, confession, and aspiration prayer. It involves the invocation of one's gurus, contemplation and confession of one's faults, and aspiration to overcome such flaws and realise the nature of the guru. Read text >
A Joyful Chariot for the Fortunate: An Aspiration to Travel to the Copper-Coloured Mountain of Glory | Guru Rinpoche Prayers
Dudjom Rinpoche composed this prayer of aspiration to be reborn on the Copper Coloured Mountain of Glory, or Zangdok Palri (zangs mdog dpal ri), after his firstborn daughter, Dekyong Yeshe Wangmo, had left this world. The inspiration for this prayer, it is said, was therefore her parting gift. Read text >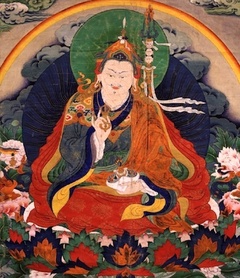 A Short Prayer to the Abbot, the Master and the King | Guru Rinpoche Prayers
Dudjom Rinpoche composed this short prayer invoking the Abbot, Master and Dharma-King (Khen Lob Chö Sum), i.e., Śāntarakṣita, Guru Padmasambhava and Trisong Detsen, at Samyé monastery in Tibet at the request of his son, Thinley Norbu Rinpoche. Read text >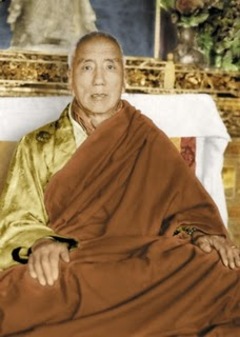 Praise and Prayer to Kharchu, Great Sacred Place of Lhodrak | Pilgrimage
Jamyang Khyentse wrote this text in praise of Lhodrak Kharchu as he passed through the sacred place in 1956. The site is associated with Namkhai Nyingpo, who is said to have attained accomplishment here through the practice of Yangdak Heruka. Read text >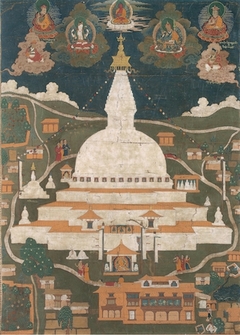 A Brief Petitionary Offering to the Mātṛkā Pukkasī, Local Protectress of the Jarung Kashor Stūpa | Dharma Protectors
A brief petitionary offering (gsol mchod) to the mātṛkā (ma mo) Pukkasī, who is the local protectress of the sacred Jarung Kashor stūpa in Boudhanath, Nepal. Read text >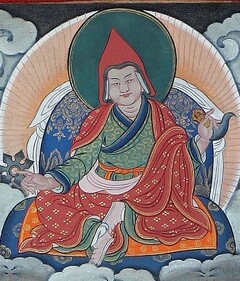 A Praise to the Lotus King | Praise
This four-line praise may be the earliest prayer to Padmasambhava preserved in writing. It forms the colophon of the Noose of Methods (IOL Tib J 321, Thabs zhags, or Upāyapāśa), a Mahāyoga commentary attributed to Padmasambhava. A 10th century manuscript of the Noose of Methods including this praise was found at the Dunhuang caves. The prayer shows some similarity to the famous Seven-Line Prayer (tshig bdun gsol 'debs). Read text >
---
Highlight from the archive
A Song of Amazement Inspired by Practice Experience | Meditation
This song of amazement originates in a vision that Sera Khandro had while staying in retreat at Nyimalung in Amdo at the age of twenty-nine. The text is her response to the spirits and demons who appeared to her, asking what she was doing. Read text >
---
Read texts for free online
Explore our archives, searching by topic or author:
Or simply click on the links in the main menu
Download them for your e-reader
Every text on this site is freely downloadable in EPUB for iPad, iPhone, Android, etc., MOBI for Amazon Kindle, or PDF format


Look for the icons at the end of any text. You can also download an entire collection of texts on a given topic or by a given author.
---
* Lotsāwa ལོ་ཙཱ་བ་; lo tsā ba n. Title used for the native Tibetan translators who worked together with Indian scholars (or paṇḍitas) to translate the major buddhist texts into Tibetan from Sanskrit and other Asian languages. It is often said that it derives from the Sanskrit lokacakṣu, literally meaning "eyes of the world". See also paṇḍita.