Translations of Tibetan Buddhist Texts
English | Deutsch | Español | Français | Italiano | Nederlands | Português | 中文 | བོད་ཡིག
Welcome to Lotsawa* House, a virtual library of Buddhist texts translated from Tibetan. The site currently features more than 1000 texts in nine different languages.
This represents the combined efforts of some 37 translators and translation teams, working in collaboration with lamas, khenpos and geshes, as well as editors, inputters, proofreaders, designers and many more.
---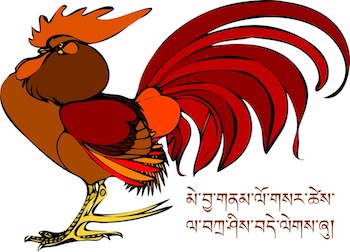 HAPPY NEW YEAR
མེ་བྱ་གནམ་ལོ་གསར་ཚེས་ལ་བཀྲ་ཤིས་བདེ་ལེགས་ཞུ།
Best Wishes for the the Tibetan Year of the Fire Bird!
"For us and all other beings, whosoever and wheresoever they may be,
May all temporary and ultimate disharmony be pacified,
And may happiness, virtue, glory and prosperity increase!
Inspire us to follow the spiritual teachers of the supreme vehicle,
And always be sustained by the nectar of their teachings!
Inspire us to maintain pure discipline and engage in study, reflection and meditation,
So that we may train perfectly in renunciation and twofold bodhicitta,
And, without ever neglecting activity for others' benefit,
Attain the level of perfect omniscience!"
— from A Brief Practice for Paying Homage and Making Offerings to the Buddha together with his retinue of Arhats by Śākyaśrībhadra (1127–1225).
---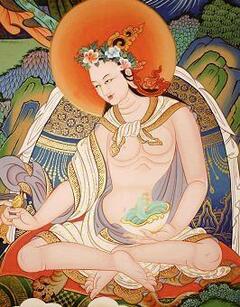 Latest translation
Added 20 February 2017
The Tambura's Yearning Song of Devotion: A Prayer Summarizing Khandro Yeshe Tsogyal's Life and Liberation
A beautiful prayer by the great Rimé master Jamgön Kongtrul Lodrö Thaye (1813–1899) summarizing Samten Lingpa's famous terma biography of the ḍākinī Yeshe Tsogyal, the consort of Guru Padmasambhava. Kongtrul composed the prayer in 1893 at the request of Jamyang Khyentse Wangpo (1820–1892) and the yoginī Doshul Khandro.
---
More recent additions
January – February 2017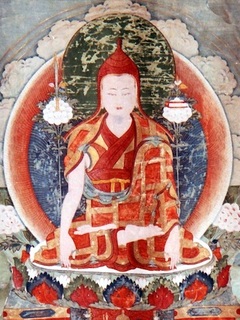 The Pure Three Kāyas Ablaze in Perfect Splendour: A Prayer Based on the Meaning of the Great Perfection | Dzogchen
This evocative prayer by the great adept Longchen Rabjam (1308–1364) invokes the blessings of all the three-kāya gurus, yidam deities, ḍākinīs and dharmapālas to inspire recognition of the ultimate nature of the Great Perfection (Dzogpachenpo) — a state that is not to be sought or cultivated, but is already perfect. Read text >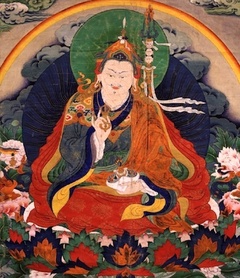 The Wish-Fulfilling Tree: The Life-Story of the Master of Uḍḍiyāna as found in Padmasambhava's Sevenfold Cycle of Profundity | Biography
This concise biography of the eighth-century master from Uḍḍīyana, Guru Padmasambhava, who established Buddhism in Tibet in the 8th century, was revealed in 1856 by the great treasure-revealer Chokgyur Dechen Lingpa (1829–1870) as part of the Sevenfold Cycle of Profundity (zab pa skor bdun). The text consists of ten short chapters, each relating to a different aspect of the master's life and activities. Read text >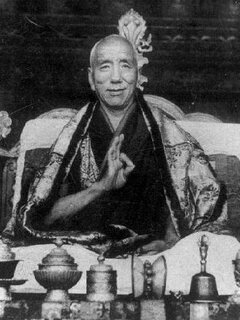 An Instruction on the Great Perfection | Dzogchen
In this short text, written in verse, Jamyang Khyentse Chökyi Lodrö (1893–1959) explains (with characteristic humility) the prerequisites and view, meditation and action of Dzogchen, or the Great Perfection. Read text >
A Liberating Reminder | Advice
In this short instruction written in verse, the great scholar-yogi Khenpo Pema Vajra (c.1807–1884) summarizes the key points of the path in general and of the Great Perfection, or Dzogchen, in particular. This is a poetic yet practical text, which includes essential advice for practitioners of Dzogchen meditation and reminders of what is to be done in the intermediate state, or bardo. Read text >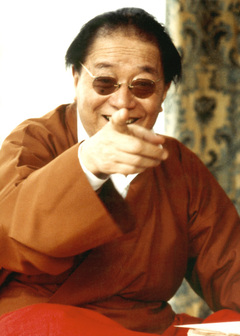 Dzogchen Aspiration Prayer | Dzogchen
Kyabje Dudjom Rinpoche Jikdral Yeshe Dorje (1904–1987) composed this four-line prayer of aspiration spontaneously on the occasion of his first teaching of "Hitting the Essence in Three Words" (tshig gsum gnad brdegs) in the West, to an assembly of thirteen students in Paris, 1976. Read text >
---
Highlight from the archive
Aspiration to Generate Bodhicitta, Utterly Pure and Supreme | Mind Training
This beautiful prayer of aspiration covers the entire Buddhist path, but places special emphasis on the cultivation of bodhicitta in its various forms. For to have bodhicitta, says the great Dza Patrul Rinpoche (1808–1887), is to have "all that's needed to attain enlightenment." Read text >
---
Read texts for free online
Explore our archives, searching by topic or author:
Or simply click on the links in the main menu
Download them for your e-reader
Every text on this site is freely downloadable in EPUB for iPad, iPhone, Android, etc., MOBI for Amazon Kindle, or PDF format


Look for the icons at the end of any text. You can also download an entire collection of texts on a given topic or by a given author.
---
* Lotsāwa ལོ་ཙཱ་བ་; lo tsā ba n. Title used for the native Tibetan translators who worked together with Indian scholars (or paṇḍitas) to translate the major buddhist texts into Tibetan from Sanskrit and other Asian languages. It is generally believed that it originated from a corruption of the Sanskrit lokacakṣu, literally meaning "eyes of the world". See also paṇḍita.