Translations of Tibetan Buddhist Texts
English | Deutsch | Español | Français | Italiano | Nederlands | Português | 中文 | བོད་ཡིག
Lotsawa* House is a library of over 1500 texts by more than 120 authors
From more than 40 translators and teams working with lamas, khenpos, geshes, editors, designers and many more.
---
Fundraising appeal
Do you find our site useful? If so, please consider supporting us with a regular donation of as little as $2 per month on Patreon. We rely entirely on the generosity of our donors to continue our work of translating important, interesting and inspiring texts from the Tibetan Buddhist tradition and making them freely available "on the House."
---
Latest translation
Added 22 July 2018
The Biography of Great Orgyen that Naturally Liberates On Sight
This seven-chapter biography is a late example of the Kathang (bka' thang) genre, a versified chronicle of Padmasambhava's life as recounted to Emperor Trisong Detsen and his subjects. The text is unusually detailed in its description of Padmasambhava's personal practice, listing dozens of places where he meditated, how long he stayed, which practices he performed, which results he gained, and so on. It concludes with a chapter that includes prophecies and practical advice for the people of Tibet.
---
More recent additions
July 2018
The Source of Beings' Happiness | Aspiration Prayers
This prayer of aspiration for the spread of the Dharma, which is the source of beings' happiness, is taken from Ngorchen Kunga Zangpo's (1382–1456) praise of the Vasudhārā (Tib. Norgyünma) maṇḍala. It is one of the most popular texts in the Sakya tradition. Read text >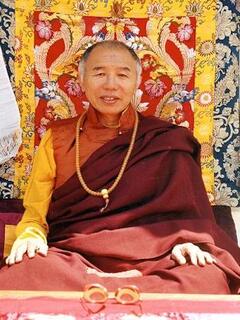 In Praise of the Hidden Valley of Kyimolung | Pilgrimage
Having spent parts of his life in the hidden valley (sbas yul) of Kyimolung in Nubri, Nepal, Tulku Urgyen Rinpoche (1920–1996) composed this eulogy in praise of its sacred landscape. Read text >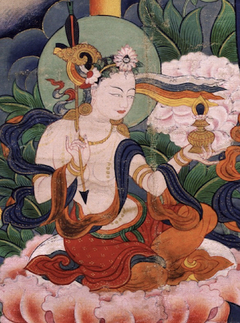 A Prayer Recounting the Lives and Liberation of the Exalted Ḍākinī Mandāravā | Biography
This prayer, which recounts Mandāravā's lives and liberation, forms the 37th chapter of Samten Lingpa's (b. 1655) famous terma biography of Princess Mandāravā. Read text >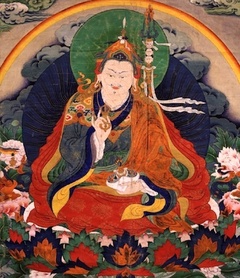 The Seven Lines that Dispel All Obstacles and Enfold All Profundity | Guru Rinpoche Prayers
A seven-line prayer to Guru Padmasambhava by Tertön Nyala Rangrik Dorje (1847–1903), for the elimination of all obstacles and the fulfilment of all wishes. Read text >
---
Highlight from the archive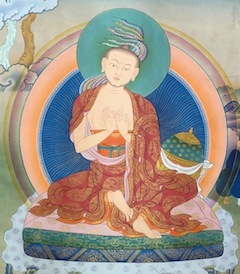 Four Great Logical Arguments of the Middle Way | Middle Way
This section of Gateway to Learning (mkhas 'jug) explains the so-called "Four Great Logical Arguments of the Middle Way" (dbu ma'i gtan tshigs chen po bzhi), which are: 1) investigation of the cause: the Diamond Splinters; 2) investigation of the result: refuting existent or non-existent results; 3) investigation of the essential identity: 'neither one nor many'; and 4) investigation of all: the Great Interdependence. This translation also includes some comments from Khenpo Nüden's celebrated commentary. Read text >
---
Read texts for free online
Explore our archives, searching by topic or author:
Or simply click on the links in the main menu
Download them for your e-reader
Every text on this site is freely downloadable in EPUB for iPad, iPhone, Android, etc., MOBI for Amazon Kindle, or PDF format


Look for the icons at the end of any text. You can also download an entire collection of texts on a given topic or by a given author.
---
* Lotsāwa ལོ་ཙཱ་བ་; lo tsā ba n. Title used for the native Tibetan translators who worked together with Indian scholars (or paṇḍitas) to translate the major buddhist texts into Tibetan from Sanskrit and other Asian languages. It is often said that it derives from the Sanskrit lokacakṣu, literally meaning "eyes of the world". See also paṇḍita.