Translations of Tibetan Buddhist Texts
English | Deutsch | Español | Français | Italiano | Nederlands | Português | 中文 | བོད་ཡིག
Lotsawa* House is a library of over 1000 texts by more than 100 authors
From more than 40 translators and teams, working with lamas, khenpos, geshes, editors, designers and many more.
---
Fundraising appeal
Do you find our site useful? If so, please consider supporting us with a regular donation of as little as $2 per month on Patreon. We rely entirely on the generosity of our donors to continue our work of translating important, interesting and inspiring texts from the Tibetan Buddhist tradition and making them freely available "on the House."
---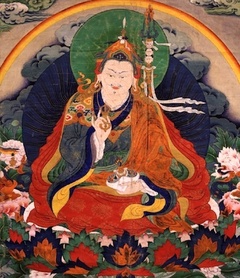 Latest translation
Added 18 February 2018
Divine Blue Water: A Contamination-Purifying Smoke Offering by the Great Master Padmasambhava
| Offering
Divine Blue Water is a smoke offering (bsang) ritual that functions as a remedy against ritual pollution (grib), specifically the form known as 'contamination' (mnol). The text is attributed to Padmasambhava, but was not hidden as a treasure (gter ma); it was painted on the wall at Samye Monastery and it is from there that the textual lineage derives. Kyabje Dudjom Rinpoche (1904–1987) edited the version published here, which appears in modern editions of the Nyingma Kama.
---
More recent additions
February 2018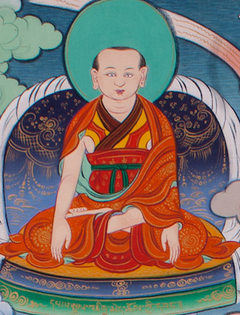 Advice on How to Put the Meaning of the Natural Great Perfection into Practice | Dzogchen
In this short work in verse, the great yogi Dza Patrul Rinpoche offers advice on the natural self-liberation (rang grol) of thoughts and emotions. This, he repeatedly emphasizes, is the key to the view, meditation and conduct of Dzogchen, the Great Perfection. With it, all other forms of view and meditation are superfluous; but without it, negative traits will be plain to see. Read text >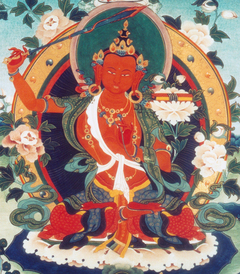 A Brief Mañjuśrī Sādhana | Mañjuśrī
A concise and simple sādhana (sgrub thabs) focused upon Mañjuśrī, the embodiment of all the buddhas' wisdom. Read text >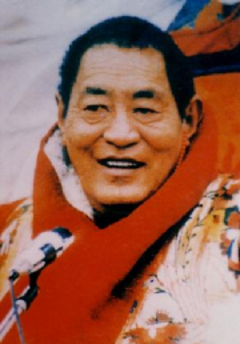 The Swift Bestowal of Blessings: A Guru Yoga | Guru Yoga
This brief guru yoga, written in a hermitage near Larung Gar in Tibet in 1995, is one of the late Khenchen Jigme Phuntsok's most famous compositions. It inspired a commentary from Tulku Tendzin Gyatso, and Khenchen Jigme Phuntsok himself also wrote a heart-advice entitled Heart-Essence (snying gi ti la ka) as a supporting instruction (rgyab chos). Read text >
How to Cultivate Concentration | Meditation
In this short text in verse, the great Nyingma scholar and polymath Jamgön Mipham Rinpoche (1846–1912) outlines the various stages in the process of cultivating śamatha, or calm abiding. Read text >
The Means for Accomplishment called 'Blazing Wheel' | Termas
This terma (gter ma), which Tulku Zangpo Drakpa revealed and passed on to Rigdzin Gödem (1337–1408), presents a sūtra-like scenario in which Buddha Śākyamuni reveals a dhāraṇī for subduing enemies and demonic forces. Read text >
---
Highlight from the archive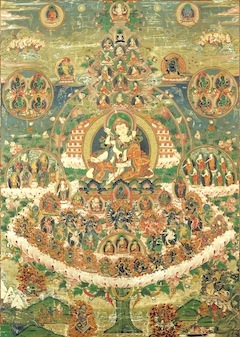 A Profound Concentration of Nectar: Essentialized Stages of Visualization for the Preliminary Practices of the Heart Essence of the Vast Expanse (Longchen Nyingtik) | Ngöndro
This guide to the stages of visualization for the Longchen Nyingtik preliminary practices (sngon 'gro) is, as Jamyang Khyentse Wangpo himself puts it, "brief, clear and essential." Some of its instructions differ slightly from those given by Patrul Rinpoche, so that it represents a distinct commentarial tradition. Read text >
---
Read texts for free online
Explore our archives, searching by topic or author:
Or simply click on the links in the main menu
Download them for your e-reader
Every text on this site is freely downloadable in EPUB for iPad, iPhone, Android, etc., MOBI for Amazon Kindle, or PDF format


Look for the icons at the end of any text. You can also download an entire collection of texts on a given topic or by a given author.
---
* Lotsāwa ལོ་ཙཱ་བ་; lo tsā ba n. Title used for the native Tibetan translators who worked together with Indian scholars (or paṇḍitas) to translate the major buddhist texts into Tibetan from Sanskrit and other Asian languages. It is often said that it derives from the Sanskrit lokacakṣu, literally meaning "eyes of the world". See also paṇḍita.