Translations of Tibetan Buddhist Texts
English | Deutsch | Español | Français | Italiano | Nederlands | Português | 中文 | བོད་ཡིག
Lotsawa* House is a library of over 1500 Tibetan Buddhist texts by more than 130 authors.
From more than 50 translators and teams working with lamas, khenpos, geshes, editors, designers and many more.
---
Fundraising appeal
Do you find our site useful? If so, please consider supporting us with a regular donation of as little as $2 per month on Patreon. We rely entirely on the generosity of our donors to continue our work of translating important, interesting and inspiring texts from the Tibetan Buddhist tradition and making them freely available "on the House."
---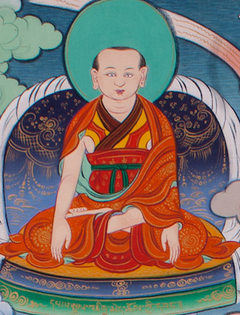 Latest translation
Added 24 September 2018
Self-Liberating Meditation: A Profound Method for Attaining Enlightenment according to the Ultimate Great Perfection
| Dzogchen
Sometimes known by its first four syllables as Eko Eko (translated as "Have you heard? Have you heard?") and sometimes as Self-Liberated Wisdom-Mind, this is a comprehensive and popular instruction on Dzogchen meditation. Although the emphasis is on remaining natural and unaltered (ma bcos pa), the text also offers advice on how to integrate and adapt to the various experiences and circumstances a practitioner might face. The style is direct, eloquent and moving.
---
More recent additions
August–September 2018
Condensed Daily Practice of The Heart Essence of the Sublime Lady of Immortality | Sādhanas
A short version of the long-life practice discovered as a mind terma by Jamyang Khyentsé Wangpo in 1855. The sādhana features a maṇḍala of White Tārā (in the form known as Wish-Fulfilling Wheel) in union with Amitāyus, 'Lord of the Dance'. (*Restricted to those who have received the appropriate empowerment). Read text >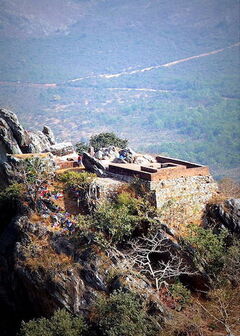 A Song of Perfect Joy: In Praise of the Sacred Sites of Rājgṛha, Vulture Peak and Nālandā | Pilgrimage
Verses in praise of three major sacred sites in India: Rājgṛha (rgyal po'i khab), the ancient capital of Magadha; Vulture Peak (bya rgod spungs ri), where Buddha taught the Prajñāpāramitā sūtras; and Nālandā (nālendra), site of the famous monastic university, where many of the greatest Buddhist scholars lived and taught. Read text >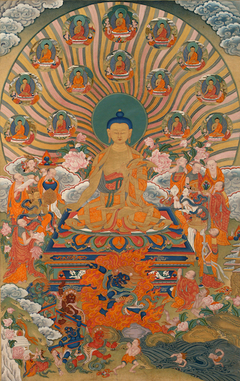 The Conquerors' Delight: In Praise of Śrāvastī | Pilgrimage
A short poetic text in praise of Śrāvastī (mnyan yod), where Buddha Śākyamuni spent many rainy seasons and where, it is said, he defeated rival teachers in a contest of miraculous ability. Jamyang Khyentse composed the work during a visit to the town in 1956. Read text >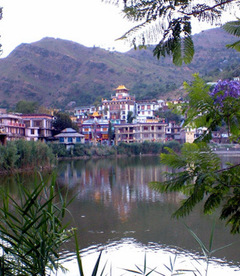 The White Lotus Garland of Immortality: In Praise of the Supreme Vajra Place, Tso Pema (Lotus Lake) | Pilgrimage
Tso Pema (mtsho padma) or 'Lotus Lake' in Rewalsar, Northern India is identified with a lake in the ancient kingdom of Zahor, which was created, it is said, when the king and his ministers attempted to burn Guru Padmasambhava and his consort Mandāravā alive. The master transformed his funeral pyre into a lake, where he appeared, unharmed and seated upon a lotus. Read text >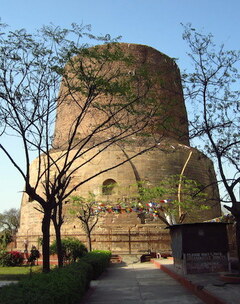 In Praise of Vārāṇasī, the Supreme Place | Pilgrimage
Although entitled a praise of Vārāṇasī, this short poetic work concerns Sarnath or Ṛṣipatana, located approximately 10 kilometres from that ancient city. It was in the deer park of Sarnath that Buddha Śākyamuni first taught, setting in motion the Wheel of Dharma. Read text >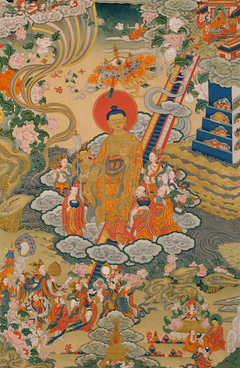 In Praise of Devāvatāra, Site of Buddha's Descent from Heaven | Pilgrimage
A panegyric on Devāvatāra or Sāṃkāśya, the place where Buddha supposedly returned to earth after spending a rainy season teaching Abhidharma to his mother and others in the deva realm. Read text >
---
Highlight from the archive
A Song of Amazement Inspired by Practice Experience | Meditation
This song of amazement originates in a vision that Sera Khandro had while staying in retreat at Nyimalung in Amdo at the age of twenty-nine. The text is her response to the spirits and demons who appeared to her, asking what she was doing. Read text >
---
Read texts for free online
Explore our archives, searching by topic or author:
Or simply click on the links in the main menu
Download them for your e-reader
Every text on this site is freely downloadable in EPUB for iPad, iPhone, Android, etc., MOBI for Amazon Kindle, or PDF format


Look for the icons at the end of any text. You can also download an entire collection of texts on a given topic or by a given author.
---
* Lotsāwa ལོ་ཙཱ་བ་; lo tsā ba n. Title used for the native Tibetan translators who worked together with Indian scholars (or paṇḍitas) to translate the major buddhist texts into Tibetan from Sanskrit and other Asian languages. It is often said that it derives from the Sanskrit lokacakṣu, literally meaning "eyes of the world". See also paṇḍita.