Translations of Tibetan Buddhist Texts
English | Deutsch | Español | Français | Italiano | Nederlands | Português | 中文 | བོད་ཡིག
WELCOME TO LOTSAWA* HOUSE, a virtual library currently hosting more than 650 translations in eight languages and more than 300 original texts in Tibetan. This represents the combined efforts of 33 translators, working in collaboration with lamas, khenpos and geshes, as well as editors, inputters, proofreaders, designers and many more.
---
READ TEXTS FOR FREE ONLINE
Explore our archives, searching by topic or author:
Or simply click on the links in the main menu
.
DOWNLOAD THEM FOR YOUR E-READER
Every text on this site is freely downloadable in EPUB (for iPad, iPhone, Android, etc.), MOBI (for Amazon Kindle) or PDF format


Just look for the icons at the end of any text. You can also download an entire collection of texts on a given topic or by a given author.
---
HIGHLIGHTS FROM THE ARCHIVE:
This month's selection of texts recommended by our editors:
Turning Suffering and Happiness into Enlightenment | Mind Training (Lojong)
One of Jigme Tenpe Nyima's best known works—and indeed one the most famous Tibetan texts of recent times—this is a pithy and practical guide to integrating all experiences, good and bad, happy and sad, into the path to enlightenment. As the text itself puts it, this is "indispensable for leading a spiritual life, a most needed tool of the Noble Ones, and quite the most priceless teaching in the world." Read text >
The Excellent Path of the Great Vehicle: How to Meditate on the Three Gateways to Liberation According to the Mahāyāna
|
Prajñāpāramitā
Rongtön Sheja Kunrig, also known as Shakya Gyaltsen, (1367-1449) was one of the greatest scholars of the Sakya school, renowned especially for his mastery of the prajñāpāramitā teachings. In this brief text he explains the so-called "three gateways to liberation" (rnam thar sgo gsum) according to the Mahāyāna, i.e., emptiness (śūnyatā; stong pa nyid), absence of characteristics (mtshan ma med pa), and wishlessness (smon pa med pa). Read text >
The Way to Explain the King of All Aspiration Prayers, the Secret Vajra Knot
|
Aspiration Prayers
This brief guide to explaining Minling Terchen Gyurme Dorje's famous aspiration prayer, known as 'The Secret Vajra Knot' (rdo rje rgya mdud), provides a topical outline of its contents, and, in so doing, reveals the vast scope of its vision. Read text >

---
FEATURED EBOOK:
An anthology of lojong texts created through the inspiration and guidance of Alak Zenkar Rinpoche:


Lojong texts.pdf as PDF document (with Tibetan)



Lojong texts.epub for EPUB ebook-readers (iPad, Android)


Lojong texts.mobi for Amazon Kindle

---
NEW ON THE SITE!
Among the latest translations to be added to the House:
Advice to Lhawang Tashi
|
Advice
This general advice from the great master Jamgön Kongtrul Lodrö Tayé (1813–1899) covers every level of the spiritual path. Drawing upon famous statement by Atiśa and Śāntideva, Kongtrul offers his disciple ethical guidance and practical instructions for watching the mind, cultivating renunciation, compassion and devotion, and realising the nature of all phenomena. Read text >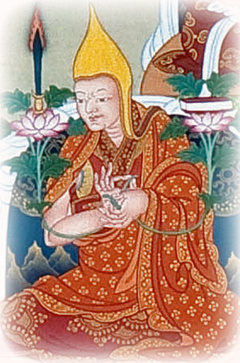 Verses of Advice for Meditating on Impermanence
|
Advice
The celebrated scholar Könchok Tenpe Drönme (1762–123) was the Third Gungthang incarnation and the 21st throne-holder of the famous monastery of Labrang Tashikhyil. In this famous poem he offers a powerful and moving contemplation on impermanence and mortality, and inspires the reader to focus on Dharma practice without delay. Read text >
The Excellent Path of Devotion
|
Biography
Sera Khandro composed this verse autobiography, which is suitable for daily recitation, in 1929, two years after completing a longer, more detailed account of her life. As with many other biographical works in the Tibetan tradition, the story is itself a Dharma teaching, demonstrating the importance of following one's heart, persevering in the face of difficulties, and cultivating complete trust and devotion. Read text >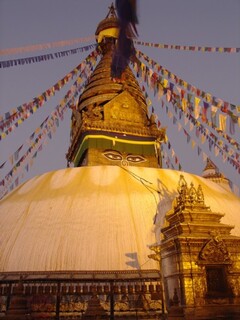 A Prayer to the Swayambhunath Stupa
|
Pilgrimage
| #PrayForNepal
This short prayer, which is addressed directly to the sacred stūpa of Swayambhunath (known to Tibetans as Pakpa Shingkun) in Nepal, was composed by the great Jamyang Khyentse Chökyi Lodrö (1896–1959) at the site itself, while on pilgrimage. It is part of a series of prayers addressed to the three major stūpas of the Kathmandu Valley. The translation was completed shortly after the recent earthquakes, for practitioners who wish to pray for Nepal. Read text >
---
* Lotsāwa (ལོ་ཙཱ་བ་; lo tsā ba) n. Title used for the native Tibetan translators who worked together with Indian scholars (or paṇḍitas) to translate the major buddhist texts into Tibetan from Sanskrit and other Asian languages. It is generally believed that it originated from a corruption of the Sanskrit lokacakṣu, literally meaning "eyes of the world". See also paṇḍita.