Supplication to Realize the Profound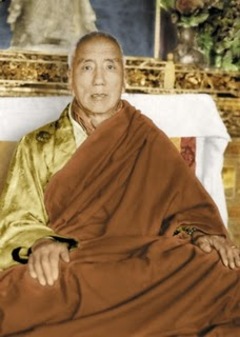 Further Information:
A Supplication to Realize the Profound
by Jamyang Khyentse Chökyi Lodrö
Namo guru!
You cause a pleasant rain of accomplishment and blessings to fall
From the clouds of compassion gathered in the sky-like dharmadhātu,
Lake-born Vajra, Khyentse Wangpo:
I supplicate you from the very depths of my heart.
As the successor of all the vidyādharas and siddhas,
You are a bodhisattva who has perfected the wisdom
Of the clear light heart-essence of Samantabhadra;
Glorious Guru, please bless me to realize this myself!
My mind has never been born — this is the nature of awareness.
To settle in this experience without the slightest alteration or contrivance is meditation;
And conduct is to be without effort or concern for what to do or to avoid —
May I actualize the primordially pure dharmakāya!
Jamyang Chökyi Lodrö wrote this at the request of Thinley Norbu, son of the lord of all the learned and accomplished ones, Dudjom Choktrul Rinpoche.
Translated by Sean Price, 2016. With thanks to Lama Chönam for his kind assistance.