Avalokiteśvara Visualization and Mantra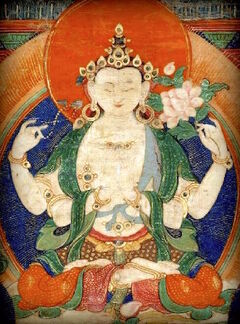 Further Information:
༄༅། །ཐུགས་ཆེན་སྒོམ་བཟླས་བཞུགས༔
Visualisation and Mantra Recitation of the Great Compassionate One
by Dudjom Lingpa
ཧྲཱིཿ རང་ཉིད་ཐུགས་རྗེ་ཆེན་པོར་གྱུར༔
hrih, rangnyi tukjé chenpor gyur
Hrīḥ! I myself transform into the Great Compassionate One,
དཀར་གསལ་ཕྱག་བཞིས་རིམ་བཞིན་དུ༔
karsal chak shyi rimshyin du
Brilliant white in color and with four arms—
ཐལ་སྦྱར་ཤེལ་ཕྲེང་པད་དཀར་བསྣམས༔
taljar shel treng pekar nam
Two of which are joined, and two of which hold a crystal rosary and a white lotus.
ལོངས་སྐུའི་ཆས་རྫོགས་སྐྱིལ་ཀྲུང་བཞུགས༔
longkü ché dzok kyiltrung shyuk
In full saṃbhogakāya attire, I sit with my two legs crossed.
ཐུགས་ཀར་ཧྲཱིཿལ་ཡིག་དྲུག་བསྐོར༔
tukkar hrih la yik druk kor
At my heart is a syllable hrīḥ encircled by the six syllables.
ཨོཾ་མ་ཎི་པདྨེ་ཧཱུྃ་ཧྲཱིཿ
om mani pemé hung hrih
oṃ maṇi padme hūṃ hrīḥ
ཞེས་པ་བརྒྱ་སྟོང་སོགས་ཅི་ནུས་བཟླའོ༔
Recite the mantra one hundred, one thousand or as many times as possible.
ཞེས་པའང་སློབ་བུ་རིག་ལྡན་གྱིས་བསྐུལ་ངོར་བདུད་འཇོམས་རྡོ་རྗེས་སྨྲས་པའོ། །དགེའོ༎ ༎
At the request of the disciple Rigden, this was spoken by Dudjom Dorje. May it be virtuous!
| Translated by Abraham Ta-Quan, 2021
Source: bdud 'joms gling pa. "thugs chen sgom bzlas/." In gter chos/_bdud 'joms gling pa. Thimphu, Bhutan: Lama Kuenzang Wangdue, 2004. TBRC W28732. Vol. 15: 43