Translations of Tibetan Buddhist Texts
English | Deutsch | Español | Français | Italiano | Nederlands | Português | 中文 | བོད་ཡིག
Every text on the site is downloadable in EPUB, MOBI and PDF formats


Look for icons at the end of texts and on topic and master pages
---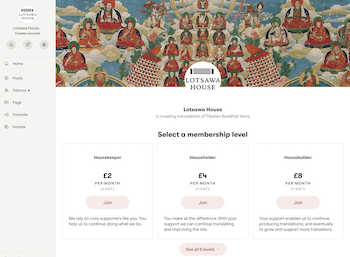 Become a patron
Please consider supporting us with as little as $2 per month on Patreon. We rely on the generosity of donors to continue translating important, interesting and inspiring texts and making them available 'on the House'.
---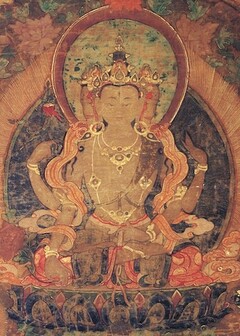 Latest major translation
Added 15 February 2020
The Concentrated Essence: A Concise Practice of Healing and Purifying (Sojong) the Three Sets of Vows
| Sojong
Dudjom Rinpoche (1904–1987) compiled this simple practice of Sojong (healing and purification) related to the three sets of vows—individual liberation (pratimokṣa), bodhisattva and mantra—for the benefit of beginners and those unable to extract the essential points from longer rituals.
---
Other recent additions
February 2020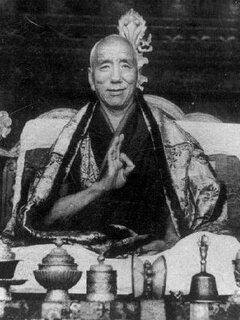 Advice on Recognizing the Nature of Mind | Advice
Pithy advice on investigating the origination, presence and departure (byung gnas 'gro gsum) of thoughts and resting without fabrication or contrivance in order to see the essence of mind. Read text >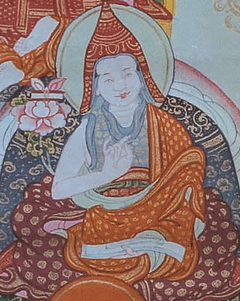 Intensely Brilliant Wisdom: In Praise of the Great Elder Smṛtijñāna | Praise
Jamyang Khyentse wrote these verses in praise of the famed 11th-century Indian paṇḍita Smṛtijñānakīrti in 1958 after an inspiring dream of the master. Read text >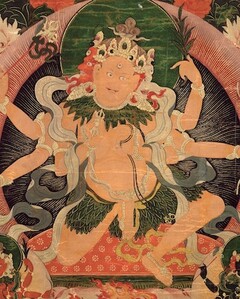 Dhāraṇī of Goddess Parṇaśavarī | Parṇaśavarī
from the Collected Sakya Recitations
A simple practice of Parṇaśavarī consisting of homage (from a longer praise by Chögyal Pakpa Lodrö Gyaltsen), mantra and dedication, which is particularly recommended as a means to heal and dispel contagious disease. Read text >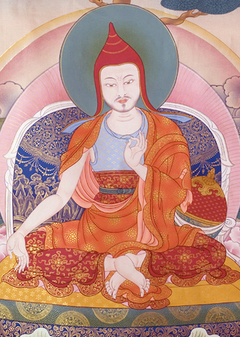 Light on the Path of Liberation: The Life of the Second Buddha Vasubandhu | Biography
Khenpo Shenpen Nangwa (1871–1927) offered this brief biography of the great Indian paṇḍita Ācārya Vasubandhu as an introduction to his annotational commentary (mchan 'grel) on the verses of the Treasury of Abhidharma (Abhidharmakośa). Read text >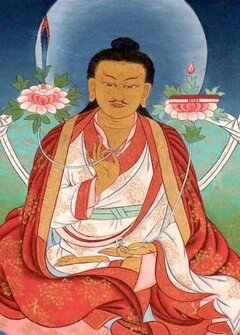 Shower of Blessings: A Guru Yoga of the Great Paṇḍita, Glorious Rongzom | Guru Yoga
A simple guru yoga focusing on the celebrated 11th-century Nyingma scholar Rongzom Chökyi Zangpo, who is here identified with Mañjuśrī, the embodiment of wisdom. Read text >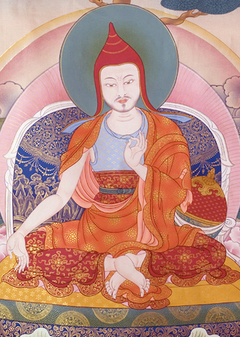 Synopsis of the Treasury of Abhidharma | Abhidharma
A convenient guide to the contents of Vasubandhu's classic work, listing the main subdivisions within the text's eight chapters devoted to: 1) the elements, 2) faculties, 3) cosmology, 4) karma, 5) negative tendencies (i.e., the afflictions), 6) paths and individuals, 7) wisdom and 8) meditative absorption. Read text >
Praise of Candrakīrti | Praise
Verses in praise of the great Mādhyamika scholar Candrakīrti (zla ba grags pa), author of the celebrated Madhyamakāvatāra and Prasannapadā, concluding with the mantra of Mañjuśrī. Read text >
---
Highlights from archive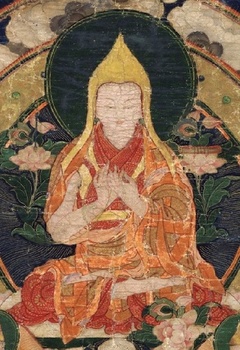 Aspiration for the Stages of the Path | Lamrim
This very short prayer of aspiration, just seven quatrains long, focuses on accomplishing the stages of the path (lamrim) as a means to benefit all beings. Read text >
A Song of Amazement Inspired by Practice Experience | Meditation
This song of amazement originates in a vision that Sera Khandro had while staying in retreat at Nyimalung in Amdo at the age of twenty-nine. The text is her response to the spirits and demons who appeared to her and asked what she was doing. Read text >
---
* Lotsāwa ལོ་ཙཱ་བ་; lo tsā ba n. Title used for native Tibetan translators who worked together with Indian scholars (or paṇḍitas) to translate major buddhist texts into Tibetan from Sanskrit and other Asian languages; it is said to derive from lokacakṣu, literally "eyes of the world". See also paṇḍita.