Translations of Tibetan Buddhist Texts
English | Deutsch | Español | Français | Italiano | Nederlands | Português | 中文 | བོད་ཡིག
Every text on the site is downloadable in EPUB, MOBI and PDF formats


Look for icons at the end of texts and on topic and master pages
---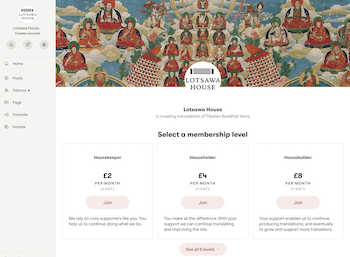 Become a patron
Please consider supporting us with as little as $2 per month on Patreon. We rely on the generosity of donors to continue translating important, interesting and inspiring texts and making them available 'on the House'.
---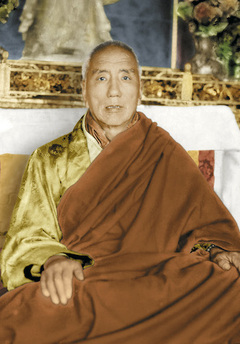 Latest translation
Added 9 December 2019
The Moon's Illusory Reflection to Gladden the Devoted: A Prayer to the Successive Rebirths
| Prayers
Jamyang Khyentse Chökyi Lodrö composed this prayer to his successive rebirths in 1952 for Dongna Tulku Jamyang Sherab Shenpen Chökyi Senge (1924–2003), who had requested a longer text to elaborate upon the earlier Beautiful Garland of Uḍumbara Flowers.
---
Other recent additions
November–December 2019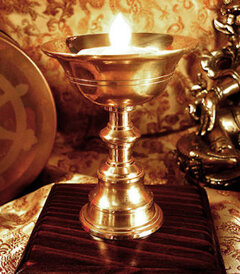 Aspiration for Electric Lamps | Light Offering Prayers
In these two verses of aspiration, the celebrated throneholder of Labrang Tashikhyil, Jigme Tenpé Wangchuk (1926–2000) extols the virtues of electric lamps (glog sgron), which unlike traditional butter lamps (mar me) do not emit smoke or unpleasant burning smells. Read text >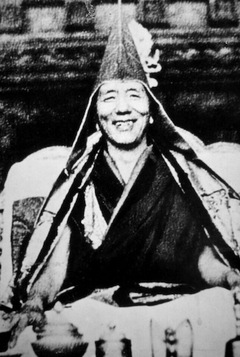 Repository of Every Form of Dharma that Might be Wished For: A Catalogue to the Published Miscellaneous Writings of the Venerable Guru Jamyang Chökyi Lodrö | Catalogues
Dilgo Khyentse Rinpoche's detailed description of the two-volume edition of Jamyang Khyentse Chökyi Lodrö's miscellaneous writings (gsung thor bu) published in India in the late 1960s. The catalogue has three sections: 1) the greatness of the author, 2) the character of the texts, and 3) a brief account of the publication process. Read text >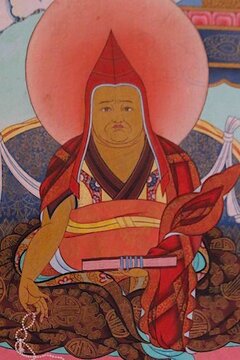 Guru Yoga of Jamyang Loter Wangpo | Guru Yoga
A simple practice of guru yoga focusing on the celebrated Sakya teacher Jamyang Loter Wangpo (1847–1914), composed by the master himself. Read text >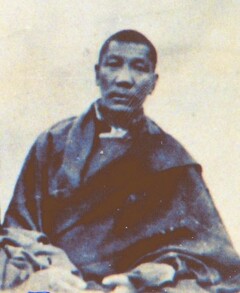 Divine Music: Words of Encouragement for the Authentic Path | Songs & Poems
Said to have been composed some time around 1909 or 1910, this poem expresses the author's appreciation for the Sakya teachings and is intended as an encouragement to fellow disciples (of Loter Wangpo) to pursue their study and practice. Read text >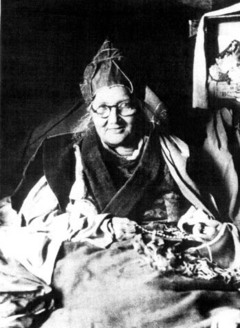 Guru Yoga of Jetsün Lochen, Queen of Yoginīs | Guru Yoga
A profound practice of guru yoga featuring the great Nyingma adept and teacher Lochen Chönyi Zangmo (1865–1950/1951), also known as Shuksep Jetsünma, who is here identified with Yeshe Tsogyal and Vajrayoginī. Read text >
---
Highlights from archive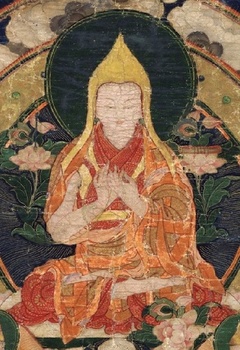 Aspiration for the Stages of the Path | Lamrim
This very short prayer of aspiration, just seven quatrains long, focuses on accomplishing the stages of the path (lamrim) as a means to benefit all beings. Read text >
A Song of Amazement Inspired by Practice Experience | Meditation
This song of amazement originates in a vision that Sera Khandro had while staying in retreat at Nyimalung in Amdo at the age of twenty-nine. The text is her response to the spirits and demons who appeared to her and asked what she was doing. Read text >
---
* Lotsāwa ལོ་ཙཱ་བ་; lo tsā ba n. Title used for native Tibetan translators who worked together with Indian scholars (or paṇḍitas) to translate major buddhist texts into Tibetan from Sanskrit and other Asian languages; it is said to derive from lokacakṣu, literally "eyes of the world". See also paṇḍita.