Translations of Tibetan Buddhist Texts
English | Deutsch | Español | Français | Italiano | Nederlands | Português | 中文 | བོད་ཡིག
Every text on the site is downloadable in EPUB, MOBI and PDF formats

ISSN 2753-4812
---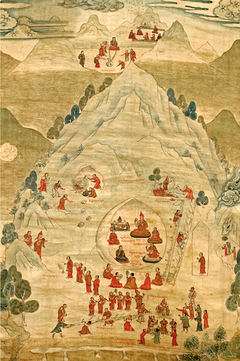 Latest Major Translation
1 March 2023
Exquisite Melody of the Auspicious Tamboura: A Depiction of the Profound Treasure Revelations at Chimé Karmo Taktsang Rockface and Yumtso Lake with Brief Captions
| History
Chokgyur Lingpa's first-hand account of the treasure revelations of The Essential Sacred Dharma in Five Cycles (dam chos snying po skor lnga), The Gradual Path of Wisdom Essence (lam rim ye shes snying po), and The Magical Net of the Three Roots (rtsa gsum sgyu 'phrul drva ba) at Chimé Karmo Taktsang and Sengé Yumtsho in Kham in 1866. The account was inscribed on the back of a thangka depicting the revelation scene.
---
March 2023
Praise of Uṣṇīṣavijayā | Praise
One of three praises—one to each of the Three Deities of Long Life (White Tāra, Amitāyus and Uṣṇīṣavijayā)—composed while travelling in a boat along the River Ganges. Read text >
---
March 2023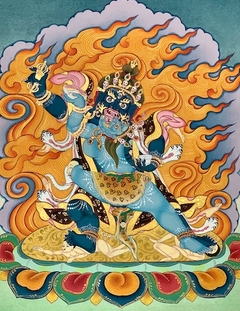 The Secret Practice of Dorjé Draktsal According to the Trio of the Guru's Heart Practices | Chokling Tersar
Chokgyur Lingpa revealed the secret cycle of The Heart Practice of Mighty Vajra Wrath (Tukdrup Dorjé Draktsal) from Yegyal Namkha Dzö. This particular Guru Draktsal sādhana is regarded as the auxiliary practice to Chokgyur Lingpa's The Gradual Path of Wisdom Essence (lam rim ye shes snying po). Read text >
---
Other Recent Additions
March 2023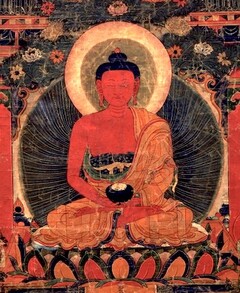 Guru Yoga That Liberates the Illusory Body as a Kāya of Light | Guru Yoga
In this guru yoga for transforming the body into a kāya of rainbow light one visualizes oneself as Avalokiteśvara and the guru as Amitābha within one's heart. Read text >
---
March 2023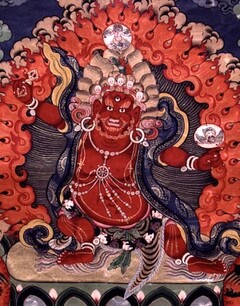 Key Points for the Approach Practice of Takhyung Barwa, The Blazing Wrathful Guru, Hayagrīva and Garuḍa | Takhyung Barwa
Interlinear notes to clarify the approach (bsnyen pa) practice, or recitation, of The Blazing Wrathful Guru, Hayagrīva and Garuḍa (Lama Drakpo Takhyung Barwa). Read text >
---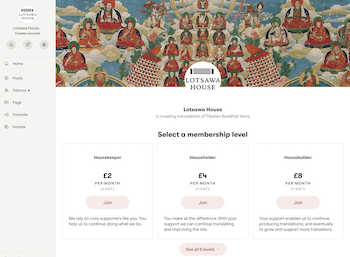 Become a Patron
Please consider supporting us with as little as $2 per month on Patreon. We rely on the generosity of patrons to continue translating important, interesting and inspiring texts and making them available 'on the House'.
---
Highlights from Archive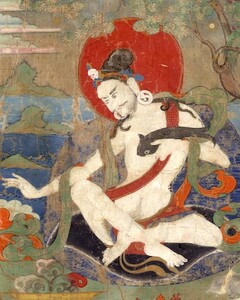 The Ganges Mahāmudrā Instructions | Mahāmudrā
This well-known and important source for the Mahāmudrā tradition, which is included within the Tengyur (Toh 2303), contains instructions that Tilopa imparted to Nāropa on the banks of the River Ganges. Read text >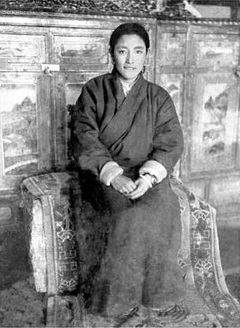 Beautiful String of Jewels: A Heart Advice | Advice
Jamyang Khyentse offered these words of heart-advice, encapsulating the entire Buddhist path, to Khandro Tsering Chödrön (1929–2011), his spiritual consort. Read text >
Featured Topic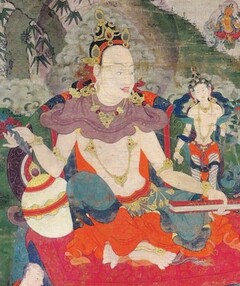 Texts from the Ḍākinīs' Great Dharma Treasury (mkha' 'gro'i chos mdzod chen mo), a 53-volume collection published in 2017 to showcase writing by and about female Buddhist masters. View topic >
---
* Lotsāwa ལོ་ཙཱ་བ་; lo tsā ba n. Title used for native Tibetan translators who worked together with Indian scholars (or paṇḍitas) to translate major buddhist texts into Tibetan from Sanskrit and other Asian languages; it is said to derive from lokacakṣu, literally "eyes of the world". See also paṇḍita.
Lotsawa House is registered in the UK as a Community Interest Company (#14358325), a category of company which exists primarily to benefit a community or with a view to pursuing a social purpose, with all profits having to be used for this purpose.