Translations of Tibetan Buddhist Texts
English | Deutsch | Español | Français | Italiano | Nederlands | Português | 中文 | བོད་ཡིག
Every text on the site is downloadable in EPUB, MOBI and PDF formats


Look for icons at the end of texts and on topic and master pages
---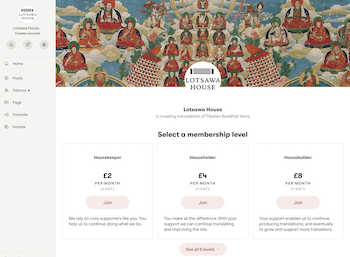 Become a patron
Please consider supporting us with as little as $2 per month on Patreon. We rely on the generosity of donors to continue translating important, interesting and inspiring texts and making them available 'on the House'.
---
Latest translation
Added 8 July 2019
The Play of Illusion: An Autobiography
Jamyang Khyentse Chökyi Lodrö (1893–1959) wrote this verse autobiography at the request of Dilgo Khyentse Rinpoche (1910–1991). Its detailed lists of teachings received, practices accomplished and teachings given later formed the basis of the master's full biography that Dilgo Khyentse himself wrote.
---
Recent additions
June – July 2019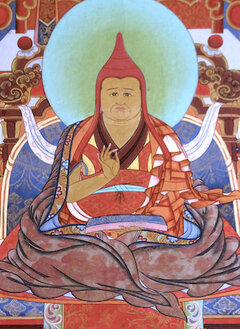 Swift Infusion of Blessings: A Guru Yoga based on Jamgön Mipham Gyatso | Guru Yoga
The shorter of two guru yoga texts focusing on the great Nyingma scholar and polymath Jamgön Mipham Rinpoche (1856–1912) composed by Shechen Gyaltsab Gyurme Pema Namgyal (1871–1926), one of the master's foremost disciples. It includes refuge, bodhicitta, visualization, accumulation of merit, invocation and prayer, mantra recitation, empowerment, and dissolution. Read text >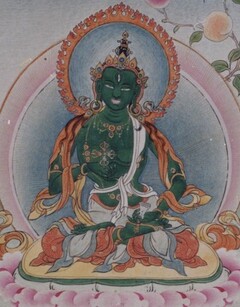 Vajravidāraṇa Dhāraṇī (Nyingma Version) | Dhāraṇī
Vajravidāraṇa (rdo rje rnam 'joms) is a semi-wrathful form of Vajrapāṇi and the deity's dhāraṇī (gzungs), counted as a kriyā-tantra, is known for its healing and purifying effect. The dhāraṇī has inspired a large number of ritual liturgies and commentaries, both Indic and Tibetan, and is commonly recited by Tibetan and Newar Buddhists. In Tibetan it is preserved mainly in two forms, one in the Kangyur and the Nyingma version presented here, which is said to be a reconstruction based on commentarial literature. Read text >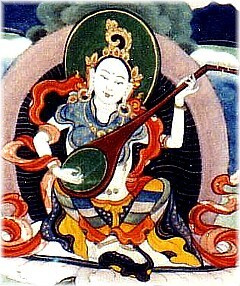 A Sādhana of White Sarasvatī | Sarasvatī
A simple sādhana of White Sarasvatī, the goddess of eloquence, to bring mastery of speech. The mantra to be recited is the single syllable Hrīṃ. Read text >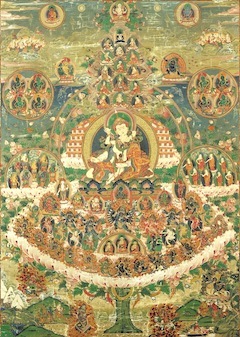 Illuminating the Path to Liberation: A Preliminary Practice (Ngöndro) | Ngöndro
A set of common and uncommon preliminary practices, beginning with the four thoughts that turn the mind away from saṃsāra and continuing with taking refuge, generating bodhicitta, maṇḍala offering, Vajrasattva visualization and mantra recitation, and guru yoga, all arranged by Mipham Rinpoche (1846–1912). Read text >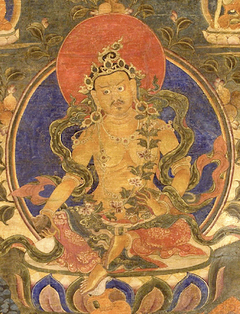 A Sādhana of Jambhala | Sarasvatī
A simple sādhana of Yellow Jambhala (Tib. dzambhala), the deity of wealth featuring a mantra that is said to bring freedom from poverty and disadvantage, and an abundance of good fortune. Read text >
---
Highlights from archive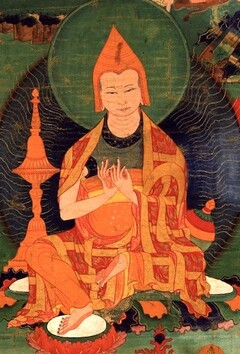 The Bodhisattva's Garland of Jewels | Mind Training
This short text—entitled Bodhisattvamaṇyāvalī in Sanskrit—is regarded as a classic work of the Mind Training (blo sbyong) tradition. With its direct and pithy language, it is not so much a poem as a series of maxims on the bodhisattva path. Read text >
A Song of Amazement Inspired by Practice Experience | Meditation
This song of amazement originates in a vision that Sera Khandro had while staying in retreat at Nyimalung in Amdo at the age of twenty-nine. The text is her response to the spirits and demons who appeared to her and asked what she was doing. Read text >
---
* Lotsāwa ལོ་ཙཱ་བ་; lo tsā ba n. Title used for native Tibetan translators who worked together with Indian scholars (or paṇḍitas) to translate major buddhist texts into Tibetan from Sanskrit and other Asian languages; it is said to derive from lokacakṣu, literally "eyes of the world". See also paṇḍita.