Translations of Tibetan Buddhist Texts
English | Deutsch | Español | Français | Italiano | Nederlands | Português | 中文 | བོད་ཡིག
Every text on the site is downloadable in EPUB, MOBI and PDF formats
---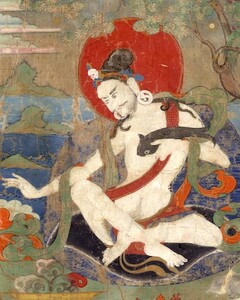 Latest major translation
24 November 2021
The Ganges Mahāmudrā Instructions
This important source for the Mahāmudrā ('Great Seal') tradition, which is included within the Tengyur (Toh 2303), contains the instructions that the mahāsiddha Tilopa is said to have imparted to his disciple Nāropa on the banks of the River Ganges.
---
November 2021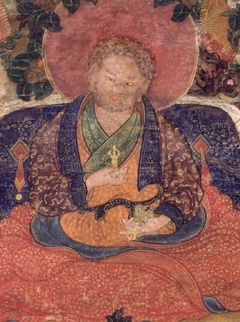 On Jetsün Drakpa Gyaltsen's How to Take the Practice to Heart | Songs & Poems
Notes on one of Jetsün Drakpa Gyaltsen's (1147–1216) best known songs, which incorporates key points related to both sūtra and mantra, written at the request of Sakya Dagchen Rinpoche (1929–2016). Read text >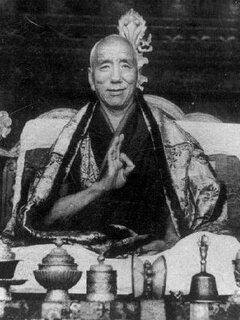 Great Stake to the Heart: A Song of Sadness | Songs & Poems
In this short song, composed in 1942, Jamyang Khyentse expresses sadness for his own situation in the age of degeneration and calls out to those he regards as his six main teachers: Jamyang Loter Wangpo (1847–1914), Katok Situ Chökyi Gyatso (1880–1925), Shechen Gyaltsab Gyurme Pema Namgyal (1871–1926), Adzom Drukpa (1842–1924), Dodrupchen Jigme Tenpai Nyima (1865–1926) and Gatön Ngawang Lekpa (1867–1941). Read text >
---
Other recent additions
November 2021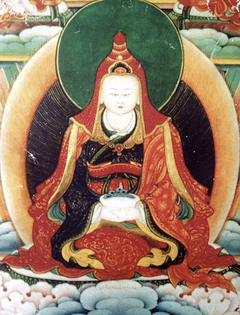 The Single-Page Practice of the Guru of Great Bliss | Guru Yoga
This concise practice of Guru Dewa Chenpo (gu ru bde ba chen po), the Guru of Great Bliss, was revealed as a terma by Chokgyur Lingpa (1829–1870) and transcribed by Jamgön Kongtrul Lodrö Thaye (1813–1899) at Tsurpu Monastery. Read text >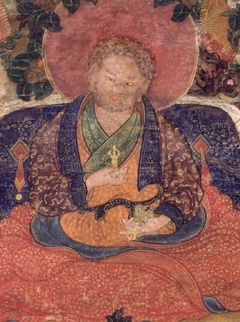 How to Take the Practice to Heart | Songs & Poems
This short song in ten verses consists of eight requests to a disciple and offers essential advice on view, meditation and conduct. The translation here is based on Jamyang Khyentse Chökyi Lodrö's annotational commentary. Read text >
---
November 2021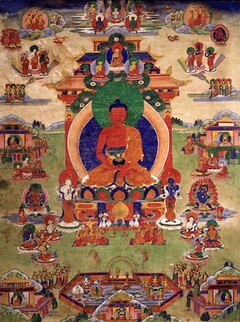 Aspiration to Be Reborn in the Realm of Sukhāvatī | Amitābha & Sukhāvatī
This prayer to be reborn in Sukhāvatī draws upon the Array of Amitābha Sūtra (amitābhavyūhasūtra, Toh 49) for its elaborate descriptions of the blissful realm. As with many of Jigme Lingpa's writings, the text is beautiful yet opaque in places, and the translation thus relies upon Rigdzin Gargyi Wangchuk's (1858–1930) commentary entitled Gateway to the Realm of Great Bliss (bde chen zhing gi 'jug ngogs). Read text >
---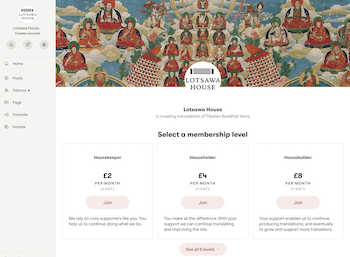 Become a patron
Please consider supporting us with as little as $2 per month on Patreon. We rely on the generosity of patrons to continue translating important, interesting and inspiring texts and making them available 'on the House'.
---
Highlights from archive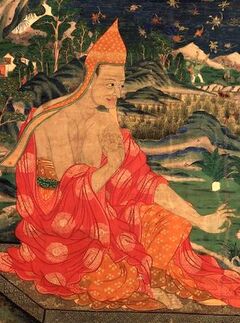 Light on the Path of Liberation: The Life of the Second Buddha Vasubandhu | Biography
Shenpen Nangwa offered this brief biography of Ācārya Vasubandhu as an introduction to his annotational commentary (mchan 'grel) on the verses of the Treasury of Abhidharma (Abhidharmakośa). Read text >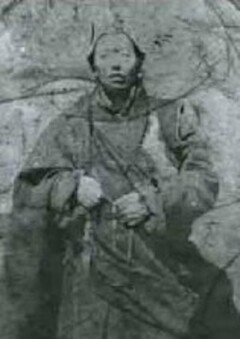 Advice for Urgyen Tsomo | Advice
Six lines of essential advice from the Fifteenth Karmapa Khakhyab Dorje to his spiritual consort, the celebrated ḍākinī Urgyen Tsomo (o rgyan gtso mo, 1897–1961). Read text >
---
* Lotsāwa ལོ་ཙཱ་བ་; lo tsā ba n. Title used for native Tibetan translators who worked together with Indian scholars (or paṇḍitas) to translate major buddhist texts into Tibetan from Sanskrit and other Asian languages; it is said to derive from lokacakṣu, literally "eyes of the world". See also paṇḍita.