Translations of Tibetan Buddhist Texts
English | Deutsch | Español | Français | Italiano | Nederlands | Português | 中文 | བོད་ཡིག
Every text on the site is downloadable in EPUB, MOBI and PDF formats

ISSN 2753-4812
---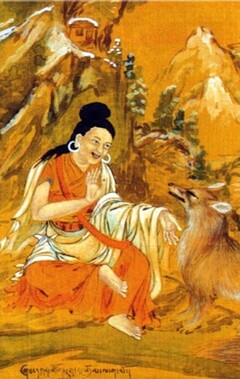 Latest Major Translation
13 May 2023
In this song promoting a nonsectarian approach to the teachings, Shabkar (1781–1851) compares the major traditions of Tibetan Buddhism to various mountain paths, all of which lead to the summit that is Buddhahood. Although approaches might vary in their speed, difficulty and so on, all are valid, just as any path leading to a mountaintop is valid.
---
May 2023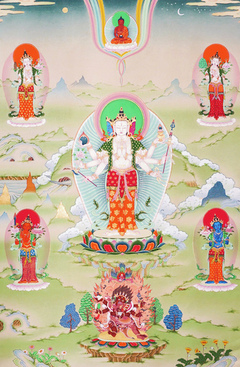 The Essence of Cintāmaṇi: A Daily Practice of the Great Compassionate One, Wish-fulfilling Wheel | Chokling Tersar
A daily practice of the Great Compassionate One, Wish-fulfilling Wheel (thugs rje chen po yid bzhin 'khor lo), a yidam practice which Chokgyur Lingpa revealed at Yegyel Namkha Dzö in 1856. Read text >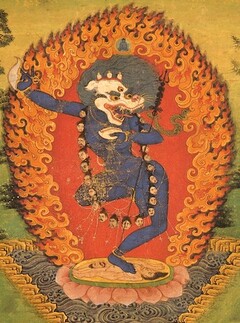 Averting Negativity through Siṃhamukhā, the Lion-Faced Ḍākinī | Siṃhamukhā
A short practice of the lion-faced ḍākinī, Siṃhamukhā (seng gdong ma), who is associated with the elimination of adversity, threats and danger. Read text >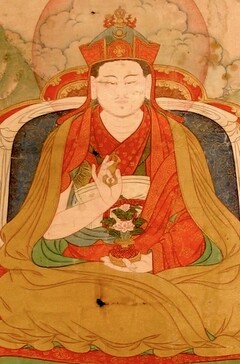 A brief prayer invoking Chokgyur Dechen Lingpa, composed by the great tertön's eldest son, Tersé Gyurme Tsewang Drakpa. Read text >
---
May 2023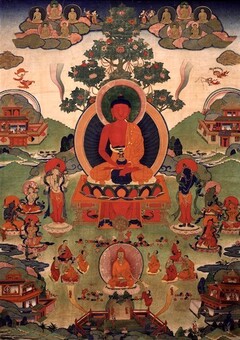 Transferring the Consciousness of the Deceased | Transference
This short guide can be read aloud in the presence of the dead and dying. It begins by explaining the truth of the person's situation, that they have passed away, then offers citations from the sūtras, encourages them to aim for Sukhāvatī, and finally guides them in a practice of transference (phowa). Read text >
---
Other Recent Additions
May 2023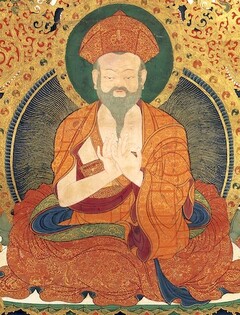 The Iron Tree of Immortality: A Guru Yoga Focusing on the Glorious Drukpa Ngawang Namgyal | Guru Yoga
Serkong Ngawang Tsultrim Dönden (1856–1918) composed this guru yoga of Zhabdrung Ngawang Namgyal, founder of the Bhutanese state, as the embodiment of Amitāyus and Padmasambhava based on a series of visionary experiences at Kurje, Bumthang. It was later edited, supplemented and published by Jé Khenpo Gendün Rinchen. Read text >
---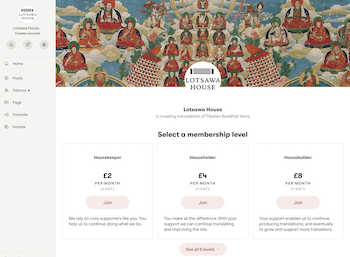 Become a Patron
Please consider supporting us with as little as $2 per month on Patreon. We rely on the generosity of patrons to continue translating important, interesting and inspiring texts and making them available 'on the House'.
---
Highlights from Archive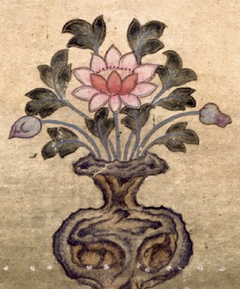 Teaching on the Offering of Flowers | Offering
This unusual text, which the author playfully suggests was requested by a bouquet of flowers, discusses the qualities and benefits of floral offerings. The translation is by Tulku Thondup Rinpoche and Philip Richman. Read text >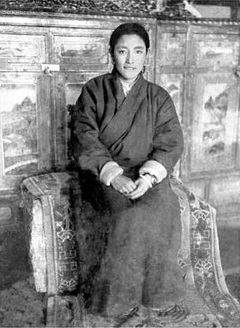 Beautiful String of Jewels: A Heart Advice | Advice
Jamyang Khyentse offered these words of heart-advice, encapsulating the entire Buddhist path, to Khandro Tsering Chödrön (1929–2011), his spiritual consort. Read text >
Featured Topic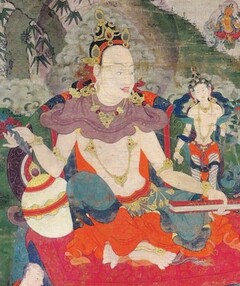 Texts from the Ḍākinīs' Great Dharma Treasury (mkha' 'gro'i chos mdzod chen mo), a 53-volume collection published in 2017 to showcase writing by and about female Buddhist masters. View topic >
---
* Lotsāwa ལོ་ཙཱ་བ་; lo tsā ba n. Title used for native Tibetan translators who worked together with Indian scholars (or paṇḍitas) to translate major buddhist texts into Tibetan from Sanskrit and other Asian languages; it is said to derive from lokacakṣu, literally "eyes of the world". See also paṇḍita.
Lotsawa House is registered in the UK as a Community Interest Company (#14358325), a category of company which exists primarily to benefit a community or with a view to pursuing a social purpose, with all profits having to be used for this purpose.