Translations of Tibetan Buddhist Texts
English | Deutsch | Español | Français | Italiano | Nederlands | Português | 中文 | བོད་ཡིག
Every text on the site is downloadable in EPUB, MOBI and PDF formats
---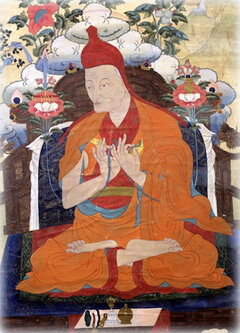 Latest major translation
9 December 2021
Calling the Guru From Afar: A Prayer to Pierce the Heart with Devotion
This popular song of devotion composed by the celebrated Rimé (ecumenical) master Jamgön Kongtrul Lodrö Tayé has two parts: the first an invocation of the great holders of various lineages, and the second a declaration of one's own faults and a request for the guru's aid in overcoming them and attaining realization.
---
January 2022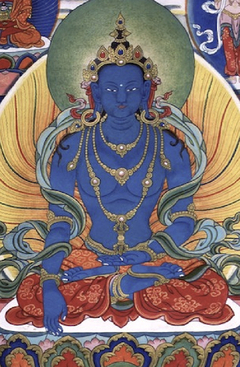 Opening the Door to Great Bliss: An Aspiration Towards the Realm of Abhirati | Aspiration Prayers
An aspiration to be reborn in the eastern pureland of Abhirati (mngon dga'), the realm of Vajra Akṣobhya. The text is included in the Shechen edition of the Rinchen Terdzö as part of Longsal Nyingpo's (1625–1692) Longsal Dorje Nyingpo (klong gsal rdo rje snying po) cycle. Read text >
---
Other recent additions
January 2022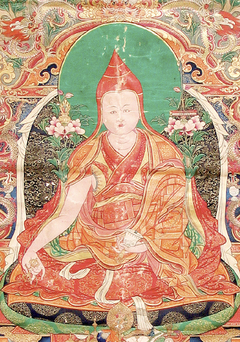 The Melodious Sound of Gathering Auspiciousness: A Prayer Based on the Liberational Life of the Omniscient Jamyang Khyentse Wangpo | Prayers
Jamgön Kongtrul composed this biographical prayer (rnam thar gsol 'debs) to Jamyang Khyentse Wangpo by extracting verses from a longer prayer to the masters of the Shangpa Kagyü lineage. For this edition, which is found in the Rinchen Terdzö, Jamyang Khyense Chökyi Lodrö composed three additional verses that refer to Khyentse Wangpo's parinirvāṇa and rebirth. Read text >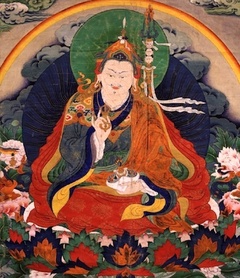 A Prayer to the Precious Guru from Uḍḍiyāna That Spontaneously Fulfils All Wishes | Guru Rinpoche Prayers
This popular Sampa Lhundrupma (bsam pa lhun grub ma) prayer to Padmasambhava was revealed as a terma by Dzongter Kunzang Nyima, alias Jigme Nüden Dorje, the grandson and speech incarnation of Dudjom Lingpa (1835–1904). Read text >
---
January 2022
The Loud Drum of Spring: A Commentary on the Difficult Points of the Ritual of the Great Compassionate One, Natural Liberation of Suffering | Longchen Nyingtik
This is one of two commentaries by Jigme Lingpa on the Dukngal Rangdrol practice of Avalokiteśvara that he himself revealed. Here, Jigme Lingpa offers a word-by-word explanation of the sādhana, both its preliminaries and its main part, in a simple yet precise manner. He does not comment on the feast offering section, which was added only later by the First Dodrupchen, Jigme Trinle Özer (1745–1821). Read text >
---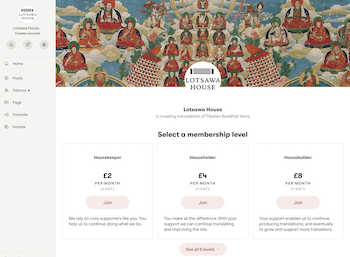 Become a patron
Please consider supporting us with as little as $2 per month on Patreon. We rely on the generosity of patrons to continue translating important, interesting and inspiring texts and making them available 'on the House'.
---
Highlights from archive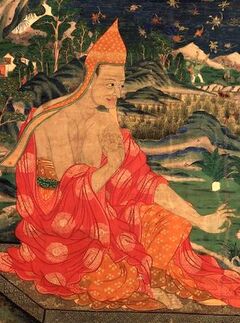 Light on the Path of Liberation: The Life of the Second Buddha Vasubandhu | Biography
Shenpen Nangwa offered this brief biography of Ācārya Vasubandhu as an introduction to his annotational commentary (mchan 'grel) on the verses of the Treasury of Abhidharma (Abhidharmakośa). Read text >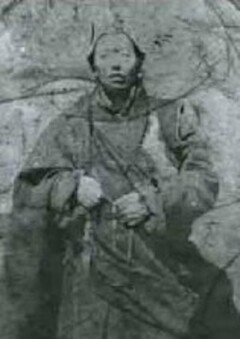 Advice for Urgyen Tsomo | Advice
Six lines of essential advice from the Fifteenth Karmapa Khakhyab Dorje to his spiritual consort, the celebrated ḍākinī Urgyen Tsomo (o rgyan gtso mo, 1897–1961). Read text >
---
* Lotsāwa ལོ་ཙཱ་བ་; lo tsā ba n. Title used for native Tibetan translators who worked together with Indian scholars (or paṇḍitas) to translate major buddhist texts into Tibetan from Sanskrit and other Asian languages; it is said to derive from lokacakṣu, literally "eyes of the world". See also paṇḍita.