Sera Khandro Series
English (17) | Deutsch (5) | Español (7) | Français (7) | Português (2) | བོད་ཡིག (17)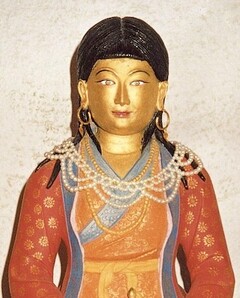 Name variants:
Dewé Dorje
Kunzang Chönyi Wangmo
Sukhavajra (Sukha Badzra)
Üza Khandro
Subsequent incarnation(s):
Further information:
Emaho!

Magical emanation of triumphant noble females –

Dewé Dorje – to you I pray!

With your care in this life, future lives and in the bardo,

May our wishes be accomplished according to the Dharma.
Texts by and associated with Sera Khandro Kunzang Dekyong Wangmo (se ra mkha' 'gro kun bzang bde skyong dbang mo, 1892–1940), the famous treasure-revealer:
Advice
Aspiration Prayers
Biography
Guru Yoga
Prayers
Sādhanas
Songs