Supplication to Noble Tārā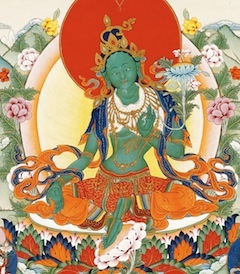 Further information:
༼࿑༽༔ འཕྲུལ་ཡིག་ལས༔ རྗེ་བཙུན་སྒྲོལ་མའི་གསོལ་འདེབས་དཔག་བསམ་སྙེ་མ་བཞུགས༔
A Supplication to Noble Tārā, The Wish-Fulfilling Cornucopia1
Taken from the Magical Letters
revealed by Sera Khandro
ཨེ་མ་ཧོ༔
emaho
Emaho.
སྐྱབས་གནས་བསླུ་མེད་དཀོན་མཆོག་རྣམ་པ་གསུམ༔
kyabné lumé könchok nampa sum
Exalted Tārā, sole embodiment of the blessing and compassion
ཐུགས་རྗེ་བྱིན་རླབས་གཅིག་བསྡུས་བཅོམ་ལྡན་མ༔
tukjé jinlab chikdü chomden ma
Of the three rare and sublime ones, the unfailing sources of refuge,
འཕགས་མ་ཉེར་གཅིག་ཞབས་ལ་གུས་ཕྱགས་འཚལ༔
pakma nyerchik zhab la gü chak tsal
I humbly pay homage at your feet
བདག་སོགས་འདི་ནས་ཚེ་རབ་ཐམས་ཅད་དུ༔
dak sok di né tsé rab tamché du
And those of your twenty-one emanations.
འཕགས་མ་ཁྱེད་ཀྱིས་བརྩེ་བས་རྗེས་བཟུང་སྟེ༔
pakma khyé kyi tsewé jezung té
From this very moment and in all lives to come
བདག་མཐོང་ཐོས་དང་དྲན་རེག་འགྲོ་བ་ཀུན༔
dak tong tö dang dren rek drowa kün
Pray hold us in your great love.
རླབས་ཆེན་བྱང་ཆུབ་སེམས་མཆོག་རྒྱུད་སྐྱེས་ནས༔
lab chen changchub sem chok gyü kyé né
May all who see, hear, recall, or come into contact with me in any way, generate magnificent bodhicitta, most supreme,
མྱུར་དུ་རྫོགས་པའི་སངས་རྒྱས་ཐོབ་པར་ཤོག༔
nyurdu dzokpé sangye tobpar shok
And swiftly attain complete and perfect awakening.
འདི་ལ་རྟག་ཏུ་བརྩོན་གྱུར་ན༔ འཕགས་མས་རྗེས་བཟུང་ཐེ་ཚོམ་མེད༔
If you make an effort to recite this supplication continually, there is absolutely no doubt that Ārya Tārā will care for you.
ཞེས་པ་འདི་ཡང་དགེ་བཙུན་དམ་པ་ལྷ་རྗེ་བསམ་གཏན་གྱིས་འདི་ལྟར་དགོས་ཞེས་ནན་ཆེར་བསྐུལ་ངོར་མདོ་མེད་བདེ་བའི་རྡོ་རྗེས་སེར་དགོན་དབེན་ཁྲོད་ནས་བྲིས་པའོ། །དགེའོ། །
Thus, in response to the insistent requests of the noble monk-physician Samten, who expressed a need for something of this kind, the incautious Dewé Dorje wrote this in the isolated hermitage of Sera Monastery. May virtue abound!
| Translated by Sean Price, 2020.
Source: kun bzang bde skyong dbang mo. "rje btsun sgron ma'i gsol 'debs dpag bsam snye ma" In gsung 'bum/_kun bzang bde skyong dbang mo/. 6 vols. Chengdu: si khron dpe skrun tshogs pa/ si khron mi rigs dpe skrun khang, 2009. (BDRC W1PD108254) Vol. 4: 362
Version: 1.2-20220818
↑ snye ma, translated here as 'cornucopia' is literally a cluster of fruit, grain or flowers.