Prayer to the Three Great Stūpas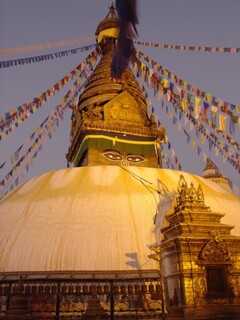 Further Information:
༄༅། །མཆོད་རྟེན་རྣམ་གསུམ་ལ་གསོལ་འདེབས་བཞུགས།།
Prayer to the Three Great Stūpas of Kathmandu
by Dudjom Rinpoche
ཉེ་བའི་ཚནྡྷོ་བལ་ཡུལ་གླང་རུའི་སྤོར། །
nyewé tsando bel yul langrü por
In Upacchandoha1—the land of Nepal—on the summit of Ox-Horn,
འདས་པའི་རྒྱལ་ཀུན་བྱིན་རླབས་སྐུ་གདུང་བྱོན། །
depé gyal kun chinlap kudung jön
Appeared the blessings and relics of all the buddhas of times gone by;
ངོ་མཚར་འཕགས་པ་ཤིང་ཀུན་ཞེས་གྲགས་པའི། །
ngotsar pakpa shingkün shyé drakpé
Renowned as the wondrous Pakpa Shingkün—2,
རང་བྱུང་མཆོད་རྟེན་ཆེན་པོ་ལ་གསོལ་བ་འདེབས། །
rangjung chörten chenpo la solwa dep
To this great, self-arisen stūpa, I pray!
ཐུབ་དབང་རྒྱལ་བུ་སྙིང་སྟོབས་ཅན་གྱུར་ཚེ། །
tubwang gyal bu nying tob chen gyur tsé
When the Lord of Sages was the prince Mahāsattva, 'the Courageous',
སྟག་མོ་བཀྲེས་པར་རང་གི་སྐུ་ལུས་བྱིན། །
takmo trepar rang gi ku lü jin
He sacrificed his own body to feed a hungry tigress;
གནས་དེར་བྱང་ཆུབ་སྤྱོད་པའི་སྐུ་གདུང་བྱོན། །
né der chang chub chöpé ku dung jön
And on that very site the relics of enlightened action appeared—
བྱང་ཆུབ་མཆོད་རྟེན་ཆེན་པོ་ལ་གསོལ་བ་འདེབས། །
changchub chörten chenpo la solwa dep
To this great stūpa of awakening, I pray!
བྱ་རྫི་མས་བཞེངས་བུ་བཞིས་ལས་འཕྲོ་བསྐྱངས། །
jadzi mé shyeng bu shyi letro kyang
Built by a poultrywoman whose four sons sustained a karmic connection,
ཐུགས་བསྐྱེད་ཇི་བཞིན་གངས་ཅན་གདུལ་བྱར་བཟུང་། །
tukkyé ji shyin gangchen duljar zung
And, following their aspirations, took those from the Land of Snows as disciples;
སྨོན་ལམ་ཡོངས་གྲུབ་བྱ་རུང་ཁ་ཤོར་གྲགས། །
mönlam yong drup jarung khashor drak
To this fulfiller of prayers, known as Jarung Khashor,3
མཐོང་གྲོལ་མཆོད་རྟེན་ཆེན་པོ་ལ་གསོལ་བ་འདེབས། །
tong drol chörten chenpo la solwa dep
This great stūpa which liberates upon sight, I pray!
འབྲེལ་ཚད་དོན་ལྡན་མཆོད་རྟེན་རྣམ་གསུམ་ལ། །
dreltsé dönden chörten nam sum la
Through the merit of devotedly prostrating to, making offerings before, and circumambulating
གུས་པས་ཕྱག་མཆོད་བསྐོར་བའི་བསོད་ནམས་ཀྱིས། །
güpé chak chö korwé sönam kyi
These three stūpas, which benefit all who come into contact with them,
བདག་གཞན་ལས་ངན་སྡིག་སྒྲིབ་ཡོངས་བྱང་ནས། །
dak shyen lé ngen dik drip yong jang né
May I and all others completely purify our negative karma, harmful actions and obscurations,
རྣམ་གྲོལ་བྱང་ཆུབ་འབྲས་བཟང་མྱུར་ཐོབ་ཤོག །
namdrol chang chub dré zang nyur top shok
And swiftly attain the excellent fruition of perfect liberation and enlightenment!
ཅེས་པའང་རང་སློབ་སྒྲུབ་བརྩོན་རིག་བཟང་རྡོ་རྗེས་བསྐུལ་བས། ཤཱཀྱའི་དགེ་བསྙེན་འཇིགས་བྲལ་ཡེ་ཤེས་རྡོ་རྗེས་རྟེན་མཆོག་འདི་དག་གི་དྲུང་དུ་སེམས་བསྐྱེད་པའི་སྐབས་སུ་བྲིས་པ་དོན་ལྡན་དུ་གྱུར་ཅིག། །།
At the insistence of my own student, the diligent practitioner Rigzang Dorje, I, Jigdral Yeshe Dorje, an upāsaka disciple of Śākyamuni, wrote this while making aspirations in the presence of these supreme stūpas. May it be beneficial!
| Translated by Adam Pearcey, 2016.
↑ A name for Nepal as a pureland
↑ 'Noble All-Trees'. On this name, see Hubert Decleer, "The Tibetan Name of Svayambhu, 'Phags pa shing kun ('Sacred All-Trees'): What Does it Really Mean?" in Light of the Valley: Renewing the Sacred Art and Traditions of Svayambhu, edited by Tsering Palmo Gellek & Padma Dorje Maitland. Cazadero, CA: Dharma Publishing, pp. 241–72.
↑ Meaning 'Permission Slipped Out of the [King's] Mouth'.