Dolpopa Guru Sādhana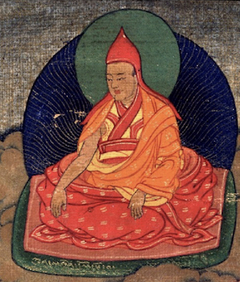 ༄༅། །ཀུན་མཁྱེན་དོལ་པོའི་བླ་སྒྲུབ་བཞུགས།
Guru Sādhana of the Omniscient Dolpopa
by Jamyang Khyentse Chökyi Lodrö
རྒྱལ་བ་ཐུབ་པ་ཆེན་པོ་དང་། །
པདྨ་འབྱུང་གནས་སྤྲུལ་པའི་སྐུ། །
ཀུན་མཁྱེན་དོལ་པོ་སངས་རྒྱས་ཀྱི། །
རྣལ་འབྱོར་ཟབ་མོ་ཡང་དག་བསྟན། །
དབེན་པའི་གནས་སུ་འདུག་བྱས་ཏེ། །
བདེ་བའི་སྟན་ལ་བག་ཕབ་ནས། །
ངེས་འབྱུང་བྱང་སེམས་ཡང་དག་བསྐྱེད། །
Here, I shall reveal a profound yoga
For the buddha Omniscient Dolpopa
Who was a nirmāṇakāya emanation
Of the victorious Great Sage and Padmasambhava.
For this you should remain in an isolated place,
Seat yourself comfortably,
And generate authentic renunciation and bodhicitta.
ཨ། འཁོར་འདས་ཆོས་རྣམས་དབྱིངས་སུ་སྡུད། །
a, khordé chö nam ying su dü
Ah. All the phenomena of saṃsāra and nirvāṇa are absorbed into absolute space.
མི་གཡོ་གསུམ་ལྡན་བསམ་གཏན་དང་། །
mi yo sumden samten dang
Out of meditative concentration with its three immovable factors
རང་རིག་མ་བཅོས་གཉུག་མ་ལས། །
rangrig machö nyukma lé
And my own pure awareness, genuine and unaltered,
རིགས་གསུམ་གཅིག་འདུས་སྤྲུལ་པའི་སྐུ། །
rik sum chik dü trulpé ku
Arises the nirmāṇakāya form embodying the three families
སྲོག་རྩོལ་དྭངས་མའི་གོང་བུར་ཤར། །
soktsol dangmé gongbur shar
As a sphere of subtle essence and controlled vital force.
སྤྲོ་བསྡུའི་ཆོ་འཕྲུལ་ཆེན་པོ་ཡི། །
trodü chotrul chenpo yi
In absorption's creative play, I recollect
རྗེས་སུ་དྲན་པའི་ཏིང་འཛིན་རྩལ། །
jesu drenpé tingdzin tsal
The great miracle of emanating and reabsorbing.
པདྨ་ཟླ་བའི་གདན་སྟེང་དུ། །
pema dawé den tengdu
Upon seats of lotus and moon disc
ཀུན་མཁྱེན་པྲཛྙ་དྷྭ་ཛ་ནི། །
künkhyen pradznya dhadza ni
Is the omniscient Prajñādhvaja,1
དཀར་དམར་མདངས་ལྡན་སྐུ་ཤ་རྒྱས། །
kar mar dangden ku sha gyé
White with a tinge of red, glowing and corpulent,
ཆོས་གོས་རྣམ་གསུམ་མཛེས་པར་བཀླུབས། །
chögö nam sum dzepar lub
Beautifully attired in the three dharma robes,
དབུ་ལ་པཎ་ཞྭ་དུར་ཁ་གསོལ། །
u la pen zha dur kha sol
And, on his head, the orange hat of a paṇḍita.
ཞབས་ཟུང་ཕྱེད་སྐྱིལ་རོལ་པས་བཞུགས། །
zhabzung chekyil rolpé zhuk
He seats in playful ease, his two feet loosely crossed.
ཕྱག་གཉིས་པུས་སྟེང་བཀབ་པ་དང་། །
chak nyi pü teng kabpa dang
His two hands rest upon his knees,
རྡོ་རྗེའི་ལྟ་སྟངས་དབྱིངས་ལ་གཟིགས། །
dorjé tatang ying la zik
And with vajra gaze he looks into space.
གནས་བཞིར་ཡི་གེ་བཞི་འོད་འཕྲོས། །
nezhir yigé zhi ö trö
From the four syllables at his four centres light radiates out
ཡེ་ཤེས་སྤྱན་དྲངས་དབྱེར་མེད་ཐིམ། །
yeshe chendrang yermé tim
Invoking the jñānasattva, who dissolves into him.
རང་རིག་ལྟ་བའི་མཇལ་ཕྱག་འཚལ། །
rangrig tawé jal chaktsal
Encountering the view of my own intrinsic awareness, I prostrate.
ཕྱི་ནང་གསང་བའི་མཆོད་པས་མཆོད། །
chi nang sangwé chöpé chö
With outer, inner and secret gifts, I make offerings.
སྐུ་གསུང་ཐུགས་ཡོན་ཕྲིན་ལས་བསྟོད། །
ku sung tuk yön trinlé tö
And for your body, speech, mind, qualities and activity, I offer praise.
ཐུགས་ཀར་འཇིག་རྟེན་དབང་ཕྱུག་ནི། །
tukkar jikten wangchuk ni
At his heart centre is Lokeśvara—Lord of the World,
དཀར་གསལ་ཕྱག་གཡས་མཆོག་སྦྱིན་དང་། །
karsal chak yé chok jin dang
Brilliant white with his right hand in the gesture of supreme giving
གཡོན་པ་སྐྱབས་སྦྱིན་པད་དཀར་བསྣམས། །
yönpa kyab jin pekar nam
And his left in the mudrā of granting refuge and holding a lotus.
སེམས་སྐྱིལ་བཞུགས་པའི་ཐུགས་དབུས་སུ། །
sem kyil zhukpé tuk ü su
He stands in the bodhisattva posture and in the centre of his heart
འཇམ་དཔལ་དམར་སེར་རལ་གླེགས་བསྣམས། །
jampal marser ral lek nam
Is Mañjuśrī, orange in colour and holding sword and book.
ཐུགས་དབུས་གསང་བདག་ཞི་མ་ཁྲོ། །
tuk ü sangdak zhi ma tro
In the centre of his heart is the Lord of Secrets, neither peaceful nor wrathful,
རྡོར་དྲིལ་བསྣམས་པའི་ཐུགས་ཙིཏྟ། །
dordril nampé tuk tsitta
Holding vajra and bell and at his heart,
འོད་ཀྱི་གུར་ཁང་འབར་བའི་ཀློང་། །
ö kyi gurkhang barwé long
A blazing pavilion of light,
ཧཱུྃ་གི་ཁོག་པར་ཧྲཱིཿདྷཱིཿས་མཚན། །
hung gi khokpar hrih dhih sa tsen
In which there is a Hūṃ marked on its interior by Hrīḥ and Dhīḥ.
དེ་ལས་རྡོ་རྗེ་སྔགས་ཀྱི་སྒྲ། །
dé lé dorjé ngak kyi dra
From this emanates the sound of the vajra mantra,
འཕྲོས་པས་བདག་གཞན་དོན་གཉིས་བྱས། །
tröpé dakzhen dön nyi jé
Whereby the benefit of self and other is accomplished.
སྣོད་བཅུད་རྒྱལ་བའི་དཀྱིལ་འཁོར་རྫོགས། །
nöchü gyalwé kyilkhor dzok
Environment and inhabitants are perfected as maṇḍala of victorious ones,
དབྱེར་མེད་མཉམ་པ་ཆེན་པོར་བཞག །
yermé nyampa chenpor zhak
And in great indivisible equality, I rest.
རིགས་གསུམ་མགོན་པོའི་བསྙེན་པ་དང་། །
ཁྱད་པར་ཨ་ར་པ་ཙ་བཟླ། །
ཡང་སྙིང་རྣམ་བཅུ་དབང་ལྡན་ནི། །
རྡོ་རྗེ་བཞི་ཡི་སྔགས་ཀྱིས་དྲངས། །
བཟླས་པས་དངོས་གྲུབ་རྣམ་གཉིས་ཐོབ། །
མ་བསླབ་ཆོས་ཀྱི་གཏེར་མཛོད་བརྡོལ། །
ཐུམ་མཚམས་གསོལ་འདེབས་ལན་མང་འདོན། །
ཐུན་མཐར་ལྷར་སྣང་འོད་གསལ་བསྡུ། །
ཐུགས་ཀའི་རིགས་གསུམ་ཐིག་ལེར་ཞུ། །
སེམས་འཛིན་སྤྲོ་བསྡུའི་ཐིག་ལེ་གསུམ། །
གཅིག་དྲིལ་ཆེ་ཆུང་མ་ངེས་པ། །
སྣ་ཚོགས་སྤྲོ་བསྡུས་སྣོད་བཅུད་སྦྱངས། །
སྲིད་དང་ཞི་བའི་དྭངས་བཅུད་བསྡུ། །
ཡེ་ཤེས་ཆེན་པོའི་བཅུད་དུ་སྨིན། །
སྟོང་པ་ཆེན་པོའི་ངང་དུ་ནི། །
བཞག་ལ་ལྡང་ཚེ་དགེ་བསྔོ་དང་། །
ཤིས་པ་བརྗོད་པས་དགེ་ལེགས་བྱ། །
Recite the approach mantras of the Lords of Three Families,
Especially the Arapatsa.
By reciting the innermost heart, the ten powerful aspects,
The mantra of the four vajras,
You will gain the two kinds of attainment.
Even without training, the dharma treasury will overflow.
In periods between sessions recite prayers many times.
At the end of a session deity appearances dissolve into clear light,
The deities of the three families at the heart melt into a bindu.
And the three bindus of mental focus on emanation and absorption
Combine into one, of uncertain size, which
Through emanation and absorption of multi-coloured light purifies environment and inhabitants
And collects the subtle essence of existence and quiescence,
Which matures as the essence of great pristine awareness.
Settle in an experience of great emptiness,
And, when arising, dedicate the merit,
And bring virtue and excellence through verses of auspiciousness.
ཅེས་པའང་རང་ཉིད་ཀུན་མཁྱེན་ཆེན་པོ་འདི་ལ་མི་ཕྱེད་པའི་དད་པ་བརྟན་པོས་མཚམས་སྦྱར་ཏེ། མེ་བྱ་ཟླ་བཅུ་གཉིས་ཚེས་ལྔ་ལ་འབྲས་ལྗོངས་མཁའ་སྤྱོད་ཌཱ་ཀིའི་ཕོ་བྲང་དུ་པདྨ་ཡེ་ཤེས་རྡོ་རྗེས་བྲིས་པའོ།། །།
Thus, inspired by my stable and unshakeable faith in the Great Omniscient One, I, Pema Yeshe Dorje, wrote this in the palace of the celestial ḍākinī, Sikkim, on the fifth day of the twelfth month of the Fire Bird year.
| Translated by Adam Pearcey with the generous support of the Khyentse Foundation and Tertön Sogyal Trust, 2019.
Source: 'Jam dbyangs chos kyi blo gros. "kun mkhyen dol bo'i bla sgrub/" in 'Jam dbyangs chos kyi blo gros kyi gsung 'bum. 12 vols. Bir: Khyentse Labrang, 2012. W1KG12986. Vol. 4: 327–328
Version: 1.2-20220208
↑ Sanskrit for Sherab Gyaltsen, Dolpopa's name.