Upon Receiving a New Inkwell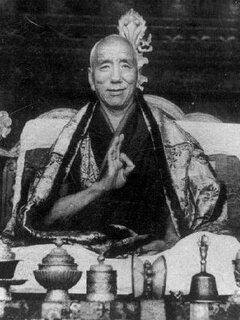 Further information:
Upon Receiving a New Inkwell[1]
by Jamyang Khyentse Chökyi Lodrö
Oṃ svasti!
Source of all auspiciousness, so sublime and so glorious.
Glorious renown through the three doors is pervasive.[2]
Pervasive protector, as Mañjughoṣa you're renowned.
Renowned beyond limit, O victors grant me fortune!
Let the tree of longevity, glory and fortune flourish,
Flourish through you, O Tāra, protectress sublime,
Sublime as a source of refuge for beings, one and all.
All-perfect, the gift of immortality—bestow it upon me!
Written on the 29th day of the fourth month with fresh ink from a new inkwell.
| Translated (rather freely) by Adam Pearcey with the generous support of the Khyentse Foundation and Tertön Sogyal Trust, 2023.
Bibliography
Tibetan Edition
'Jam dbyangs chos kyi blo gros. 'Jam dbyangs chos kyi blo gros kyi gsung 'bum. 12 vols. Bir, H.P.: Khyentse Labrang, 2012. (W1KG12986) Vol. 10: 559
Version: 1.0-20230613