Song of Deathlessness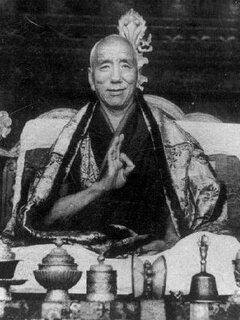 Further Information:
Song of Deathlessness[1]
by Jamyang Khyentse Chökyi Lodrö
Ahoyé!
Let all thoughts of the demon of death
Dissolve within the space of deathlessness.
Let my own deathless awareness
Be perfected as the deathless kāya.
What we call 'death' is but a name.
Let Yama, Lord of Death,
Encounter death-conquering longevity.[2]
Let the hosts of deathless vidyādharas
Grant the attainment of deathlessness.
By Chökyi Lodrö.
| Translated by Adam Pearcey with the generous support of the Khyentse Foundation and Tertön Sogyal Trust, 2021.
Source: 'Jam dbyangs chos kyi blo gros. 'Jam dbyangs chos kyi blo gros kyi gsung 'bum. 12 vols. Bir: Khyentse Labrang, 2012. W1KG12986 8: 443
---
The original Tibetan text is untitled; this title has been added by the translator.  ↩

The translation of this line is tentative. If correct, he original Tibetan could refer to the cliff of death-conquering longevity (tshe zhal brag), where Chokgyur Dechen Lingpa revealed a terma related to longevity.  ↩