Prayer for Auspiciousness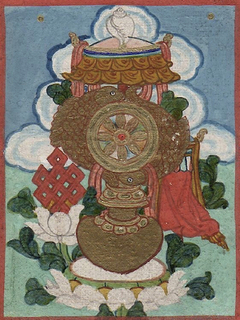 Further Information:
༄༅། །བཀྲ་ཤིས་སྨོན་ལམ་བཞུགས༔
A Prayer for Auspiciousness
by Apang Tertön
ཨོཾ་བཀྲ་ཤིས་ཀུན་གྱི་བཀྲ་ཤིས་པ༔
om, tashi kün gyi trashipa
Oṃ! The most auspicious of all that is auspicious,
ཕྱོགས་བཅུའི་བཀྲ་ཤིས་ལྷ་རྣམས་ལ༔
chok chü tashi lha nam la
Auspicious deities of the ten directions,
བཀྲ་ཤིས་དོན་དུ་ཕྱག་འཚལ་ལོ༔
tashi döndu chaktsal lo
For the sake of auspiciousness, I pay homage to you.
རྟག་ཏུ་བཀྲ་ཤིས་དཔལ་འབར་ཤོག༔
taktu tashi palbar shok
May the splendor of auspiciousness blaze forever, I pray!
མཁར་ལོའི་ངོར་ཕྲིན་ལས་གླིང་པས་སོ༔
By Trinlé Lingpa for Kharlo.
| Translated by Abraham Ta-Quan and Adam Pearcey, 2021
Source: a pang gter ston. "mnol bsangs bsdus pa/." In gter chos/_dpa' bo chos dbyings rdo rje. Gangtok: Dodrup Sangey Lama, 1976. TBRC W23183. Vol. 2: 350
Version: 1.0-20210610