Prayer to Sarasvatī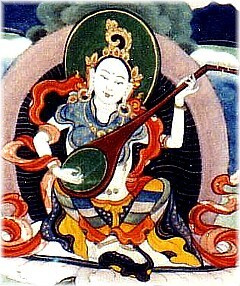 Further information:
༄༅། །དབྱངས་ཅན་གསོལ་འདེབས་ཆུ་སྐྱེས་འཛུམ་དཀར་བཞུགས།
The Brightly Smiling Lotus
A Prayer to Sarasvatī
by Do Dasel Wangmo
ལྡེམ་ལྡེམ་ཆུས་སྐྱེས་འདབ་བརྒྱ་དགོད་པའི་ཁར། །
dem dem chü kyé dabgya göpé khar
On the ever-so-supple surface of a blossoming hundred-petalled lotus
མཛེས་མཛེས་མཚན་དཔེའི་ཡིད་འཕྲོག་དབྱངས་ཅན་མ། །
dzé dzé tsenpé yitrok yangchenma
The ever-so-beautiful Sarasvatī, captivating with her signs and marks,
ཁྱུག་ཁྱུག་འཇའ་འོད་འཁྲིགས་པའི་དབུས་ན་བཞུགས། །
khyuk khyuk ja ö trikpé ü na zhuk
Is seated amidst a mass of rainbow light that is ever so brilliant:
འཛུམ་འཛུམ་དགྱེས་པའི་ཞལ་རས་བདག་ལ་ཕྱོགས། །
dzum dzum gyepé zhalré dak la chok
Direct your ever-so-dazzling smile of delight towards me.
དཀར་དཀར་ཟླ་བ་ཉ་འདྲའི་ཞལ་བཟང་མ། །
kar karda ba nya dré zhal zang ma
Your noble face resembles the full moon that is ever so bright.
སྙན་སྙན་ཚངས་གསུང་པི་ཝཾ་སྒྲ་དང་འགྲོགས། །
nyen nyen tsang sung piwam dra dang drok
Your divine voice accompanied by the sound of the vīṇā is ever so sweet.
བརྩེ་བརྩེ་འགྲོ་བ་ཀུན་ལ་བུ་ལྟར་དགོངས། །
tsé tsé drowa kün la bu tar gong
The love with which you regard all beings as your children is ever so tender.
བླུན་བླུན་རྨོངས་པ་བདག་འདྲ་ཐུགས་རྗེས་ཟུངས། །
lün lün mongpa dak dra tukjé zung
Hold deluded ones like me, the ever-so-foolish, in your compassion!
མང་མང་ཤེས་བྱ་རིག་པའི་ཚོགས་རྣམས་དང་། །
mang mang sheja rigpé tsok nam dang
May I master the fields of knowledge that are ever so numerous
ཟབ་ཟབ་མདོ་དང་རྒྱུད་སྡེའི་དགོངས་པའི་དོན། །
zab zab do dang gyüdé gongpé dön
And realize the ever-so-profound intent of the sūtras and tantras
མཁས་མཁས་ཕུལ་བྱུང་བློ་ཡིས་རབ་རྟོགས་ནས། །
khé khé puljung lo yi rab tok né
With a mind that is ever so wise, skilful and excellent,
མཐོ་མཐོ་བསྟན་པའི་རྒྱལ་མཚན་བསྒྲེང་ནུས་ཤོག །
to to tenpé gyaltsen dreng nü shok
And raise ever so high the victory banner of the teachings.
བགྲངས་བགྲངས་གྲངས་ཀྱིས་མི་ལོངས་མཁའ་ཁྱབ་འགྲོ །
drang drang drang kyi mi long khakhyab dro
As, with the intention to lead all beings, ever so incalculable in number,
བདེ་བདེ་གོ་འཕང་མཆོག་ལ་འགོད་པའི་བློས། །
dé dé gopang chok la göpé lö
To the supreme state that is ever so blissful,
འབད་འབད་ཚོགས་གཉིས་རྒྱ་མཚོའི་མཐར་སོན་ཏེ། །
bé bé tsok nyi gyatsö tar sön té
I strive ever so hard to complete the two accumulations,
ལེགས་ལེགས་རྣམ་འདྲེན་རྒྱལ་བའི་དབང་པོར་མཛོད། །
lek lek namdren gyalwé wangpor dzö
Help me to become an ever-so-excellent guide, supremely victorious!
འདི་ཟླ་མིངས་པས་བྲིས།།
Written by the one named Da.
| Translated by Adam Pearcey, 2023.
Source: mdo zla gsal dbang mo. "dbyangs can gsol 'debs chu skyes 'dzum dkar" In rje btsun ma mdo zla gsal dbang mo'i gsung rtsom phyogs bsgrigs, Beijing: mi rigs dpe skrun khang, 2007. p. 149
Version: 1.3-20230418