Prayer to Dudjom Lingpa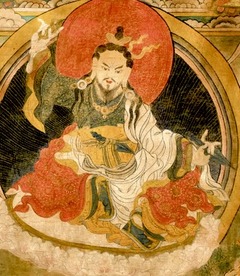 Further information:
༄༅། །བདུད་འཇོམས་གླིང་པའི་གསོལ་འདེབས་བཞུགས༔
A Prayer to Dudjom Lingpa
by Dudjom Lingpa
ཨོ་རྒྱན་རྒྱལ་ཚབ་འགྲོ་འདུལ་སྤྲུལ་པའི་སྐུ༔
orgyen gyaltsab drodul trulpé ku
You are the regent of Orgyen, an emanated tamer of beings,
གཞིར་གནས་ཆོས་སྐུ་མངོན་གྱུར་རིག་པའི་མཁར༔
zhir né chöku ngöngyur rigpé khar
Who actualized the dharmakāya that is present as the ground
འཁོར་འདས་དག་མཉམ་རོལ་པའི་གདིང་ཆེན་ཐོབ༔
khordé dak nyam rolpé ding chen tob
And, within the space of awareness, gained vast assurance that saṃsāra and nirvāṇa are the display of purity and equalness —
བདུད་འཇོམས་རྡོ་རྗེའི་ཞབས་ལ་གསོལ་བ་འདེབས༔
düjom dorjé zhab la solwa deb
Dudjom Dorje, at your feet I pray!
ཞེས་རང་སློབ་དམ་པ་རྡོ་རྗེ་རྣམ་པར་རྒྱལ་བས་བསྐུལ་ངོར་བདུད་འཇོམས་རྡོ་རྗེས་བསྒྱུར་བ་དགེའོ༎ ༎
At the request of my own noble student, Dorje Nampar Gyalwa, this was composed by Dudjom Dorje. May it be virtuous!
| Translated by Abraham Ta-Quan, 2021.
Source: bdud 'joms gling pa. "gsol 'debs zhabs brtan/." In gter chos/_bdud 'joms gling pa. Thimphu, Bhutan: Lama Kuenzang Wangdue, 2004. TBRC W28732. Vol. 14: 447