Medicine Buddha Visualisation and Mantra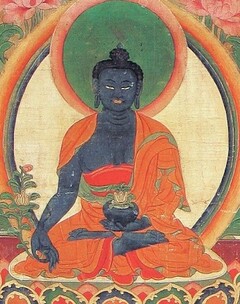 Further Information:
༄༅། །དག་སྣང་ཡེ་ཤེས་དྲྭ་བ་ལས༔ སྨན་བླའི་བསྒོམ་བཟླས་བདེ་ཆེན་ལམ་བྱེད་བཞུགས་སོ༔
Making Great Bliss the Path
Visualisation and Mantra Recitation of Medicine Buddha
from the Net of Wisdom Pure Vision revealed by Dudjom Lingpa
ན་མོ་གུ་རུ་པདྨ་ཀ་ར་ཡེ༔
Namo Guru Padmākarāya!
བདེ་གཤེགས་ལམ་དུ་བྱེད་པའི་ཐབས༔
The means of taking the Bliss-Gone One as the path is as follows:
ཧཱུྃ༔ གནས་ལུགས་མ་བཅོས་སྤྲོས་མཐའ་བྲལ༔
hung, neluk machö trö tadral
Hūṃ! On the basis of the natural state, unaltered, and beyond the limits of conceptualization,
གཞིར་གནས་བདེ་ཆེན་སྨན་གྱི་བླ༔
zhir né dechen men gyi la
Arises the Medicine Buddha of great bliss,
མཐིང་ནག་ཞི་འཛུམ་འོད་ཕུང་འབར༔
tingnak zhi dzum öpung bar
Blue-black in colour, peacefully smiling, and blazing amidst a mass of light.
ཕྱག་གཡས་མཆོག་སྦྱིན་སྨན་རྒྱལ་དང་༔
chak yé chok jin men gyal dang
His right hand is in the mudrā of supreme generosity and holds the king of medicines;
གཡོན་པས་མཉམ་གཞག་ལྷུང་བཟེད་བསྣམས༔
yönpé nyam zhak lhungzé nam
His left hand rests in the mudrā of equipoise and cradles an alms-bowl.
མཚན་དཔེ་རབ་རྫོགས་སྤྲུལ་སྐུའི་ཆས༔
tsenpé rabdzok tulkü ché
Replete with the marks and signs, and nirmāṇakāya ornaments,
པད་ཟླའི་གདན་ལ་སྐྱིལ་ཀྲུང་བཞུགས༔
pé dé den la kyiltrung zhuk
He sits with legs crossed upon a lotus and moon.
ཐུགས་ཀར་པདྨ་ཟླ་གདན་ལ༔
tukkar pema da den la
At his heart, upon a lotus and a moon-disc,
ཧཱུྃ་ཡིག་མཐའ་མར་སྔགས་ཀྱིས་བསྐོར༔
hung yik tamar ngak kyi kor
Is a syllable hūṃ, encircled by the mantra.
བཟླས་པས་འཁོར་བ་དོང་སྤྲུགས་བསམ༔
depé khorwa dongtruk sam
Reciting the mantra stirs saṃsāra from its very depths!
ཨོཾ་ན་མོ་བྷ་ག་ཝ་ཏེ་བྷེ་ཥ་ཛྱཻ་སོགས་མཚན་བརྗོད་ལ༔
Uttering the names of the Medicine Buddha with "Namo bhagavate bhaiṣajya... etc.":
ཨོཾ་ན་མོ་བྷ་ག་ཝ་ཏེ་བྷེ་ཥ་ཛྱཻ་གུ་རུ་བེ་ཌཱུརྱ་པྲ་བྷ་རཱ་ཛཱ་ཡ། ཏ་ཐཱ་ག་ཏཱ་ཡ། ཨཱརྷ་ཏེ་སམྱཀྶཾ་བུདྡྷཱ་ཡ། ཏདྱ་ཐཱ། ཨོཾ་བྷེ་ཥ་ཛྱཻ་བྷེ་ཥ་ཛྱཻ་མ་ཧཱ་བྷེ་ཥ་ཛྱཻ་རཱ་ཛ་ས་མུདྒ་ཏེ་སྭཱ་ཧཱ༔
om namo bhagawate bhekanzeguru bendurya prabha radzaya | tatagataya arahate samyaksambuddhaya | teyata | om bhekanze bhekanze maha bhekanze radza samudgate soha
oṃ namo bhagavate bhaiṣajyaguru vaiḍūryaprabharājāya | tathāgatāya arahate samyaksambuddhāya | tadyathā | oṃ bhaiṣajye bhaiṣajye mahābhaiṣajya-rāja-samudgate svāhā
ན་མོ༔ ཀུན་ཁྱབ་ཀུན་མཁྱེན་ཀུན་ཏུ་གཟིགས༔
namo, künkhyab künkhyen küntu zik
Namo! All-pervasive, all-knowing and all-seeing,
སྡུག་བསྔལ་ནད་སེལ་སྨན་གྱི་བླ༔
dukngal né sel men gyi la
Medicine Buddha, dispeller of suffering and sickness,
སྐུ་དང་ཡེ་ཤེས་ཡོན་ཏན་གཏེར༔
ku dang yeshe yönten ter
A treasury of noble qualities, wisdoms and bodies—
ཡོངས་རྫོགས་དཔལ་ལ་འདུད་ཅིང་བསྟོད༔
yongdzok pal la dü ching tö
To you, the perfect glory, I offer homage and praise!
འདི་ལྟར་བསྒོམ་དང་བཟླས་བརྗོད་ན༔ རྣམ་མཁྱེན་ལམ་ལ་ཉེ་བར་འགྱུར༔ ས་མ་ཡ༔ རྒྱ་རྒྱ་རྒྱ༔ བརྡ་ཐིམ༔
If you visualize and recite like this, you will approach the path of omniscience. Samaya. Seal. Seal. Seal. Let the signs be absorbed.
ཞེས་པ་འདི་ཡང་རང་སློབ་འཇམ་དཔལ་གྱིས་བསྐུལ་ངོར་ཁྲག་འཐུང་བདུད་འཇོམས་རྡོ་རྗེས་གཏན་ལ་ཕབ་པའོ། །དགེའོ༎ ༎
Traktung Dudjom Dorje deciphered this for his own student Jampal. May it be virtuous!
| Translated by Abraham Ta-Quan, 2021.
Source: bdud 'joms gling pa. "dag snang ye shes drwa ba las/sman bla'i bsgom bzas bde chen lam nyed/." In gter chos/_bdud 'joms gling pa. Thimphu, Bhutan: Lama Kuenzang Wangdue, 2004. TBRC W28732. Vol. 15: 207.
Version: 1.1-20210616