Prayer to Parṇaśavarī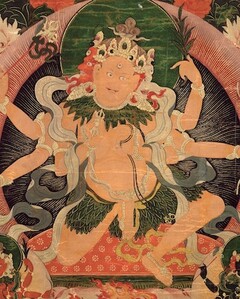 Further information:
༄༅། །ལོ་གྱོན་མའི་གསོལ་འདེབས་བཞུགས༔
A Prayer to Parṇaśavarī
by Dudjom Lingpa
རྗེ་བཙུན་བཅོམ་ལྡན་འདས་མ་ཐུགས་རྗེ་ཅན༔
jetsün chomden dema tukjé chen
Noble and compassionate Bhagavatī,
རི་ཁྲོད་ལོ་མ་གྱོན་མའི་སྐུར་བཞེངས་ཤིག༔
ritrö loma gyön mé kur zheng shik
Arise in the form of Parṇaśavarī, 'Leaf Clad One'!
བདག་ཅག་སྙིགས་མ་ལྔ་བདོའི་མི་རྣམས་ལ༔
dakchak nyikma nga dö mi nam la
Do not abandon us, the people of this age of five degenerations,
ཐུགས་རྗེས་ཡལ་བར་མ་དོར་རྗེས་སུ་ཟུངས༔
tukjé yalwar ma dor jesu zung
But care for us with your compassion.
ནད་རིམས་ཡམས་ནད་འགོ་བའི་ནད་སྡུག་བསྔལ༔
né rim yam né gowé né dukngal
Carry out your incinerating activities to pacify, expel and destroy
ཞི་བཟློག་གཞོམ་ཏུ་བསྲེག་པའི་ཕྲིན་ལས་མཛོད༔
zhi dok zhom tu sekpé trinlé dzö
Suffering caused by infectious disease, epidemics and plague!
ཨོཾ་པི་ཤ་རྩི་པརྣ་ཤ་བ་རི་སརྦ་ཛྭ་ལ་པྲ་ཤ་མ་ནི་སྭཱ་ཧཱ༔
om pishatsi panashawa ri sarwa dzala tra sha ma ni soha
oṃ piśārci-parṇa-śavari sarva-jvala-praśamani svāhā
ཞེས་པ་འདི་ཡང་བདུད་འཇོམས་རྡོ་རྗེས་སྨྲས་པའོ། །དགེའོ༎ ༎
This was spoken by Dudjom Dorje. May it be virtuous!
| Translated by Abraham Ta-Quan, 2021
Source: bdud 'joms gling pa. "lo gyon gsol 'debs/." In gter chos/_bdud 'joms gling pa. Thimphu, Bhutan: Lama Kuenzang Wangdue, 2004. TBRC W28732. Vol. 15: 181.