Aspiration for the World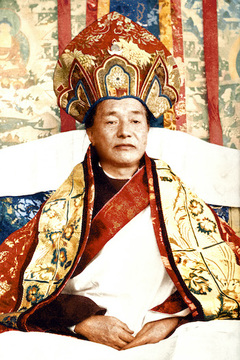 Further information:
༄༅། །འཛམ་གླིང་ཞི་བདེའི་སྨོན་ལམ།
Aspiration for the World1
by Dudjom Rinpoche
འཛམ་གླིང་སྤྱི་དང་ཡུལ་ཁམས་འདི་དག་ཏུ། །
dzamling chi dang yul kham didak tu
Throughout these lands and everywhere upon the earth in general,
ནད་མུག་མཚོན་སོགས་སྡུག་བསྔལ་མིང་མི་གྲགས། །
né muk tsön sok dukngal ming mi drak
May the sufferings of disease, famine and warfare be entirely unknown, so that not even their names occur.
ཆོས་ལྡན་བསོད་ནམས་དཔལ་འབྱོར་གོང་དུ་འཕེལ། །
chöden sönam paljor gong du pel
May observance of the Dharma, merit and prosperity increase,
རྟག་ཏུ་བཀྲ་ཤིས་བདེ་ལེགས་ཕུན་ཚོགས་ཤོག །
taktu tashi delek püntsok shok
And may there always be good fortune and well-being in abundance.
ཛྙཱ་ནས་སོ།།
By Jñāna.
| Translated by Adam Pearcey, 2023
Source: 'jigs bral ye shes rdo rje. gsung 'bum/_'jigs bral ye shes rdo rje. BDRC W20869. 25 vols. Kalimpong: Dupjung Lama, 1979–1985. Vol. 25: 476
Version: 1.0-20230424
↑ The original is untitled; this title has been added by the translator.