Prayer to the Three Great Stūpas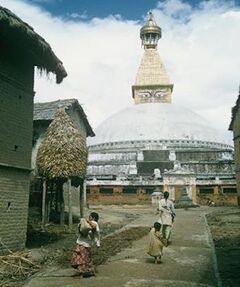 Further information:
༄༅། །བལ་ཡུལ་མཆོད་རྟེན་རྣམ་གསུམ་གྱི་གསོལ་འདེབས།
Short Prayer to the Three Great Stūpas of Nepal1
by Dudjom Rinpoche
རྒྱལ་བའི་ཡེ་ཤེས་ཟག་མེད་ཆོས་ཀྱི་སྐུ། །
gyalwé yeshe zakmé chö kyi ku
The immaculate dharmakāya wisdom of the Victorious Ones
གདུལ་བྱའི་ཁམས་ལ་གང་འདུལ་སྤྲུལ་པའི་གཟུགས། །
duljé kham la gang dul trulpé zuk
Manifesting in forms that tame beings according to their temperament—
འབྲེལ་ཚད་དོན་ལྡན་ཕྲིན་ལས་རྨད་དུ་བྱུང་། །
dreltsé dönden trinlé mé du jung
To these three wondrous supports, which perform the marvellous activity
ངོ་མཚར་རྟེན་མཆོག་གསུམ་ལ་གསོལ་བ་འདེབས། །
ngotsar ten chok sum la solwa deb
Of benefitting all who come into contact with them, I pray.
གུས་པས་ཕྱག་མཆོད་བསྐོར་བའི་བསོད་ནམས་ཀྱིས། །
güpé chakchö korwé sönam kyi
Through the merit of devotedly prostrating, making offerings, and circumambulating,
བདག་གཞན་འབྲེལ་ཐོབ་འགྲོ་བ་མ་ལུས་པའི། །
dakzhen drel tob drowa malüpé
May I and all others who have made a connection
ལས་ངན་སྡིག་སྒྲིབ་བག་ཆགས་ཡོངས་བྱང་ནས། །
lé ngen dikdrib bakchak yong jang né
Completely purify our negative karma, harmful actions, obscurations and habitual tendencies,
རྣམ་གྲོལ་ཐར་པའི་གོ་འཕང་མྱུར་ཐོབ་ཤོག །
namdrol tarpé gopang nyur tob shok
And swiftly attain the level of perfect freedom and liberation.
ཅེས་བལ་ཡུལ་མཆོད་རྟེན་རྣམ་གསུམ་གྱི་གསོལ་འདེབས་འདིའང་སྒྲུབ་བརྩོན་རིག་བཟང་རྡོ་རྗེས་བསྐུལ་ངོར་འཇིགས་བྲལ་ཡེ་ཤེས་རྡོ་རྗེས་སོ།།
This prayer to the three stūpas of Nepal was composed by Jigdral Yeshe Dorje at the behest of the diligent practitioner Rigzang Dorje.
| Translated by Adam Pearcey, 2023.
Source: 'jigs bral ye shes rdo rje. "gsol 'debs phyogs bsdebs nang gses le tshan brgya dang brgyad/" in gsung 'bum/_'jigs bral ye shes rdo rje. BDRC W20869. 25 vols. Kalimpong: Dupjung Lama, 1979–1985. Vol. 25: 72–73
Version: 1.0-20230101
↑ The original is untitled; this title has been added by the translator.