Prayer to Gatön Ngawang Lekpa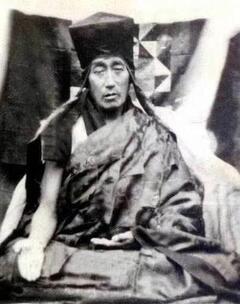 Further information:
༄༅། །སྒ་སྟོན་ངག་དབང་ལེགས་པའི་གསོལ་འདེབས།
Prayer to Gatön Ngawang Lekpa1
by Gatön Ngawang Lekpa
ངག་གི་དབང་ཕྱུག་འཇམ་དབྱངས་ས་སྐྱ་པའི། །
ngak gi wangchuk jamyang sakyapé
Holding the oceanic treasury of the profound and secret aural lineage
ཟབ་གསང་སྙན་བརྒྱུད་རྒྱ་མཚོའི་མཛོད་བཟུང་ནས། །
zabsang nyengyü gyatsö dzö zung né
Of the lords of speech, Mañjughoṣas of the Sakya tradition,
ལེགས་བཤད་དགའ་སྟོན་འགྱེད་ལ་ཟླ་མེད་པ། །
lek shé gatön gyé la da mepa
You are without equal in creating a feast of excellent explanation,
དཔལ་ལྡན་བླ་མའི་ཞབས་ལ་གསོལ་བ་འདེབས། །
palden lamé zhab la solwa deb
Glorious guru, at your feet I pray!
སྡེ་གཞུང་མའི་གྲྭ་ཚང་སྤྱི་ནས་བསྐུལ་བའི་ངོར། ཤཱཀྱའི་དགེ་སློང་ངག་དབང་ལེགས་པ་རང་ཉིད་ཀྱི་བྲིས་པའོ།།
Ngawang Lekpa, a monk-follower of Śākyamuni, wrote this himself in response to a request from the whole monastic community of Dezhung.
| Translated by Adam Pearcey, 2019.
Source: Source: kun dga' bstan pa'i nyi ma. gsung 'bum / kun dga' bstan pa'i nyi ma. 1 vol. Dharamsala: Library of Tibetan Works & Archives, 2005. (BDRC W00EGS1017070). p. 640
Version: 1.2-20221229
↑ The original is untitled; this title has been added by the translator.