Prayer to Patrul Rinpoche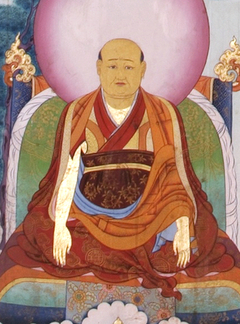 ༄༅། །ཨོ་རྒྱན་འཇིགས་མེད་ཆོས་ཀྱི་དབང་པོའི་གསོལ་འདེབས།
Prayer to Orgyen Jigme Chökyi Wangpo1
by Jamgön Kongtrul Lodrö Thayé
སྐྱེས་ཐོབ་མཁྱེན་རབ་ནམ་མཁའི་ཁྱོན་མཐར་ཡངས། །
kyé tob khyen rab namkhé khyön tar yang
The wisdom you acquired at birth is as vast as space itself,
བསླབ་པ་གསུམ་གྱི་སྦྱངས་ཡོན་མཐའ་རུ་ཕྱིན། །
labpa sum gyi jang yön ta ru chin
And you perfected the qualities of the threefold training.
འབྲེལ་ཚད་རྒྱལ་སྲས་སྤྱོད་པར་འཇུག་མཛད་པ། །
dreltsé gyalsé chöpar juk dzepa
You who introduce all with whom you're connected to bodhisattva activity,
ཨོ་རྒྱན་འཇིགས་མེད་ཆོས་ཀྱི་དབང་པོ་ལ། །
orgyen jikme chökyi wangpo la
Orgyen Jigme Chökyi Wangpo,
གསོལ་བ་འདེབས་སོ་བྱིན་གྱིས་བརླབ་ཏུ་གསོལ། །
solwa deb so jingyi lab tu sol
To you I pray: inspire me with your blessings.
དགེའོ།།
May it be virtuous!
| Translated by Adam Pearcey, 2022.
Source: 'jam mgon kong sprul blo gros mtha' yas. rgya chen bka' mdzod. 13 volumes. New Delhi: Shechen: 2002. Vol. 1: 934.
Version: 1.0-20220329
↑ The original text is untitled; this title has been added by the translator.