Daily Lama Gongdü Practice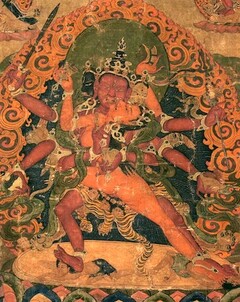 Further information:
༄༅། །བླ་མ་དགོངས་འདུས་རྒྱུན་ཁྱེར།
Daily Practice of Lama Gongdü
by Jamyang Khyentse Chökyi Lodrö
ན་མོ།
namo
Namo!
བླ་མ་རྣམས་དང་ཡི་དམ་ལྷ། །
lama nam dang yidam lha
In the gurus, the yidam deities,
མཁའ་འགྲོར་བཅས་ལ་སྐྱབས་སུ་མཆི། །
khandror ché la kyab su chi
And ḍākinīs too, I take refuge.
འགྲོ་རྣམས་བདེ་ལྡན་ལ་འགོད་ཕྱིར། །
dro nam deden la gö chir
To establish beings in the Blissful
བྱང་ཆུབ་མཆོག་ཏུ་སེམས་བསྐྱེད་དོ། །
changchub chok tu semkyé do
I set my mind on supreme awakening.
ཧཱུྃ། སྟོང་དང་སྙིང་རྗེའི་རང་བཞིན་ལས། །
hung tong dang nyingjé rangzhin lé
Hūṃ. From the nature of emptiness and compassion
ཟུང་འཇུག་རྒྱུ་ཡི་ཧེ་རུ་ཀ།
zungjuk gyu yi heruka
Appears the Heruka of the cause that is their union.
རང་བྱུང་གཞལ་ཡས་མཚན་རྫོགས་དབུས། །
rangjung zhalyé tsen dzok ü
In the centre of the self-arisen palace, perfect in its attributes,
རང་རིག་པདྨ་བཛྲ་ནི། །
rangrig pema benza ni
My own awareness is Padma Vajra,
དམར་གསལ་ཞལ་གསུམ་དམར་མཐིང་དཀར། །
mar sal zhal sum mar ting kar
Bright red with three faces, red, blue and white.
རྡོ་རྗེ་རལ་གྲི་བྷནྡྷ་གཡས། །
dorjé raldri bhenda yé
His right hands hold a vajra, sword and skull-cup,
དྲིལ་བུ་བུམ་པ་ཁ་ཊྭཱྃ་གཡོན། །
drilbu bumpa khatam yön
His left hands hold a bell, vase and trident.
ལྷ་ལྕམ་དམར་མོ་ཌཱར་ཐོད་འཛིན། །
lhacham marmo dar tö dzin
The red goddess holds a ḍamaru and skull-cup.
གར་དགུའི་ཉམས་ལྡན་ཞབས་དོར་སྟབས། །
gar gü nyamden zhab dortab
They have the nine modes of expression and adopt the heruka stance,
པད་ཟླ་ཉི་མའི་གདན་ལ་འགྱིང་། །
pé da nyimé den la gying
Majestic on seats of lotus and moon and sun discs.
འཁོར་རྣམས་ཉི་དང་འོད་ཟེར་བཞིན། །
khor nam nyi dang özer zhin
Their retinue appear like rays emanating from the sun.
གནས་གསུམ་ཡིག་འབྲུ་གསུམ་གྱིས་མཚན། །
né sum yikdru sum gyi tsen
The deity's three centres are marked with the three syllables.
དམ་ཡེ་དབྱེར་མེད་ཆེན་པོ་ཡི། །
damyé yermé chenpo yi
At the heart of the great indivisible samaya and wisdom forms,
ཐུགས་ཀར་ཉི་སྟེང་ཧྲཱིཿདམར་མཐར། །
tukkar nyi teng hrih mar tar
Upon a sun disc is a red Hrīḥ, around which
སྔགས་ཕྲེང་བསྐོར་ལས་འོད་འཕྲོས་པས། །
ngak treng kor lé ö tröpé
The mantra garland turns, emitting rays of light,
འཕགས་མཆོད་འགྲོ་བའི་སྒྲིབ་གཉིས་སྦྱང་། །
pak chö drowé drib nyi jang
Which offer to the noble ones and purify beings' twofold obscurations.
སྣོད་བཅུད་བླ་མའི་དཀྱིལ་འཁོར་ཤར།
nöchü lamé kyilkhor shar
The whole outer world and its inhabitants arise as the maṇḍala of the Guru.
ཨོཾ་ཨཱཿ ཧཱུྃ་ཧྲཱིཿབཛྲ་གུ་རུ་སརྦ་སིདྡྷི་དྷེ་བ་ཌཱ་ཀི་ནཱིཿབྷོ་དྷི་ཙིཏྟ་མ་ཧཱ་སུ་ཁཿབཛྲ་མ་ཧཱ་ཀྲོ་དྷ་ཤཱནྟིཾ་ཀཿཧྲཱིཿམ་ཧ་རི་ནི་ས་ར་ཙ་ཧྲཱིཿཡ་སརྦ་སིདྡྷིཿཀཱ་ཡ་ཝཱཀྐ་ཙིཏྟཿཛྙ་ན་ས་ཏྭ་ཨ་མི་དྷེ་ཝཿམ་མ་ཙིཏྟ་སཾ་བྷ་ཝ་ཨཱ་དྷིཥྛ་ནཾ་མ་མ་ཨཱ་ཡུརྫྙཱ་ན་སིདྡྷི་ཕ་ལ་ཧཱུྃ་སྭཱ་ཧཱཿ
om ah hung hrih benza guru sarva siddhi dhéwa dakini bhodhi tsitta maha sukha benza maha krodha shanting ka hrih ma ha ri ni sa ratsa hrih ya sarwa siddhi kaya waka tsitta jana sata ami dhéwa mama tsitta sambhawa adhishta nam mama ayurjana siddhi pala hung sa hah
oṃ āḥ hūṃ vajra guru sarva siddhi deva ḍākinī bodhicitta mahāsukha vajra mahākrodha śāntiṃ kaḥ hrīḥ ma harinisa raca hrīḥ ya sarva siddhi kāya vāk citta jñānasatva amideva mama citta sambhava adhiṣṭhanaṃ mama ayurjñāna siddhi phala hūṃ svāhā
ཞེས་སྤྱི་དྲིལ་ཆེན་མོ་དང་།
Recite this great combined mantra and then:
ཨོཾ་ཨཱཿ ཧཱུྃ་གུ་རུ་དྷེ་ཝ་དྷཱ་ཀི་ནཱི་སརྦ་སིདྡྷི་ཕ་ལ་ཧཱུྃ་ཨཱཿ
om ah hung guru deva dhakini sarwa siddhi pala hung ah
oṃ āḥ hūṃ guru deva ḍākinī sarva siddhi phala hūṃ āḥ
ཞེས་པ་བཟླའོ། །
Recite this.
ལྷར་སྣང་འོད་གསལ་དབྱིངས་སུ་ཐིམ།
lhar nangö sal ying su tim
Appearance as the deity dissolves into the space of clear light.
སླར་ཡང་རིག་འཛིན་སྐུ་རུ་ལྡང་།
lar yang rigdzin ku ru dang
Then, once again, I arise in the form of the Vidyādhara.
ཨོཾ་ཨཱཿ ཧཱུྃ།
om ah hung
oṃ āḥ hūṃ
དགེ་བསྔོ་ཤིས་བརྗོད་བྱའོ། །
Dedicate the merit and recite verses of auspiciousness.
ཅེས་པའང་ཆོས་ཀྱི་བློ་གྲོས་པས་སོ།། །།
By Chökyi Lodrö.
| Translated by Adam Pearcey with the generous support of the Khyentse Foundation and Tertön Sogyal Trust, 2022.
Source: 'Jam dbyangs chos kyi blo gros. "Bla ma dgongs 'dus rgyun khyer/" in 'Jam dbyangs chos kyi blo gros kyi gsung 'bum. 12 vols. Bir, H.P.: Khyentse Labrang, 2012. (BDRC W1KG12986). Vol. 6: 309–310
Version: 1.0-20220726