Daily Yangdak Heruka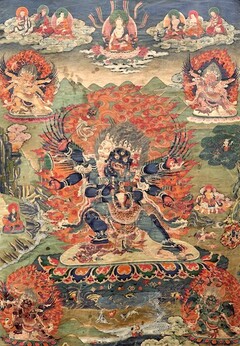 Further information:
༄༅། །ཡང་དག་རྒྱུན་ཁྱེར་བཞུགས།
Daily Practice of Yangdak Heruka
by Jamyang Khyentse Chökyi Lodrö
སྐྱབས་སེམས་སྤྱི་ལྟར་རྗེས།
Take refuge and generate bodhicitta in the usual way. Then:
ཨཿསྟོང་པ་ཉིད་དང་སྙིང་རྗེ་ཆེ། །
ah, tongpanyi dang nyingjé ché
Aḥ. From emptiness and great compassion
ཟུང་འཇུག་རིག་རྩལ་ཧཱུྃ་མཐིང་ནག །
zungjuk riktsal hung tingnak
In union, the expression of awareness arises as the dark blue Hūṃ,
དེ་ཉིད་ཡོངས་གྱུར་སྐད་ཅིག་གི།
denyi yong gyur kechik gi
Which instantly transforms
པད་ཉི་དྲེགས་པའི་གདན་སྟེང་དུ། །
pé nyi drekpé den tengdu
Into the awesome Vajra Heruka
དཔལ་ཆེན་བཛྲ་ཧེ་རུ་ཀཿ།
palchen benza heruka
Upon seats of lotus, sun and haughty ones.
མཐིང་ནག་ནམ་མཁའ་དྭངས་པའི་མདོག །
tingnak namkha dangpé dok
He is dark blue in colour like the azure sky,
མཐིང་དཀར་དམར་བའི་ཞལ་གསུམ་པ། །
ting kar marwé zhal sumpa
With three faces, blue, white and red,
ཕྱག་དྲུག་རྡོ་རྗེ་ཁ་ཊྭཱྃ་གཡས། །
chak druk dorjé kha tam yé
And six arms, the right ones holding vajra and trident,
དྲིལ་བུ་བྷནྡྷ་རྒྱུ་ཞགས་གཡོན། །
drilbu bhenda gyu zhak yön
And the left holding bell, skull-cup and a lasso of intestines.
དཔལ་དང་དུར་ཁྲོད་ཆས་ཀྱིས་བརྒྱན། །
pal dang durtrö ché kyi gyen
He is adorned with the heruka and charnel-ground accoutrements.
ཡུམ་ཆེན་ཀྲོ་དྷི་ཤྭ་རི་མ། །
yumchen krodhi shvari ma
His great consort is Krodheśvarī,
མཐིང་སྐྱ་རྡོ་རྗེ་ཐོད་ཁྲག་བསྣམས། །
ting kya dorjé tötrak nam
Pale blue and holding a vajra and skull-cup filled with blood.
གར་དགུའི་ཉམས་ལྡན་འབར་བའི་སྐུ། །
gar gü nyamden barwé ku
Their blazing forms possess the nine modes of expression
ཡེ་ཤེས་མེ་དཔུང་ཀློང་ན་བརྗིད། །
yeshe mepung long na ji
And are resplendent amidst a mass of blazing wisdom fire.
གཽ་རི་ལ་སོགས་ཁྲོ་མོ་བརྒྱད། །
gau ri lasok tromo gyé
The eight wrathful females, Gaurī and the rest,
གཡས་གཡོན་ཞལ་དང་ཕྱག་ལ་རྫོགས། །
yé yön zhal dang chak la dzok
Are to the right and left, perfect in the detail of their faces and arms.
གནས་གསུམ་ཡི་གེ་གསུམ་གྱིས་མཚན། །
né sum yigé sum gyi tsen
The main deity's three centres are marked with the three syllables.
ཡེ་ཤེས་དབང་བསྐུར་དབུ་རྒྱན་རྫོགས། །
yeshe wangkur ugyen dzok
The wisdom beings bestow empowerment and create the perfect crown.
དམ་ཡེ་གཉིས་མེད་ཆེན་པོར་གསལ། །
damyé nyimé chenpor sal
I visualize samayasattva and jñānasattva in great indivisibility.
ཐུགས་ཀར་དཔལ་གྱི་བེའུའི་དབྱིངས། །
tukkar pal gyi bé'ü ying
At the main deity's heart is the space of the glorious knot,
ཧཱུྃ་མཐིང་རུ་ལུ་འབྲུ་བརྒྱད་འཕྲོ། །
hung ting rulu dru gyé tro
In which a blue Hūṃ emits the eight-syllable Rulu mantra,
མར་མེ་ལྟ་བུ་གསལ་ཞིང་འབར། །
marmé tabu sal zhing bar
Radiant and glowing as brightly as a lamp.
སྣང་གྲགས་གཉིས་མེད་དཔལ་ཆེན་པོའི། །
nang drak nyimé palchenpö
Sights and sounds are actuated as the non-dual wisdom maṇḍala
ཡེ་ཤེས་འཁོར་ལོར་སད་པར་བསམ། །
yeshe khorlor separ gyur
Of the great and glorious Heruka.
ཨོཾ་རུ་ལུ་རུ་ལུ་ཧཱུྃ་བྷྱོ་ཧཱུྃ།
om rulu rulu hung jo hung
oṃ rulu rulu hūṃ bhyo hūm
ཞེས་བཟླ། སྐབས་སུ་རྡོ་རྗེའི་བཟླས་པ་དང་། རླུང་སྔགས་རིག་པ་དབྱེར་མེད་དང་། །ཡང་དག་དགོངས་པའི་ངང་བསྐྱང་ངོ་། །
Recite the mantra. At times perform the vajra recitation, or let the wind-energy, mantra and awareness be inseparable, and sustain the wisdom intent of Yangdak.
ཐུན་མཐར།
At the end of the session recite:
སྣང་ཆ་ལྷ་ཡི་འཁོར་ལོ་རྣམས། །
nangcha lha yi khorlo nam
The apparent aspect, the circles of deities,
སྐྱེ་མེད་ཆོས་ཀྱི་དབྱིངས་སུ་ཐིམ། །
kyemé chö kyi ying su tim
Dissolve into the unborn dharmadhātu.
སླར་ཡང་དཔལ་ཆེན་ཧེ་རུ་ཀའི། །
lar yang palchen heruké
Then, once again, I arise as the display
གསང་བ་གསུམ་གྱི་རོལ་བ་ཤར། །
sangwa sum gyi rolwa shar
Of the awesome Heruka's three secrets.
བཛྲ་ཀཱ་ཝཱ་ཙི་རཀྵ་ཧཾ།
benza kawatsi raksha hang
Vajra kāvāci rakṣa haṃ
དགེ་བསྔོ་སྨོན་ལམ་བྱས་ནས་སྤྱོད་ལམ་ལ་འཇུག་གོ །
Dedicate the merit and make prayers of aspiration, then resume ordinary activities.
ཅེས་པའང་བསོད་ནམས་རྒྱལ་མཚན་གྱི་ཐུགས་བཞེད་ལྟར། ཆོས་ཀྱི་བློ་གྲོས་པས་ལྷོ་བྲག་མཁར་ཆུར་བྲིས་པའོ།། །།
As requested by Sonam Gyaltsen, Chökyi Lodrö wrote this at Lhodrak Kharchu.
| Translated by Adam Pearcey with the generous support of the Khyentse Foundation and Tertön Sogyal Trust, 2022.
Sources:
'jam dbyangs chos kyi blo gros. "Yang dag rgyun khyer/" in 'Jam dbyangs chos kyi blo gros kyi gsung 'bum. 12 vols. Bir, H.P.: Khyentse Labrang, 2012. (BDRC W1KG12986). Vol. 6: 311–312
'jam dbyangs chos kyi blo gros. "yang dag rgyun khyer/" in gsung 'bum/_'jam dbyangs chos kyi blo gros/ (dbu med/). (BDRC W21813). 8 vols. Gangtok: Dzongsar Khyentse Labrang, 1981–1985. Vol. 4: 113–114
Version: 1.1-20230403