General Offering to Local Deities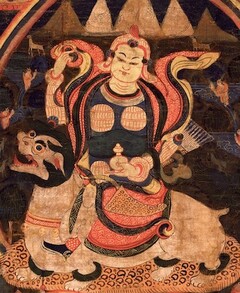 Further information:
༄༅། །གཞི་བདག་སྤྱིའི་གསོལ་མཆོད།
General Offering to Local Deities1
by Jamyang Khyentse Chökyi Lodrö
ཀྱཻ།
kyé
Kyai!
ཡུལ་སྐྱོང་གཞི་བདག་ཆེ་གེ་འཁོར་བཅས་ལ། །
yulkyong zhidak ché gé khor ché la
So-and-so,2 protector of the locality, master of the land, together with your retinue,
བསང་དང་གསེར་སྐྱེམས་མཆོད་པ་འདི་འབུལ་བས། །
sang dang serkyem chöpa di bulwé
Through presenting to you these offerings of incense-smoke and golden drink,
ཡུལ་རིས་རྒྱལ་ཁམས་མཐའ་དག་བསྲུང་བ་དང་། །
yul ri gyalkham tadak sungwa dang
Carry out your activity of guarding all regions and domains within this territory,
ལོ་ཕྱུགས་རྟག་ཏུ་ལེགས་པའི་ཕྲིན་ལས་མཛོད། །
lo chuk taktu lekpé trinlé dzö
And ensuring that livestock always prosper and harvests are forever bountiful!
༧ཆོས་ཀྱི་བློ་གྲོས་པས་སོ།། །།
By Chökyi Lodrö.
| Translated by Adam Pearcey with the generous support of the Khyentse Foundation and Tertön Sogyal Trust, 2023.
Source: 'Jam dbyangs chos kyi blo gros. 'jam dbyangs chos kyi blo gros kyi gsung 'bum. 12 vols. Bir: Khyentse Labrang, 2012. (W1KG12986). Vol. 11: 451
Version: 1.0-20230213
↑ The original is untitled; this title has been added by the translator.
↑ The name of the particular deity may be inserted at this point.