Written with a New Pen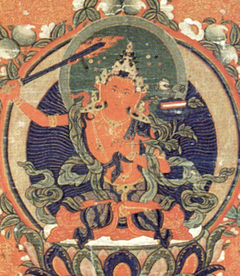 Further information:
Written with a New Pen[1]
by Jamyang Khyentse Chökyi Lodrö
Brilliant, the radiant knowledge that dispels confusion's darkness
And pervades the whole of space; in the midst of which is Mañjughoṣa,
Bearing the sword of wisdom that's enclasped by wisdom flame—
To you, the one who tears the web of conditionality asunder, I bow.
Written with a new pen that was offered by Chöpel. May it prove virtuous!
| Translated by Adam Pearcey with the generous support of the Khyentse Foundation and Tertön Sogyal Trust, 2023.
Bibliography
Tibetan Edition
'Jam dbyangs chos kyi blo gros. 'Jam dbyangs chos kyi blo gros kyi gsung 'bum. 12 vols. Bir, H.P.: Khyentse Labrang, 2012. (W1KG12986) Vol. 10: 559
Version: 1.0-20230614
---
The original is untitled; this title has been added by the translator.  ↩