Offering and Prayer to Mahākāla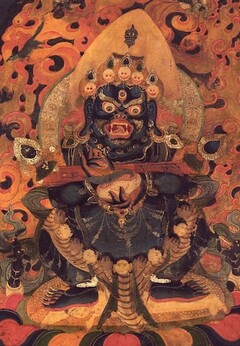 Further information:
༄༅། །ནག་པོ་ཆེན་པོ་ལྕམ་དྲལ་ལ་མཆོད་གསོལ་བསྡུས་པ་ཕྲིན་ལས་མྱུར་འགྲུབ་ཅེས་བྱ་བ་བཞུགས་སོ། །
Swift Enlightened Activity
A Concise Ceremony of Offering and Prayer to Mahākāla and Consort
by Jamyang Khyentsé Chökyi Lodrö
ན་མཿཤྲཱི་མ་ཧཱ་ཀཱ་ལ་ཡེ།
namaḥ śrī-mahākālāya
རྡོ་རྗེ་ནག་པོ་ཆེན་པོ་འཁོར་བཅས་ལ་མཆོད་གཏོར་ཤིན་ཏུ་བསྡུས་པ་འབུལ་བར་འདོད་པས་མཆོད་གཏོར་ཅི་འབྱོར་པ་གཤམས་ལ།
If you wish to perform an extremely brief torma offering to Vajra-Mahākāla and his retinue should arrange whatever offering tormas are available and then recite:
ཨོཾ་ལས་རབ་ཡངས་ཀ་པཱ་ལ་ཡི་སྣོད། །
om lé rap yang kapala yi nö
From oṃ appears the vessel of the perfectly expansive kapāla,
ཨཱཿལས་ཤ་ལྔ་བདུད་རྩི་ལྔ་པོ་རྣམས། །
ah lé sha nga dütsi ngapo nam
From āḥ the five meats and five nectars appear,
ཧཱུྃ་གིས་ཟག་མེད་ཡེ་ཤེས་བདུད་རྩིར་བསྒྱུར། །
hum gi zakmé yeshé dütsir gyur
And are transformed with hūṃ into immaculate wisdom nectar,
ཧ་ཧོ་ཧྲཱིཿཡིས་ནམ་མཁའ་མཉམ་པར་སྤེལ།
ha ho hrih yi namkha nyampar pel
Then, through ha, ho and hrīḥ, this expands to fill the whole of space.
ཨོཾ་ཨཱཿཧཱུྃ་ཧ་ཧོ་ཧྲཱིཿ
om ah hum ha ho hrih
Oṃ āḥ hūṃ ha ho hrīḥ
ལན་གསུམ།
Three times
ཧཱུྃ། འོག་མིན་གནས་དང་རྒྱ་གར་རྡོ་རྗེ་གདན། །
hum, ogmin né dang gyagar dorjé den
From the realm of Akaniṣṭha and the Vajra Seat (Bodh Gaya) in India,
བསིལ་བ་ཚལ་སོགས་གནས་ཡུལ་དུར་ཁྲོད་ནས། །
silwa tsal sok né yul dur trö né
From the Cool Grove and other sacred places and charnel grounds,
བསྟན་སྲུང་གཙོ་བོ་རྡོ་རྗེ་གུར་གྱི་མགོན། །
ten sung tsowo dorjé gur gyi gön
Come, Vajra-Pañjaranātha, foremost guardian of the teachings,
ཨེ་ཀ་ཛཱ་ཊི་དཔལ་ལྡན་ལྷ་མོ་དང༌། །
ekadzati palden lhamo dang
And Ekajaṭī, Śrīdevī (Palden Lhamo),
ཞིང་སྐྱོང་དབང་ཕྱུག་གནོད་སྦྱིན་ཡབ་དང་ཡུམ། །
zhing kyong wangchuk nö jin yap dang yum
Almighty Kṣetrapāla, the father and mother yakṣa consorts,
པུ་ཏྲ་བྷ་ཏྲ་སྲིང་མོ་དུར་ཁྲོད་བདག །
putrabhatra singmo durtrö dak
Putrabhadra, Bhaginī, Citipati,
གནོད་སྦྱིན་ལྕམ་སྲིང་ལ་སོགས་རྒྱུད་གསུམ་གྱི། །
nö jin chamsing la sok gyü sum gyi
The yakṣa sisters, and others—
སྲུང་མ་དམ་ཅན་རྒྱ་མཚོ་འཁོར་བཅས་རྣམས། །
sungma damchen gyatso khor ché nam
An ocean-like assembly of oath-bound guardians of the three classes of tantra, along with their retinues.
དམ་རྫས་བདུད་རྩིའི་མཆོད་གཏོར་ཆེན་པོ་དང༌། །
dam dzé dütsi chö tor chenpo dang
To you all, we offer these samaya substances, this great offering-torma of nectar,
དགྱེས་པའི་སྤྱན་གཟིགས་ཐུགས་དམ་བསྐང་བའི་རྫས། །
gyépé chen zik tuk dam kangwé dzé
And these delightful gifts, substances that fulfil our sacred bond,
ས་དང་ནམ་མཁའ་བར་སྣང་ཁྱབ་པ་འདི། །
sa dang namkha bar nang khyabpa di
Filling the whole of the earth, the heavens and space between.
དགྱེས་པར་བཞེས་ལ་རྒྱལ་བསྟན་རིན་པོ་ཆེ། །
gyepar zhé la gyalten rinpoché
Accept these with delight, and carry out your activity,
མི་ནུབ་དར་ཞིང་རྒྱས་པའི་ཕྲིན་ལས་མཛོད། །
mi nup dar zhing gyepé trinlé dzö
Ensuring that the precious teachings of the buddhas never wane, but flourish and spread!
དེ་ལ་འཁུ་བའི་ལྷ་མིན་ཀླ་ཀློའི་ཚོགས། །
dé la khuwé lha min la lö tsok
Cause the asuras, barbarians and those who are hostile to the teachings
རྩྭ་སྦུར་མེ་བཞིན་ཐལ་བའི་རྡུལ་དུ་རློག །
tsa bur mé zhin talwé dul du lok
To be reduced to dust, like dry grass consumed in a fiery blaze!
མྱུར་དུ་རྩད་ནས་འཇོམས་པར་མཛད་དུ་གསོལ། །
nyur du tsé né jompar dzé du sol
Swiftly bring about their eradication, their annihilation, we pray!
རྣལ་འབྱོར་བདག་ཅག་འཁོར་དང་བཅས་པ་རྣམས། །
naljor dak chak khor dang chepa nam
Care for us, the yogic practitioners and all those around us,
བུ་གཅིག་མ་བཞིན་བརྩེ་བས་སྐྱོང་བ་དང༌། །
bu chik ma zhin tsewé kyongwa dang
Lovingly, as a mother cares for her only child,
གང་བསམ་ཐམས་ཅད་འབད་མེད་མྱུར་དུ་འགྲུབ། །
gang sam tamché bemé nyur du drup
And cause all our wishes to be effortlessly fulfilled.
འདི་ཕྱི་བར་དོ་ཀུན་ཏུ་སྲུང་སྐྱོབས་མཛོད། །
di chiwar do küntu sung kyop dzö
Protect us and provide us with refuge always—in this life, future lives, and the bardo state.
རང་རིག་དཔལ་ལྡན་བླ་མ་ནག་པོ་ཆེའི། །
rangrig palden lama nakpo ché
Cause us to behold the true face of the glorious Guru Mahākāla,
རང་ཞལ་མཇལ་ཏེ་རྡོ་རྗེ་འཆང་གི་སར། །
rang zhal jal té dorjé chang gi sar
Our very own rigpa, and thereby swiftly reach the state of Vajradhara,
མྱུར་དུ་བགྲོད་ནས་འགྲོ་རྣམས་སྒྲོལ་ནུས་པའི། །
nyur du drö né dro nam drol nü pé
And grant us the supreme and common accomplishments,
མཆོག་ཐུན་དངོས་གྲུབ་སྩོལ་བའི་ཕྲིན་ལས་མཛོད། །
chok tün ngödrup tsolwé trinlé dzö
Including the capacity to liberate all beings!
ཅེས་པའང་ལྭ་སྲས་བསོད་རྒྱལ། མགོན་པོ་ཚེ་བརྟན། གསོལ་དཔོན་བཀྲ་རྣམ་བཅས་པས་ལྷ་རེག་བཅས་བསྐུལ་བའི་ངོར། ཆོས་ཀྱི་བློ་གྲོས་པས་དཔལ་ས་སྐྱའི་སྒོ་རུམ་ཡེ་ཤེས་མགོན་པོ་མངོན་སུམ་བཞུགས་པའི་མདུན་དུ་བྲིས་པ་དགེ་ལེགས་སུ་གྱུར་ཅིག མངྒ་ལཾ།། །།
In response to a request, accompanied by a silken scarf, from Sogyal, son of the Lakar family, Gönpo Tseten, and the attendant Tashi Namgyal, I, Chökyi Lodrö, wrote this in the presence of the actual wisdom Mahākāla in the Gorum temple at glorious Sakya.1 May it bring virtue and goodness. Maṅgalam!
| Translated by Adam Pearcey 2017 on the basis of an earlier version by Lama Chökyi Nyima (Richard Barron).
Source: 'Jam dbyangs chos kyi blo gros. "nag po chen po lcam dral gyi mchod gsol bsdus pa phrin las myur 'grub/" in 'Jam dbyangs chos kyi blo gros kyi gsung 'bum. 12 vols. Bir: Khyentse Labrang, 2012. W1KG12986 Vol. 11: 59–60
↑ The Gorum (sgo rum) temple at Sakya is the site of the sacred 'flying black hide mask' image of Mahākāla, which was installed by Sachen Kunga Nyingpo in 1120.