Trulshik Pawo Dorje Long-Life Prayer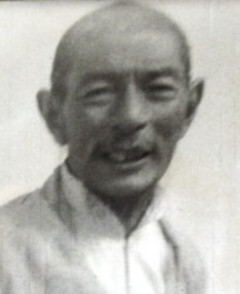 Further information:
༄༅། །འཁྲུལ་ཞིག་བདེ་ཆེན་དཔའ་བོ་རྡོ་རྗེའི་ཞབས་བརྟན།
Prayer for the Long Life of Trulshik Dechen Pawo Dorje
by Jamyang Khyentse Chökyi Lodrö
ན་མོ་གུ་རུ།
namo guru
Namo guru!
མཆོག་གསུམ་རྩ་གསུམ་རབ་འབྱམས་རྒྱ་མཚོ་ཡི། །
chok sum tsa sum rabjam gyatso yi
Through the power and strength of the truth, blessings and compassion
ཐུགས་རྗེ་བྱིན་རླབས་བདེན་པའི་མཐུ་སྟོབས་ཀྱིས། །
tukjé jinlab denpé tutob kyi
Of the Three Supreme Jewels and the infinite ocean of the Three Roots,
དཔལ་ལྡན་བླ་མའི་སྐུ་ཚེའི་བར་ཆད་སོལ། །
palden lamé kutsé barché sol
May any obstacles to the glorious guru's longevity be dispelled,
རྟག་བརྟན་འགྱུར་མེད་ཡུན་དུ་འཚོ་གཞེས་གསོལ། །
takten gyurmé yündu tsozhé sol
And may he live long with permanent and unchanging stability.
གཟུང་འཛིན་འཁྲུལ༵་པ་ཀ་དག་དབྱིངས་སུ་ཞིག༵ །
zungdzin trulpa kadak ying su zhik
With dualistic delusion dispersed in primordially pure basic space,
རང་གྲོལ་བདེ༵་ཆེན༵་དཔའ༵་བོ༵འི་དབང་ཕྱུག་ཆེ། །
rangdrol dechen pawö wangchuk ché
As a great and powerful vīra of self-liberation and great bliss,
ལྷ་མིན་བདུད་ཀྱི་སྡེ་ལས་རྣམ་རྒྱལ་ནས། །
lhamin dü kyi dé lé namgyal né
One who is entirely victorious over the demonic forces of Māra,
ཞབས་པད་རྡོ༵་རྗེ༵འི་ཆོས་བདུན་བརྟན་བཞུགས་གསོལ། །
zhabpé dorjé chödün tenzhuk sol
May your lotus feet remain stable with the seven vajra qualities.
བསྟན་དང་འགྲོ་བའི་དཔུང་གཉེན་མཆོག་གྱུར་གང་། །
ten dang drowé pungnyen chokgyur gang
Supreme ally and defender of the teachings and beings,
གསང་བ་གསུམ་གྱི་འགལ་རྐྱེན་ཉེར་ཞི་ནས། །
sangwa sum gyi galkyen nyerzhi né
May anything that obstructs your three secrets be entirely pacified,
དཔལ་ཆེན་བཛྲ་ཀུ་མཱ་ར་ཉིད་དང་། །
palchen benza ku ma ra nyi dang
And may all be auspicious and excellent, so you may remain
དབྱེར་མེད་བརྟན་བཞུགས་བཀྲ་ཤིས་དགེ་ལེགས་ཤོག །
yermé tenzhuk tashi gelek shok
Inseparable from the great and glorious Vajrakumāra himself!
ཅེས་པའང་མེ་བྱ་ས་ཟླའི་ཚེས་བཅོ་ལྔ་ལ་བཀྲ་ཤིས་པའི་ལྷ་རེག་དང་། སྐུ་གསུང་ཐུགས་གཡོ་མེད་བཞུགས་མཚོན་རྡོར་དྲིལ། ད་ཁྲུས་རྒྱས་པའི་མདངས་ལྡན་བཅས་མཁྱེན་བརྩེའི་སྤྲུལ་མིང་པས་ཕུལ།། །།
Offered on the fifteenth day of Saga Dawa in the Fire Bird year, together with an auspicious silk scarf, vajra and bell to symbolize the immutable abiding of enlightened body, speech and mind, and datrü1 with the colour of increase, by one who has the name of a Khyentse incarnation.
| Translated by Adam Pearcey with the generous support of the Khyentse Foundation and Tertön Sogyal Trust, 2022.
Sources:
'Jam dbyangs chos kyi blo gros. gsung thor bu/_'jam dbyangs chos kyi blo gros/ (rgya gar bir'i par ma/). 2 vols. (BDRC W21814). Vol. 1: 212–213
'Jam dbyangs chos kyi blo gros. "'khrul zhig bde chen dpa' bo rdo rje'i zhabs brtan" In 'Jam dbyangs chos kyi blo gros kyi gsung 'bum. 12 vols. Bir, H.P.: Khyentse Labrang, 2012 (BDRC W1KG12986). Vol. 3: 489–490
Version: 1.0-20221024
↑ The two-volume edition has da phrus; the 12-volume edition has da khrus. The meaning is obscure, but whatever was offered would have been yellow, the colour of increase or enrichment.