Prayer to Vimalamitra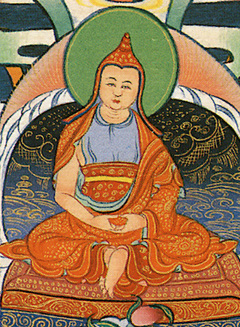 ༄༅། །པཎ་ཆེན་བི་མ་ལའི་གསོལ་འདེབས་བསྡུས་པ།
Prayer to the Great Paṇḍita Vimalamitra
by Jamyang Khyentse Chökyi Lodrö
འཕགས་ཡུལ་མཁས་པའི་གཙུག་རྒྱན་པཎྜི་ཏ། །
pakyul khepé tsukgyen pandita
Paṇḍita who adorned the crowns of scholars from the noble land,
དྲི་མེད་བཤེས་གཉེན་ཐེག་མཆོག་བསྟན་པའི་བདག །
drimé shenyen tek chok tenpé dak
Vimalamitra, master of the teachings of the supreme vehicle,
འཇའ་ལུས་རྡོ་རྗེའི་སྐུ་མཆོག་བརྙེས་པ་ལ། །
jalü dorjé ku chok nyepa la
Who attained the supreme vajra form of the rainbow body—
གསོལ་བ་འདེབས་སོ་བྱིན་གྱིས་བརླབ་ཏུ་གསོལ། །
solwa deb so jingyi lab tu sol
To you I pray: inspire me with your blessings!
ཅེས་པའང་བསོད་རྒྱལ་གྱི་ངོར་ཆོས་ཀྱི་བློ་གྲོས་པས་གངྒཱའི་ཆུ་དབུས་སུ་བྲིས།།
Chökyi Lodrö wrote this for Sogyal while travelling along the Ganges river.
| Translated by Adam Pearcey with the generous support of the Khyentse Foundation and Tertön Sogyal Trust, 2019.
Source: 'jam dbyangs chos kyi blo gros. gsung thor bu/_'jam dbyangs chos kyi blo gros/ (rgya gar bir'i par ma/). 2 vols. (BDRC W21814). Vol. 1: 218–219
Version: 1.2-20220810