Śākyamuni Buddha Inscription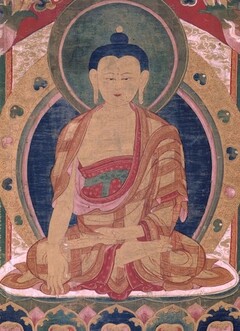 Further information:
Śākyamuni Buddha Inscription[1]
by Jamyang Khyentse Chökyi Lodrö
Oṃ svasti.
Peerless guide teacher, crest of the Śākyas,
Crown ornament of beings, including the gods,
Lord of Sages, together with your retinue, remain forever in this support,
Liberating the deceased and those within the ocean of existence.
oṃ supratiṣṭha vajraye svāhā
| Translated by Adam Pearcey with the generous support of the Khyentse Foundation and Tertön Sogyal Trust, 2023.
Source: 'Jam dbyangs chos kyi blo gros. 'Jam dbyangs chos kyi blo gros kyi gsung 'bum. 12 vols. Bir, H.P.: Khyentse Labrang, 2012. (W1KG12986) Vol. 10: 573
Version: 1.0-20230616
---
The original is untitled; this title has been added by the translator.  ↩