Śākyamuni Inscription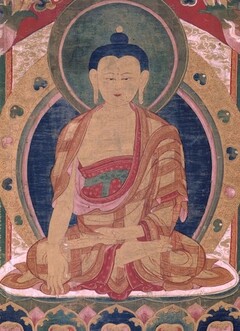 Further information:
Śākyamuni Inscription[1]
by Jamyang Khyentse Chökyi Lodrö
Oṃ svasti.
Peerless guide and teacher, crown ornament of the Śākyas,
Ally and guardian of beings in these turbulent five hundred years,
Great lord of sages with boundless qualities of abandonment and realization,
Let your wisdom form remain forever inseparable
From this well-executed, brush-painted image.
For me and other conscious beings plagued by suffering,
May the light of the lord of sages, the sun-like protector,
Always shield us, and may the well-spoken Dharma
Long endure through teaching and through practice.
| Translated by Adam Pearcey with the generous support of the Khyentse Foundation and Tertön Sogyal Trust, 2022.
Source: 'Jam dbyangs chos kyi blo gros. 'Jam dbyangs chos kyi blo gros kyi gsung 'bum. 12 vols. Bir, H.P.: Khyentse Labrang, 2012. (W1KG12986) Vol. 10: 579
Version: 1.1-20230616
---
The original is untitled; this title has been added by the translator.  ↩