Prayer to Tsarchen Losal Gyatso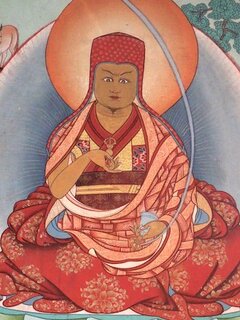 ༄༅། །ཚར་ཆེན་རྡོ་རྗེ་འཆང་གི་གསོལ་འདེབས།
Prayer to Tsarchen Losal Gyatso
by Jamyang Khyentse Chökyi Lodrö
བློ༷་མཆོག་གསུང་གི་དབང་ཕྱུག་ངུར་སྨྲིག་གར། །
lo chok sung gi wangchuk ngurmik gar
Supreme-minded lord of speech in saffron-robed guise,
མཐའ་ཡས་འགྲོ་ལ་ཕན་བདེའི་མཆོག་སྩོལ་ཞིང་། །
tayé dro la pendé chok tsol zhing
Bestowing supreme benefit and happiness on infinite beings,
བསྟན་པ་རིན་ཆེན་ཕྱོགས་བཅུར་གས༷ལ་བར་མཛད། །
tenpa rinchen chok chur salwar dzé
And illuminating the precious teachings in every direction,
སྙན་བརྒྱུད་རྒྱ༷་མཚོ༷འི་བདག་པོར་གསོལ་བ་འདེབས། །
nyengyü gyatsö dakpor solwa deb
Mastery of the ocean-like aural transmission, to you I pray.
ཅེས་པའང་མེ་སྤྲེལ་ཟླ་ཚེས་དགོང་མོའི་ཕྱི་ཆར་ཡིད་ངོར་དྲན་པའོ།། །།
This came to mind late one evening during the Fire Monkey year.
| Translated by Adam Pearcey with the generous support of the Khyentse Foundation and Tertön Sogyal Trust, 2021.
Source: 'Jam dbyangs chos kyi blo gros. "Tshar chen rdo rje 'chang gi gsol 'debs/" in 'Jam dbyangs chos kyi blo gros kyi gsung 'bum. 12 vols. Bir: Khyentse Labrang, 2012. W1KG12986 Vol. 3: 166–167
Version: 1.0-20210901