Daily Practice of Vajrasattva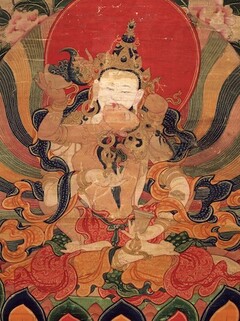 Further information:
༄༅། །རྡོར་སེམས་རྒྱུན་ཁྱེར།
Daily Practice of Vajrasattva
by Jamyang Khyentse Chökyi Lodrö
སྐྱབས་སེམས་སྤྱི་ལྟར་དང་།
Take refuge and generate bodhicitta in the usual way. Then:
ཨཱཿ རྡོ་རྗེ་སེམས་དཔའ་ནམ་མཁའ་ཆེ། །
ah, dorjé sempa namkha ché
Āḥ! Vajrasattva, great space,
བཟུང་བས་མི་ཟིན་ཆུ་ཟླ་འདྲ། །
zungwé mi zin chuda dra
Ungraspable as the moon in water,
ཀུན་ཏུ་བཟང་པོའི་རོལ་པ་ལས། །
kuntuzangpö rolpa lé
Through the play of Samantabhadra,
ཐབས་ཤེས་ཟུང་འཇུག་རྩ་བའི་ལྷ། །
tabshé zungjuk tsawé lha
The primary deity uniting method and wisdom,
སེམས་དཔའ་དཀར་པོ་རྡོར་དྲིལ་བསྣམས། །
sempa karpo dordril nam
The heroic being, white and holding vajra and bell.
རང་འོད་སྙེམས་མ་གྲི་ཐོད་འཁྱུད། །
rang ö nyemma dri tö khyü
Embracing Vajragarvā, his own radiance, who hold a knife and skull-cup,
ཞབས་གཉིས་རྡོ་རྗེ་སྐྱིལ་ཀྲུང་བཞུགས། །
zhab nyi dorjé kyiltrung zhuk
And sitting with his two legs in the vajra posture.
ཐུགས་ཀར་ཟླ་བའི་དཀྱིལ་འཁོར་སྟེང་། །
tukkar dawé kyilkhor teng
At his heart, upon a moon-disc maṇḍala,
ཧཱུྃ་གི་མཐའ་མར་སྔགས་ཀྱིས་བསྐོར། །
hung gi tamar ngak kyi kor
Is the syllable Hūṃ surrounded by the mantra,
འོད་འཕྲོས་འཕགས་མཆོད་འགྲོ་སྒྲིབ་སྦྱངས། །
ö trö pak chö dro drib jang
It emits light that offers to the noble ones and purifies beings' obscurations,
ཚུར་འདུས་མཆོག་ཐུན་དངོས་གྲུབ་ཐོབ། །
tsur dü choktün ngödrub tob
Then returns, bringing attainments, ordinary and supreme.
རྒྱུད་དག་བྱིན་གྱིས་བརླབས་པར་གྱུར། །
gyü dak jin gyi labpar gyur
My mindstream is purified and I am infused with blessings.
ཡིག་བརྒྱ་བཟླ།
Recite the hundred-syllable mantra.
དགེ་བ་འདི་ཡི་མྱུར་དུ་བདག །
gewa di yi nyurdu dak
Through the positivity and merit of this, may I swiftly
རྡོ་རྗེ་སེམས་དཔའ་འགྲུབ་གྱུར་ནས། །
dorjé sempa drub gyur né
Attain the realization of Vajrasattva, and thereby
འགྲོ་བ་གཅིག་ཀྱང་མ་ལུས་པ། །
drowa chik kyang malüpa
Every single sentient being
དེ་ཡི་ས་ལ་འགོད་པར་ཤོག །
dé yi sa la göpar shok
Reach his state of perfection too.
སོགས་བསྔོ་སྨོན་བྱ།
Thus, recite the dedication and prayers of aspiration.
མངྒ་ལཾ། །། ཕྱག་བྲིས་ལས་ཞལ་བཤུས།།
Maṅgalam. This was copied from the master's handwriting.
| Translated by Adam Pearcey with the generous support of the Khyentse Foundation and Tertön Sogyal Trust, 2022.
Source: 'Jam dbyangs chos kyi blo gros. "rdor sems rgyun khyer/" in 'Jam dbyangs chos kyi blo gros kyi gsung 'bum. 12 vols. Bir, H.P.: Khyentse Labrang, 2012. (BDRC W1KG12986). Vol. 6: 308–309
Version: 1.0-20220726