Takmo Gön Temple Aspiration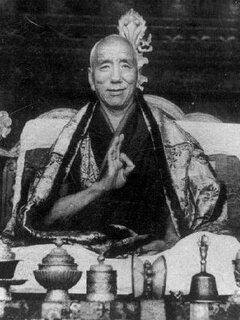 Further information:
Aspiration on the Occasion of Bestowing the Name Orgyen Tekchok Ngesang Tupten Pelgye Ling on the New Temple at Takmo Monastery
by Jamyang Khyentse Chökyi Lodrö
Namo guru!
Through the blessings of the great compassion and truth
Of the Three Roots and Three Jewels together with the guardians,
And especially the master of Oḍḍiyāna, Dorje Drolö,
May auspiciousness forever increase here in this place.
May the teachings of the essence of the supreme vehicle long endure,
May the victory banner of the definitively secret vajra pinnacle be raised,
And may this sanctuary for advancing the Sage's teachings through study and through practice
Flourish everywhere and evermore.
Through the force of this, may any decline in the environment or among living beings be pacified,
May there be joy and happiness in every land and location,
May all living beings come to possess benevolence,
And may the splendour of the ten virtues endure long into the future.
These verses of aspiration were written by Jamyang Chökyi Lodrö, who holds the name of a Khyentse incarnation, on the occasion of bestowing the name Orgyen Tekchok Ngesang Tupten Pelgye Ling on the new temple at Takmo Monastery in response to a request from Ngülra Lama Lodrö, who, with positive intentions, laid the temple's foundation. May this prove virtuous and auspicious!
| Translated by Adam Pearcey with the generous support of the Khyentse Foundation and Tertön Sogyal Trust, 2022.
Bibliography
Tibetan Edition
'Jam dbyangs chos kyi blo gros. 'Jam dbyangs chos kyi blo gros kyi gsung 'bum. 12 vols. Bir, H.P.: Khyentse Labrang, 2012. (BDRC W1KG12986). Vol. 10: 585
Version: 1.0-20220609