Tsasum Drildrup Tsok Offering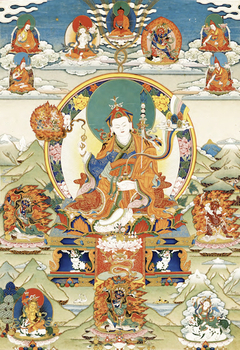 Further information:
༄༅། །རྩ་གསུམ་དྲིལ་བསྒྲུབ་ཀྱི་ཚོགས་མཆོད་གྲངས་གསོག་བཞུགས།
Verses for Accumulating the Tsok Offering of the Combined Practice of the Three Roots (Tsasum Drildrup)
by Jamyang Khyentse Chökyi Lodrö
རྃ་ཡྃ་ཁྃ། ཨོཾ་ཨཱཿཧཱུྃ།
ram yam kham | om ah hung
Raṃ yaṃ khaṃ! Oṃ āḥ hūṃ!
ཧཱུྃ་ཧྲཱིཿ རབ་འབྱམས་རྩ་གསུམ་དཀྱིལ་འཁོར་ལྷ་ཚོགས་ལ། །
hung hrih, rabjam tsa sum kyilkhor lhatsok la
Hūṃ hrīḥ! To the hosts of deities of the maṇḍalas of the infinite Three Roots,
ཕྱི་ནང་གསང་བ་བླ་མེད་མཆོད་པ་འབུལ། །
chi nang sangwa lamé chöpa bul
I present outer, inner, secret and unsurpassable offerings.
དམ་ཚིག་ཉམས་ཆག་ཉེས་ལྟུང་མཐོལ་ཞིང་བཤགས། །
damtsik nyamchak nyetung tol zhing shak
I confess impairments and breakages of samaya, faults and downfalls.
གཉིས་འཛིན་དགྲ་བགེགས་བསྒྲལ་བའི་ཤ་ཁྲག་རུས། །
nyidzin dragek dralwé sha trak rü
Accept, with relish, the flesh, blood and bones of the liberated enemies and hindrances of duality,
དགྱེས་པར་བཞེས་ལ་མཆོག་ཐུན་དངོས་གྲུབ་སྩོལ། །
gyepar zhé la choktün ngödrub tsol
And grant the attainments, ordinary and supreme!
ཨོཾ་ཨཱཿཧཱུྃ་བཛྲ་གུ་རུ་པདྨ་དྷེ་ཝ་དྷཱ་ཀི་ནཱི་ཤྲཱི་དྷརྨ་པཱ་ལ་བ་སུ་དེ་བ་ནི་དྷི་པ་ཏི་ས་པ་རི་ཝཱ་ར་སརྦ་ག་ཎ་ཙཀྲ་པཱུ་ཛ་ཧོཿ
om ah hung benza guru pema dewa dhakini shri dharma pala wasu dewa nidhi pati sapariwara sarwa gana tsatra pudza ho
oṃ āḥ hūṃ vajra-guru-padma deva ḍākinī śrī dharmapāla vasudeva nidhipati saparivāra sarva gaṇacakra pūja hoḥ
ཨོཾ་བཛྲ་སཏྭ་ཨཿ
om benza sato ah
oṃ vajra satva aḥ
ཨོཾ་ཨུཙྪིཥྚ་བ་ལིང་ཏ་ཁཱ་ཧི།
om utsita baling ta khahi
oṃ uchhiṣṭa baliṃ te khāhi
ཞེས་པའང་ཆོས་ཀྱི་བློ་གྲོས་པས་སོ། །། །
By Chökyi Lodrö.
| Translated by Adam Pearcey with the generous support of the Khyentse Foundation and Tertön Sogyal Trust, 2022.
Source: 'jam dbyangs mkhyen brtse chos kyi blo gros. "rtsa gsum dril bsgrub kyi tshogs mchod grangs gsog." In Rdzong sar mkhyen brtse 'jam dbyangs chos kyi blo gros kyi gsung 'bum. Bir, H.P.: Khyentse Labrang, 2012. Vol. 5: 597.
Version: 1.0-20220406