Turning the Wheel of Dharma Inscription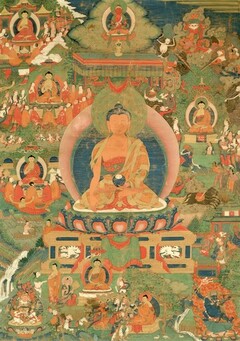 Further information:
Turning the Dharma Wheel Inscription[1]
by Jamyang Khyentse Chökyi Lodrö
Oṃ svasti.
Profound, peaceful and unelaborate, the heart of luminosity—
Seeing this just as it is the ultimate form of sublimity,
Yet for the sake of training, when you demonstrated
Meditative absorption in peace as a sage in the forest,
Brahmā, Indra and many others gathered together
And implored you to set the great Dharma Wheel in motion.
Then, turning the Wheel of the Dharma of Four Truths,
You gave your very first teaching to the audience of five,
Then, in accord with beings' capacity and inclination,
Set the Wheel of Dharma in motion in three phases,
Ablaze with the splendour of auspiciousness and virtue.
May this image prevail throughout past, present and future!
| Translated by Adam Pearcey with the generous support of the Khyentse Foundation and Tertön Sogyal Trust, 2022.
Source: 'Jam dbyangs chos kyi blo gros. 'Jam dbyangs chos kyi blo gros kyi gsung 'bum. 12 vols. Bir, H.P.: Khyentse Labrang, 2012. (W1KG12986) Vol. 10: 579–580
Version: 1.1-20230616
---
The original is untitled; this title has been added by the translator.  ↩