Prayer to Jamgön Kongtrul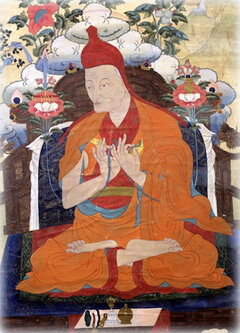 ༄༅། །འཇམ་མགོན་ཀོང་སྤྲུལ་གྱི་གསོལ་འདེབས།
Prayer to Jamgön Kongtrul1
by Jamyang Khyentse Wangpo
ཤེས་བྱ་ཀུན་གཟིགས་ཡོན་ཏན་རྒྱ་མཚོའི་གཏེར། །
sheja künzik yönten gyatsö ter
Seer of all that is knowable, treasury of an ocean of qualities,
རྒྱལ་བས་ལུང་བསྟན་བློ་གྲོས་མཐའ་ཡས་ཏེ། །
gyalwé lungten lodrö tayé té
Lodrö Thayé, who was prophesied by the Conqueror,
རིགས་ཀུན་ཁྱབ་བདག་པདྨ་གར་གྱི་དབང་། །
rik künkhyab dak pema gar gyi wang
Pema Garwang, lord of all buddha families,
འཛམ་གླིང་ཤིང་རྟ་ཆེན་པོར་གསོལ་བ་འདེབས། །
dzamling shingta chenpor solwa deb
Great pioneer of the teachings in this world, to you I pray.
ཞེས་པའང་འཁོར་ལོའི་མགོན་པོ་གང་གི་བཀའ་འབངས་ཀྱི་ཐ་ཤལ་མཁྱེན་བརྩེའི་དབང་པོས་གསོལ་བ་བཏབ་པ་སིདྡྷི་རསྟུ།། །།
Khyentse Wangpo, lowliest of this lord of the maṇḍala's disciples, offered this prayer. Siddhirastu!
| Translated by Adam Pearcey, 2023.
Source: 'jam dbyangs mkhyen brtse'i dbang po. "gsol 'debs shes bya kun gzigs". In 'jam dbyangs mkhyen brtse'i dbang po'i bka' 'bum, Vol. 2: 338. Khams sde dge rdzong sar dgon: Rdzong sar blo gros phun tshogs, 2020.
Version: 1.0-20230210
↑ The original is untitled; this title has been added by the translator.