Short Maṇḍala Offering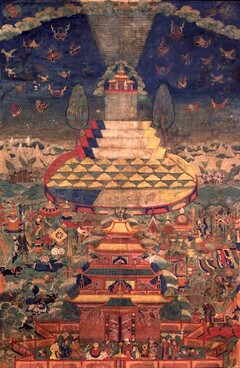 Further information:
༄༅། །མཎྜལ་བསྡུས་པ་བཞུགས།
Short Maṇḍala Offering
by Jamyang Khyentse Wangpo
བདག་གཞན་དུས་གསུམ་ལོངས་སྤྱོད་དགེ་ཚོགས་དང༌། །
dakzhen dü sum longchö gé tsok dang
All my own and others' possessions and positive actions, accumulated in the past, present and future,
རབ་འབྱམས་སྐུ་གསུམ་ཞིང་གི་མཆོད་པའི་སྤྲིན། །
rabjam kusum zhing gi chöpé trin
And clouds of offerings that fill the infinite realms of the three kāyas,1
བློ་ཡིས་བླངས་ཏེ་དཔལ་ལྡན་བླ་མར་འབུལ། །
lo yi lang té palden lamar bul
We imagine now and offer to the glorious teacher:
བཞེས་ནས་མཆོག་དང་ཐུན་མོང་དངོས་གྲུབ་སྩོལ། །
zhé né chok dang tünmong ngödrub tsol
Accept them, and grant us the accomplishments, ordinary and supreme!
ཨོཾ་གུ་རུ་བུདྡྷ་བོ་དྷི་སཏྭཱ་རཏྣ་མཎྜལ་པཱུ་ཛ་མེ་གྷ་ས་མུ་དྲ་སྥ་ར་ཎ་ས་མ་ཡེ་ཨཱཿཧཱུྃ།
om guru buddha bodhisatva ratna mandala pudza megha samudra saparana samaye ah hung
oṃ guru buddha bodhisatva ratna maṇḍala pūja megha samudra spharaṇa samaye āḥ hūṃ
| Translated by Adam Pearcey, 2006.
↑ An alternative version of this line exists ('byams klas sku gsum zhing gi mchod pa'i sprin/) but the English translation would remain the same.