Maṇḍala Offering Series
English (9) | Deutsch (1) | Español (2) | Français (2) | བོད་ཡིག (9)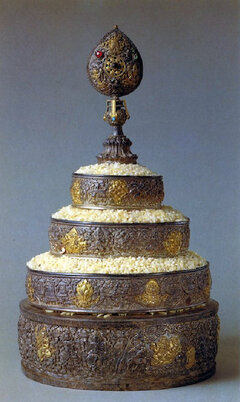 Further information:
The ground is purified with scented water and strewn with flowers.

It is adorned with Sumeru, the king of mountains, the four quarters of the universe, and the sun and the moon;

Thinking of it as the blessed buddha-fields, I offer it.

By virtue of this offering, may all beings here and now attain the happiness of that pure land!
A series of texts related to the practice of maṇḍala offering (maṇḍal 'bul ba), symbolizing the gift of the entire universe according to Buddhist cosmology:
Commentaries
Offering
Related Topics