Prayer to Khenchen Jigme Phuntsok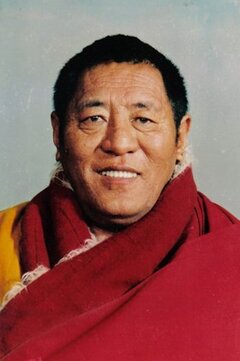 Further information:
༄༅། །ཆོས་རྗེ་དམ་པ་ཡིད་བཞིན་ནོར་བུའི་གསོལ་འདེབས།
Prayer to Khenchen Jigme Phuntsok
by Khenchen Jigme Phuntsok
འཇིགས་མེད་རྩོད་འཆད་རྩོམ་པའི་གཏེར་ལ་དབང་། །
jikmé tsö ché tsompé ter la wang
Master over the treasury of fearless debate, exposition and composition,
ཕུན་ཚོགས་བསླབ་པ་གསུམ་གྱི་ཡོན་ཏན་རྫོགས། །
puntsok labpa sum gyi yönten dzok
With all the qualities of the three trainings perfectly complete,
དཔག་ཡས་ཕན་བདེའི་འབྱུང་གནས་རིན་པོ་ཆེ། །
pakyé pendé jungné rinpoché
Precious source of benefit and happiness beyond measure,
འདྲེན་མཆོག་དཔལ་ལྡན་བླ་མར་གསོལ་བ་འདེབས། །
dren chok palden lamar solwa dep
Supreme guide, glorious lama, to you I pray!
ཞེས་ཆོས་པད་ནས་བསྐུལ་ངོར་ཨ་བྷ་ཡ་རང་གིས་སྨྲས།།
Abhaya (Jigme) composed this himself in response to a request from Chöpé.
| Translated by Adam Pearcey, 2019.