Food Offering Prayer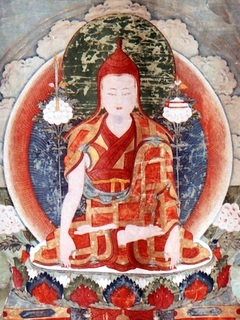 Further Information:
༄༅། །ཟས་ཀྱི་རྣལ་འབྱོར་བཞུགས།
Food Offering Prayer
by Longchen Rabjam
ཧོཿ བདག་ལུས་ཕུང་ཁམས་སྐྱེ་མཆེད་ནི། །
ho, dak lü pung kham kyemché ni
Ho! The aggregates, elements and sense organs of my body
གདན་གསུམ་ཚང་བའི་ངོ་བོ་སྟེ། །
den sum tsangwé ngowo té
Are in essence the three seats of completeness.1
དམ་པ་རིགས་བརྒྱའི་དཀྱིལ་འཁོར་ལྷ། །
dampa rik gyé kyilkhor lha
In this maṇḍala of the hundred peaceful and wrathful deities
འགུལ་བསྐྱོད་ཐམས་ཅད་བདེ་བ་ཆེ། །
gulkyö tamché dewa ché
All movement is great bliss.
རྡོ་རྗེའི་དམ་ཚིག་བླ་ན་མེད། །
dorjé damtsik lanamé
The unsurpassable vajra samaya,
བྱང་ཆུབ་སེམས་ཀྱི་སྤྲིན་ཆེན་པོར། །
changchub sem kyi trin chenpor
The great cloud of bodhicitta,
གཉིས་མེད་མཉམ་པའི་ངང་དུ་རོལ། །
nyimé nyampé ngang du rol
All this I enjoy in the state of indivisible equality.
རྣལ་འབྱོར་ལམ་གྱི་ཚོགས་རྫོགས་ནས། །
naljor lam gyi tsok dzok né
May we perfect the accumulations of the yogic path
ཟས་ཀྱི་སྒྲིབ་པར་མི་འགྱུར་ཞིང༌། །
zé kyi dribpar mingyur zhing
Without any obscuration arising due to food
གཏན་པ་མེད་པའི་སྦྱིན་བདག་ཀྱང༌། །
tenpa mepé jindak kyang
And may the generous patron, too,
ཐེག་ཆེན་འབྲས་བུར་སྤྱོད་པར་ཤོག། །།
tekchen drebur chöpar shok
Enjoy the fruits of the Mahāyāna.
ཀུན་མཁྱེན་ཆོས་ཀྱི་རྒྱལ་པོ་དྲི་མེད་འོད་ཟེར་གསུངས་སོ།།
These are the words of the omniscient Dharma king, Drimé Özer.
↑ 1. The five buddha families and their consorts, 2. The eight bodhisattvas and their consorts, 3. The four wrathful door-keepers and their consorts.