Brief Offering Prayer to Rāhula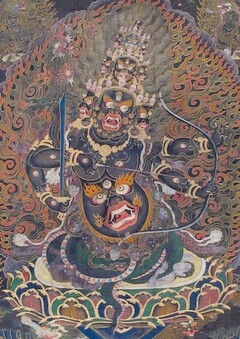 Further information:
༈ ཁྱབ་འཇུག་གསོལ་བསྡུས།
Brief Offering Prayer to Za Rāhula
by Mipham Rinpoche
ཧྲཱིཿ དྲང་སྲོང་ཁྱབ་འཇུག་ཆེན་པོ་རཱ་ཧུ་ལ། །
hrih, drangsong khyabjuk chenpo rahula
Hrīḥ! Great planetary sage, Rāhula,
སྤྲུལ་པ་རྣམ་བརྒྱད་གདོང་མོ་མཆེད་བཞི་དང༌། །
trulpa nam gyé dongmo ché zhi dang
With your eight emanations and four animal-headed sisters,1
གཟའ་དང་རྒྱུ་སྐར་དྲེགས་པ་སྡེ་བརྒྱད་བཅས། །
za dang gyukar drekpa dé gyé ché
Spirits of the planets and stars and the eight classes of arrogant ones:
གསོལ་ལོ་མཆོད་དོ་བཅོལ་བའི་ཕྲིན་ལས་མཛོད། །
sol lo chö do cholwé trinlé dzö
We supplicate you! We make this offering to you! Carry out the activities we request!
མི་ཕམ་པས་སོ། །
by Mipham
↑ Four rākṣasīs with the heads of a tiger, bear, elephant, and makara respectively.