Brief Purificatory Sang Offering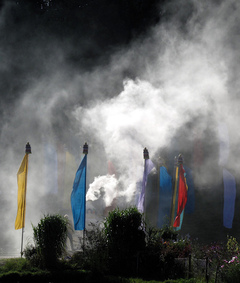 Further information:
༄༅། །མནོལ་བསང་བསྡུས་པ་བཞུགས།
Brief Sang Offering to Purify Contamination
by Mipham Rinpoche
ཧཱུྃ། སྣང་སྟོང་རྣམ་དག་བདུད་རྩི་བསང་མཆོད་འདིས། །
hung, nangtong namdak dütsi sang chö di
Hūṃ. Through this smoke offering of amṛta, the purity of appearance and emptiness,
རྣམ་རྟོག་ལས་བྱུང་གྲིབ་དང་མི་གཙང་ཀུན། །
namtok lé jung drib dang mi tsang kün
All contamination and defilement that comes about through thought,
དག་གསལ་རྙོགས་མེད་ཆོས་སྐུ་ཆེན་པོའི་ངང་། །
dak sal nyokmé chöku chenpö ngang
Is purified within the experience of the great dharmakāya—pure, clear and unsullied.
བསང་ངོ་ཀུན་བཟང་སྒྲིབ་མེད་ཀློང་དུ་ཨཱཿ
sang ngo kunzang dribmé long du ah
Within this unobscured expanse of Samantabhadra, the All Good: Āḥ!
མནོལ་བསང་བསྡུས་པ་ཤིང་འབྲུག་ཟླ་ ༡༡ ཚེས་ ༦ ་ལ་དྷཱིས་སོ།།
This brief sang offering to purify contamination was composed by Dhīḥ on the sixth day of the eleventh month of the Wood Dragon year (1904/5).
| Translated by Adam Pearcey, 2019.
Version: 1.2-20230208