Concise Offering to Female Protector-Goddesses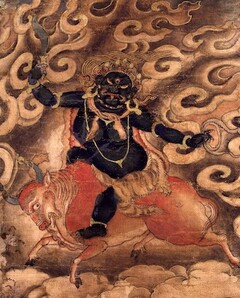 Further information:
༄༅། །ལྷ་མོ་སྤྱི་ཡི་གསོལ་བསྡུས།
Concise General Offering to the Female Protector-Goddesses
by Mipham Rinpoche
བྷྱོ། །རལ་གཅིག་སྲིད་རྒྱལ་རེ་ཏི་དམག་ཟོར་མ། །
jo, ral chik si gyal ré ti mak zor ma
Bhyo! Ekajaṭī, Queen of Existence, Rematī, Makzor Gyalmo,
གཡུ་སྒྲོན་བརྟན་མ་སྲོག་སྒྲུབ་ནག་མོ་སོགས། །
yudrön tenma sokdrub nakmo sok
Yudrönma, Tenma goddesses, Sokdrup Nakmo and the rest—
སྣང་སྲིད་མོ་རྒྱུད་ལྷ་མོའི་ཚོགས་རྣམས་ལ། །
nangsi mo gyü lhamö tsok nam la
All you goddesses of the female class of appearance and existence,
གསོལ་ལོ་མཆོད་དོ་རྣལ་འབྱོར་བུ་བཞིན་སྐྱོང་། །
sol lo chö do naljor bu zhin kyong
I supplicate you and make offerings to you: protect and care for this yogi like your very own child!
ལྷ་མོ་སྤྱི་ཡི་གསོལ་བསྡུས་མི་ཕམ་པས་སོ།།
This concise general offering to the female protector-goddesses was composed by Mipham.
| Translated by Adam Pearcey, 2023.
Source: 'Ju mi pham 'jam dbyangs rnam rgyal rgya mtsho. "lha mo spyi yi gsol bsdus." In gsung 'bum mi pham rgya mtsho. Chengdu: [Gangs can rig gzhung dpe rnying myur skyobs lhan tshogs], 2007. Vol. 28: 199
Version: 1.0-20230426