White Sarasvatī Sādhana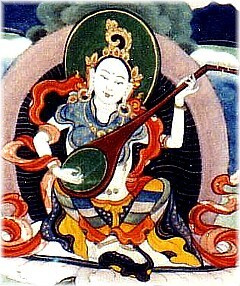 Further information:
༄༅། །དབྱངས་ཅན་དཀར་མོའི་སྒྲུབ་ཐབས་བཞུགས།
A Sādhana of White Sarasvatī
by Mipham Rinpoche
སྐྱབས་སེམས་ཚད་མེད་བསྒོམ་བྱས་ལ།
Meditate on taking refuge, generating bodhicitta and the immeasurables. Then:
སྟོང་པའི་ངང་ལས་པད་དཀར་ཟླ་བའི་སྟེང་། །
tongpé ngang lé pekar dawé teng
Out of the state of emptiness, upon a lotus and moon,
རང་ཉིད་རྡོ་རྗེ་དབྱངས་ཅན་ཟླ་བའི་མདངས། །
rangnyi dorjé yangchen dawé dang
I myself transform into Sarasvatī glowing like a moon,
གཞོན་སྒེག་ཡིད་འཕྲོག་མཚན་དཔེའི་དཔལ་འབར་མ། །
zhön gek yitrok tsenpé palbar ma
Ablaze in youthful and graceful splendour with the major and minor marks of perfection, stunning to behold,
ཞལ་གཅིག་ཕྱག་གཉིས་བཻ་ཌཱུར་བི་ཝཾ་བསྒྲེང་། །
zhal chik chak nyi baidur biwam dreng
With one face and two arms raising a lapis lazuli vīṇā.
དར་དང་རིན་ཆེན་རྒྱན་རྫོགས་ཙོག་པུར་བཞུགས། །
dar dang rinchen gyen dzok tsok pur zhuk
I am garbed in all the silken and jewelled adornments, and my two legs are crouching.
ཐུགས་ཀར་ཟླ་སྟེང་ས་བོན་ཧྲཱིཾཿདཀར་པོ། །
tukkar da teng sabön hring karpo
At my heart upon a moon-disc is a seed syllable Hrīṃ, white in colour,
དེ་ལས་འོད་འཕྲོས་སྲིད་ཞིའི་དྭངས་བཅུད་དང་། །
dé lé ö trö sizhi dangchü dang
From which light radiates out, causing the vital essence of conditioned existence and ultimate peace
གཟུངས་སྤོབས་བློ་གྲོས་མ་ལུས་རབ་བསྡུས་ནས། །
zung pob lodrö malü rab dü né
As well as retention, eloquence and wisdom to be gathered in completely, without any exception,
རང་གི་སྙིང་གའི་ས་བོན་ལ་ཐིམ་པས། །
rang gi nyinggé sabön la timpé
And dissolve into the seed syllable at my heart.
འཇིགས་མེད་ངག་གི་དབང་ཕྱུག་གྲུབ་པར་གྱུར། །
jikme ngak gi wangchuk drubpar gyur
Through this, I attain the state of a fearless master of speech.
ཧྲཱིཾཿ
hring
Hrīṃ
ཞེས་ཡི་གེ་གཅིག་པ་ཅི་ནུས་བཟླས་མཐར་དབྱངས་གསལ་རྟེན་སྙིང་གི་ནུས་པ་བརྟེན་པར་བྱས་ལ་དགེ་བསྔོ་ཤིས་བརྗོད་བྱའོ། །
Recite this single syllable as many times as possible. Then, recite the mantra of Vowels and Consonants and the mantra of 'The Essence of Interdependent Origination'. Conclude with the dedication of merit and verses of auspiciousness.
མི་ཕམ་པས་སོ།།
Composed by Mipham.
| Translated by Abraham Ta-Quan, 2019.