Sādhana of Mañjughoṣa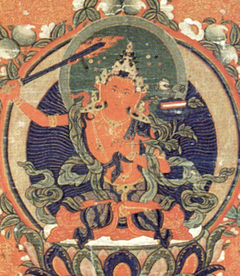 Further information:
༁ྃ༔ འཇམ་པའི་དབྱངས་ཀྱི་སྒྲུབ་ཐབས་བཞུགས༔
Sādhana of Mañjughoṣa
revealed by Tertön Sogyal
༁ྃ༔ འཇམ་པའི་དབྱངས་ལ་ཕྱག་འཚལ་ལོ༔
Homage to Mañjughoṣa!
ཨོཾ་ཨ་ར་པ་ཙ་ན་དྷཱིཿ
om a ra pa tsa na dhih
Oṃ arapacana dhīḥ
རང་གཞན་ཤེས་རབ་བློ་འཕེལ་ཕྱིར༔
འཇམ་དབྱངས་ཡི་གེ་དྲུག་པ་སྒྲུབ༔
སྐྱབས་སེམས་ཚད་མེད་བཞི་བསྒོམ༔
In order to increase your own and others' intelligence,
Practise the six syllables of Mañjughoṣa.
Take refuge, generate bodhicitta and cultivate the four immeasurables.
རང་ཉིད་རྗེ་བཙུན་འཇམ་པའི་དབྱངས༔
rangnyi jetsün jampé yang
I myself appear as venerable Mañjughoṣa,
དམར་སེར་རལ་གྲི་གླེགས་བམ་འཛིན༔
marser raldri lekbam dzin
Orange and holding sword and volume,
སྐུ་ལ་དར་དང་རིན་ཆེན་བརྒྱན༔
ku la dar dang rinchen gyen
Adorned with silks and jewel ornaments,
རྡོ་རྗེའི་སྐྱིལ་ཀྲུང་པད་ཟླར་བཞུགས༔
dorjé kyiltrung pé dar zhuk
And seated in vajra posture on lotus and moon.
ཐུགས་ཀར་ཟླ་བ་རྒྱས་པའི་སྟེང༔
tukkar dawa gyepé teng
At his heart, upon a full moon disc
དྷཱིཿཡིག་གསེར་མདོག་འབར་བ་ལས༔
dhih yik ser dok barwa lé
Is the syllable Dhīḥ, gold and blazing,
འོད་འཕྲོས་སྲས་བཅས་རྒྱལ་ཀུན་གྱི༔
ö trö sé ché gyal kün gyi
From which light radiates out, gathering intelligence,
ཤེས་རབ་ཡེ་ཤེས་གཟུངས་ཀྱི་སྒོ༔
sherab yeshe zung kyi go
Wisdom and dhāraṇī doors from all the buddhas and their bodhisattva heirs,
ཀུན་ཀྱང་འོད་ཟེར་ཚུལ་ལ་བསྡུས༔
kün kyang özer tsul la dü
In the form of light rays, which gather back
ཐུགས་སྲོག་དག་ལ་ཡང་ཡང་བསྟིམ༔
tuk sok dak la yangyang tim
And dissolve again and again into the vital syllables in my heart.
སྨྲ་བཅད་ཡིག་དྲུག་བདུན་འབུམ་བཟླ༔
ཤེས་རབ་འཕེལ་བར་གདོན་མི་ཟ༔
ས་མ་ཡ༔་རྒྱ་རྒྱ་རྒྱ༔
བདག་འདྲ་མཁས་པ་པདྨ་ཡིས༔
རྒྱུད་དང་སློབ་དཔོན་མན་ངག་བཞིན༔
ལག་ལེན་སྙིང་པོ་གསལ་བར་བྱས༔
ད་ལྟ་རིན་ཆེན་གཏེར་དུ་སྦོས༔
ཕྱི་རབས་སྐལ་ལྡན་བུ་རྣམས་དང་༔
འདོ་འཕྲད་འགྲོ་དོན་མཐའ་རྒྱས་ཤོག༔
Avoid speaking and recite the six syllables seven hundred thousand times.
Through this intelligence will increase—have no doubt!
Samaya! Sealed. Sealed. Sealed.
Padma, who is as learned as I,
Clearly revealed this essential practice
Which accords with the tantras and masters' instructions.
Now, let it be hidden as a precious treasure.
May fortunate children of future generations
Encounter it and bring extensive benefit to beings!
| Translated by Adam Pearcey, 2019.
Source: Las rab gling pa. "'jam pa'i dbyangs kyi sgrub thabs." In las rab gling pa'i gter chos/. BDRC W21810. Bylakuppe: Pema Norbu Rinpoche, 1985-. Vol. 3: 791.
Version: 1.1-20210701